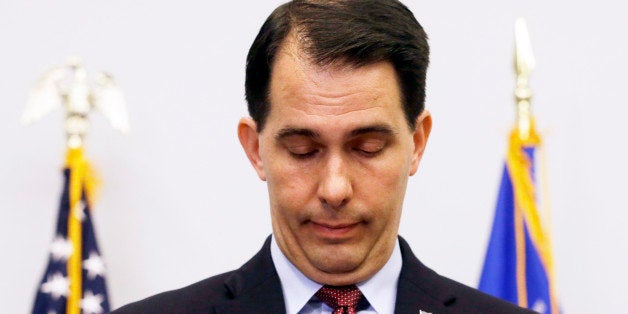 Even before he officially joined the race, many political prognosticators dubbed Gov. Scott Walker the candidate to beat for the presidential nomination. The Wisconsin Republican had an enviable mix of support from the deep-pocketed Koch brothers plus conservative street cred, surviving a recall election related to his anti-union policies.
But time on the campaign trail reveals all flaws, and just 10 weeks after he announced he was running for president, Walker dropped out of the race. During an evening press conference in Madison, Wis., Walker said he felt he was "being called to lead by helping to clear the field in this race so that a positive, conservative message can rise to the top of the field."
Although his words provided a graceful exit from the race, two InsideGov graphs about Walker's candidacy depict a different story.
This line chart shows the steep drop that Walker's poll numbers experienced after the most recent presidential debate on Sept. 16 -- and it's a steep drop from a mere 3 percent to a disastrous 0.5 percent. Although Walker at one time clocked in at almost 14 percent, that was way back at the end of July and before he underperformed at both debates.
Since money is (often) the name of the game in politics, the above graph is another important snapshot of Walker's campaign. Although the Badger State Republican raised more than $20 million, it was all tied up in his super PAC.
Super PACs can collect unlimited sums of money, but are restricted on how much contact and coordination they can have with the candidate they back. Walker's super PAC could spend money on ads supporting its candidate, for example, but couldn't cut checks to his campaign staff or pay for his travel. Walker's official campaign committee hasn't yet released fundraising totals (those numbers are due to the Federal Election Commission Oct. 15), but news outlets reported he wasn't bringing in any cash.
As Politico noted, Walker's exit may point to the limitations of super PACs' true power over the nomination process. Super PACs can prop up a candidate for a time, but a viable contender needs a healthy official campaign -- and (much) stronger polls numbers -- to have a shot at winning the race.
Support HuffPost
The Stakes Have Never Been Higher
Popular in the Community