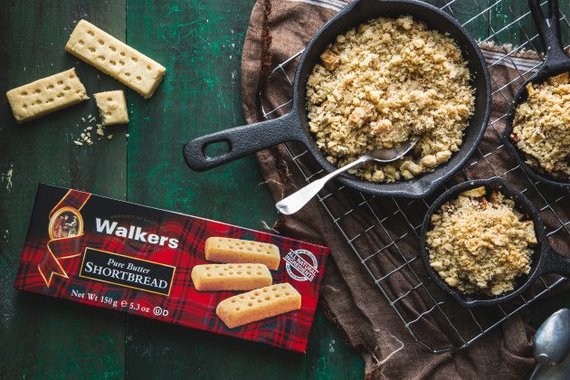 There is nothing more comforting after a long school day than warm, bubbling Walkers Shortbread mini apple pear crisps. Top these tasty treats off with a scoop of vanilla bean ice cream or a dollop of whipped cream and you have an after school snack that will warm your kiddos' hearts.
When I was in college, I worked at a flower shop. I was pretty much the jack-of-all trades in the tiny shop, doing whatever needed to be done. Arranging flowers, delivering flowers, fixing computer problems and arranging bountiful gift baskets. It was an incredibly fun job, especially for an art major college student because I got to try a little of everything and I was never bored.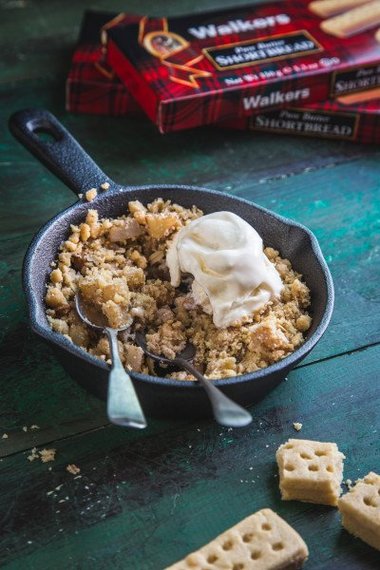 One of my favorite items to tuck into these glorious gift baskets were the beautiful red plaid packaged Walkers Shortbread cookies. No matter what the occasion, I always found room to pop a few of these wonderfully buttery cookies into the baskets. I knew whoever the recipient was, they would smile at the sight of them.
Walkers shortbread cookies have been a favorite of mine ever since that time and I've passed my love of these darling little cookies onto my kiddos. They are great to have on hand for snacking and simple desserts. Speaking of both of those things, I recently played around with using these rich, buttery cookies as the topping for my grandma's apple crisp recipe.
My grandma has been making apple crisp for as long as I can remember, but she typically makes a large batch in a 9x13 glass baking pan. I've been using her base recipe for years, adding different fruits and spices to make it my own. One of my favorite ways to make this simple, and comforting dish is to make them mini.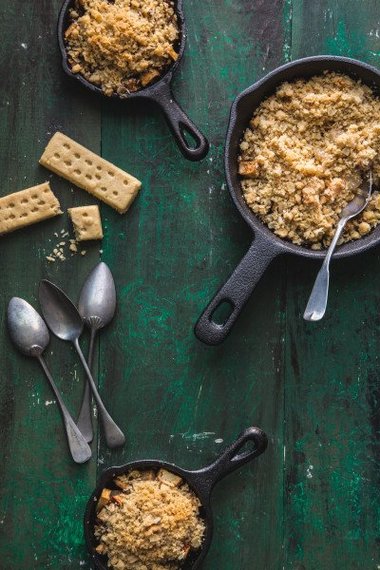 Who doesn't love a mini dessert, am I right? And tell me those mini cast iron skillets aren't too cute for words.
This fall, I decided to mix up the apple crisp recipe once again and use a combination of sweet Bartlett pears and tart granny smith apples. For the topping, I crushed up a handful of Walkers Shortbread cookies and added my grandma's signature oats and just a touch of butter. The cookies are already perfectly sweet and buttery that I didn't need to add any sugar and only one tablespoon of cold butter to help hold the oats into the crust.
Oh my goodness, were these crisps amazing!! The bubbling fruit spiced up with cinnamon and cardamom and topped with the crumbly, crisp topping was out of this world. Things only got better when I topped each little crisp with a scoop of melting ice cream.
This was pretty much the best after school snack, ever. They might be a little disappointed if they don't come home to a mini skillet of apple crisp every day. Although, I'm guessing that a handful of Walkers Shortbread Scottie Dogs cookies will probably make things better.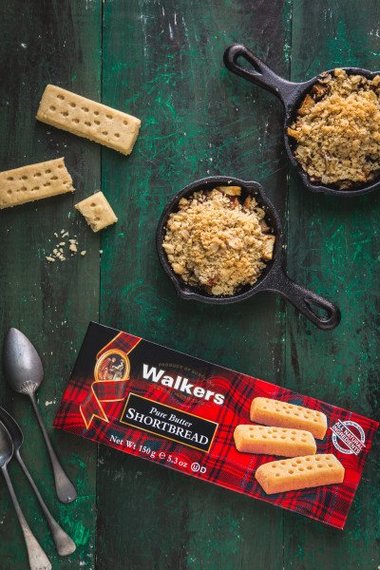 About Emily Caruso
Emily is known for her absurdly beautiful food photography and coffee co-dependencies on her Jelly Toast Blog. On Food Fanatic, she shares a third addiction: fabulous snacks.