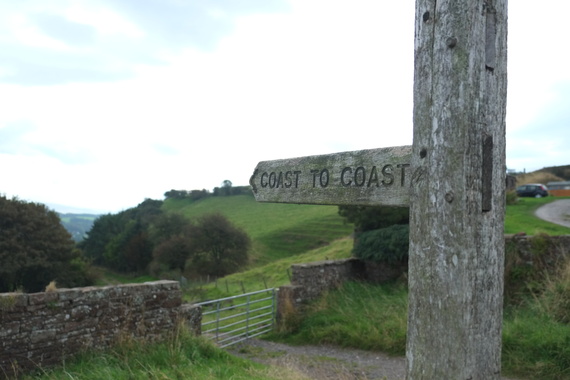 On a crisp September morning, I stood with my dear friend on the West Coast of England staring out into the Irish Sea. We were about to embark on a walk to the other side of the country, Alfred Wainwright's Coast to Coast Trail.
As good friends who both love the outdoors, walking almost two hundred miles across England seemed like a perfect way for us to spend a couple of weeks together with the added bonus of accomplishing something grand. We were confident that our enthusiasm would carry us when our legs would not.
And for the most part, we were right.
If you ever happen to walk the Coast to Coast Trail in England, or indeed any long distance trail, chances are that somewhere in the middle you might want to give up.
But then something happens and you get through another day. You come across an inviting pub or a cozy tea room. Someone catches up from behind and walks with you for a bit, telling you stories that take your mind off of your aching knees. Or maybe you crest a hill and get stopped in your tracks by a view and you start dreaming about building a little house right there so you never have to leave.
You can pick up a pebble from the Irish Sea to carry in your pocket, but the real treasures you collect on this walk are the stories of how you make it from one stage to the next, the people you meet on the trail and the sweeping scenery of the three national parks you cross.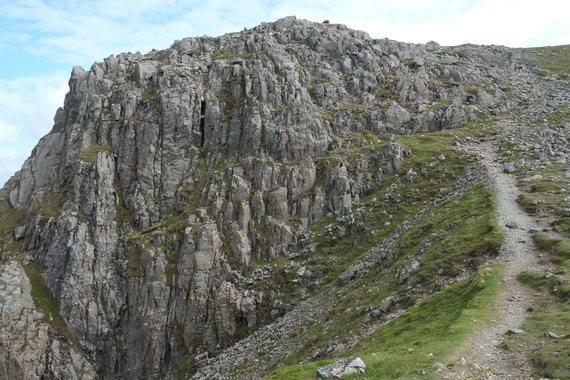 Beautiful, hard won memories are the souvenirs of a walking holiday.
Mine included having so much time to catch up with a friend I had not seen in over a year and being encouraged by my husband and three kids who showed up to walk with us for three days.
I loved meeting a 78-year-old man who had been walking the area since he was a wee lad. We walked with him long enough to hear some of his wandering tales.
Each night groups of walkers gathered in village pubs to compare stories and maps, discussing the miles covered and the miles ahead.
I will always remember the feeling of sheer joy on making it to our destination every day, simultaneously exhausted and delighted. Many of our bed and breakfast hosts welcomed us like long lost warriors come home from battle, which we thoroughly appreciated. On our longest walking day, our hostess was standing out front, her arms outstretched with champagne flutes to celebrate our arrival.
We scribbled in our notebooks at night about the friends we met and the beauty we saw, not wanting to forget anything. In my memory the days run together, but I only have to revisit my journal to know the triumph of making it over each mountain pass, the childlike excitement of finding a landmark on our map, or the laughter with new friends about cursing Wainwright on annoyingly steep hillsides.
As we neared the end of the walk, we had to draw from strength we did not possess to finish. We were weary on those final few days, so we arrived at the end feeling slightly dumbfounded to have made it rather than victorious. But then as we rounded the bend in Robin Hood's Bay that takes you to the water, we saw many familiar faces. They cheered for us as we dipped our boots into the North Sea, a Coast to Coast tradition.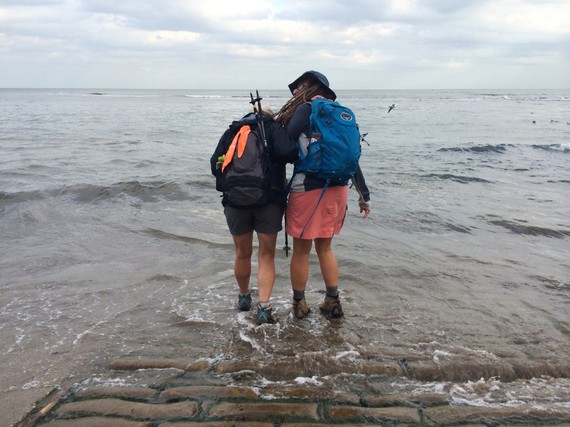 The walk ends in much the same way it begins: standing and staring out at a sea, feeling small in the face of the horizon that stretches beyond your vision and wondering at the wide and beautiful world.
Forests and mountains and rivers and oceans untold. The world is bigger than I could ever imagine, but what a treasure it was to have rambled a few beautiful miles of it with a dear friend.
Our Coast to Coast walk was made possible in part by the good folks at Macs Adventure, who were wonderful to work with and who should in no way be held responsible for any of our mishaps, including our tendency to get lost. You can read much more about our time on the Coast to Coast on my blog or you can watch our ridiculous YouTube videos.