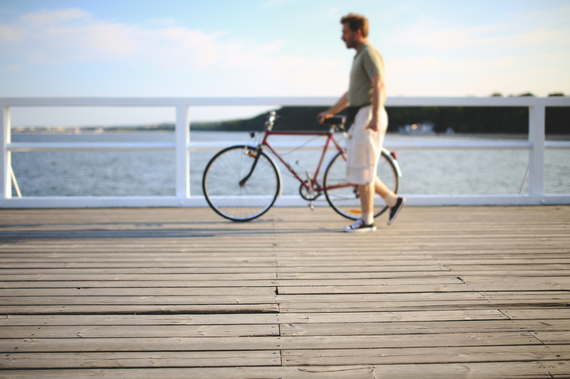 I've never been very good at guessing people's age. I'll see someone who looks considerably older than me, only to learn that he's years younger. What makes age determination so difficult, especially in older adults, is that many factors influence the appearance of age. Someone who has had a life full of hardship, or suffered through a prolonged illness, is likely to have traces of it written on their face- a pentimento of their suffering. Sun worshipping, too, can leave its mark in the age-accelerating appearance of leathery skin and a corrugation of wrinkles.
So I was especially interested when my friend John told me the results of his recent physical exam.
John is a senior, well past retirement age, and refuses to slow down.He goes to work five days a week, walking two miles each way, weather permitting. His doctor told him he was younger for his age than any of his other patients, and attributed it to walking and working.
While that's not necessarily a magic formula for longevity, it does seem to benefit both the mind and the body.
The walking part is a no-brainer. Walking is a low-impact cardiovascular activity that doesn't require any special equipment other than a good pair of shoes. According to the Mayo Clinic, "Something as simple as a daily brisk walk can help you live a healthier life." It can help you maintain a healthy weight, prevent or manage various conditions, including heart disease, high blood pressure and type 2 diabetes, strengthen your bones and muscles, and improve your balance and coordination.
And if you can do your walking outdoors, in an uplifting environment, rather than on a treadmill, so much the better for your spiritual self.
Cycling is another low-impact activity that can take the place of, or alternate with, walking.While cycling on a bike path gives you the added pleasure of being one with the environment, a stationary bike still gives you the physiological benefits, and for the soul-satisfying part of it there are DVD's that simulate riding through landscapes of your choosing. You can "bike" through a Caribbean rainforest, experience the lavender fields of Provence, or choose destinations as far afield as Amsterdam, Singapore, Osaka and Scotland.
As for the working part of the longevity "formula," the advantages of continuing to work seem to derive from both a feeling of accomplishment and the pleasurable interaction that comes from being in a companionable environment. That environment includes volunteer work as well as paid employment. With regard to volunteer work, a study by Carnegie Mellon University researchers found that older adults who volunteered 200 hours over the year were less likely to develop hypertension than non-volunteers. This election season offers a perfect opportunity for retirees to help out as volunteers at their local political party offices.

While none of this will necessarily make you look younger, it may make you feel younger, which could rub off on the perception of you as a person far younger than your chronological age.
Related