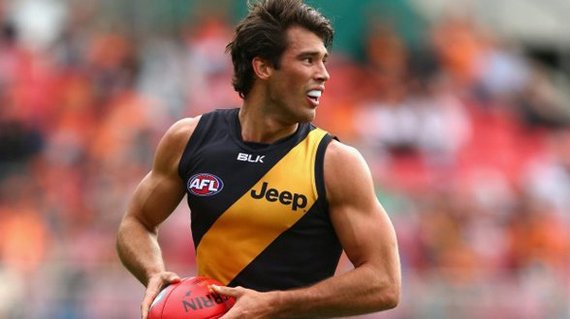 As Australian Rules star defender Alex Rance ponders his sporting future, David Saunders looks at why some elite athletes walk away from professional sport in their prime.

Alex Rance is in the sweet spot of an already distinguished career as a professional Australian Rules footballer. Rance, 25, a star defender with the Richmond Tigers who was named in last season's All Australian team, also happens to be a Jehovah's Witness.
His faith may prove to be the most significant influence on his immediate destiny, more so even than negotiations with his club, which are set to recommence and promise Rance a lucrative contract extension that would potentially make him one of the Australian Football League's highest paid defenders. According to a report this week by The Age's chief football writer Caroline Wilson, Rance, who will become an unrestricted free agent at the end of the current AFL season, has reportedly contemplated leaving the game altogether, regardless of any deal Richmond, or any other club for that matter, might offer him.
Rance's current predicament is unusual in modern sport. We're more used to seeing elite athletes in their mid 20s cut from their teams because of debilitating injuries or because they have struggled to make the transition from junior champion to professional, either due to poor discipline or because they just can't sustain their form as pros.
However, it's not unprecedented for sportsmen or women to walk away from the riches and glamor and prospect of a lifetime of adulation. The question is, why?
Once upon a time, before professional sport became a lucrative career choice, champion athletes often reached a crossroads where the decision to play on had financial implications. Many decided a more stable livelihood was a better option than entertaining the masses with a ball. Occasionally it proved to be an inspired decision. Australian test cricketer Bob Cowper, one of only 29 players to score 300 runs in an innings in almost 140 years of test cricket, gave up playing at 29 to pursue a career in business. He became a multimillionaire, having decided the pittance cricketers got paid in the 1960s was not worth the sacrifices made. A triple centurion also has the luxury of saying "my work is done".
Nowadays, where draftees fresh out of college attract multimillion dollar sign-on fees, quitting the big time after a few seasons seems unfathomable to the outside world.
Rance wouldn't be the first athlete to put his religious faith ahead of sporting riches, or the first to be lured by the service of Jehovah. 45 years ago Peter Knowles, a star forward with English soccer club Wolverhampton Wanderers, gave up the professional game after becoming a Jehovah's Witness. At the time he retired, he was on the verge of international selection. Wolverhampton remained in denial about his departure, waiting 12 years after he last played before finally terminating his contract. Knowles inspired English singer Billy Bragg to write a song, "God's Footballer".
Turning to Jehovah needn't be an "either or" situation, though, when it comes to pursuing a professional sporting career. Tennis world No.1 Serena Williams was raised as a Jehovah's Witness and continues to adhere to her faith to this day, all the while staying at the top of her chosen sport.
As it stands though, a spate of recent retirements among professional athletes -- most notably in the U.S. -- suggests that the reasons why they turn their back on the big time are varied and complex.
Last month -- an extraordinary one even by the NFL's recent standards -- Jason Worilds, a 27-year-old linebacker with the Pittsburgh Steelers, announced he was retiring after five seasons, walking away from a $10 million contract, to work for the Jehovah's Witnesses. Having initially been coy about his reasons, saying he was stepping away from football "to pursue other interests," he later confirmed the reason was to spend more time working with his chosen faith.
Worilds was one of three NFL players under the age of 30 to quit in the space of a week, all for different reasons. The previous day, Tennessee Titans quarterback Jake Locker, cited a lack of motivation to perform at professional level for his decision to quit at the age of 26. Locker, the number 8 pick in the 2011 NFL Draft, said in a statement:
Football has always played a pivotal role in my life and I love the game, but I no longer have the burning desire necessary to play the game for a living; to continue to do so would be unfair to the next organization with whom I would eventually sign. I realize this decision is surprising to many, but I know in my heart that it is the right decision and I look forward to spending more time with my family and pursuing other interests.
Chris Borland, a 24-year-old linebacker with the San Francisco 49ers, rounded out a week of premature departures, saying on March 16 he was retiring from pro football. Borland, who had suffered two concussions in his brief career, said his decision reflected concerns about the long term effect to his health that would result from any further head injuries if he continued to play.
"I just thought to myself, 'what am I doing?'" Borland said. "Is this how I'm going to live my adult life, banging my head, especially with what I've learned and knew about the dangers?"
Perhaps it's that life at the elite level of sport isn't all it's cracked up to be. There's the solitude and separation from the real world; the constant fretting about weight and fitness; the ever present threat of injuries. Even more insidious is the very modern worry of becoming embroiled in a scandal: a careless social media cameo here, a heated confrontation in a bar there, the sort of incident even 20 years ago wouldn't have made an inside page of a newspaper, let alone become a national issue. Many are asking: Is it really worth the millions of dollars to live in a fishbowl, subject to summary judgment for your every utterance; every poor decision?
In fact, Rance himself was stalked for some time by a man who was subsequently jailed for 12 months for the offence in 2013.
Just over a year ago, another AFL player, Mitch Clark of the Melbourne Demons, retired aged 26 after being diagnosed with depression. Although foot injuries had also restricted his on-field appearances for Melbourne following his move from Brisbane, it was his mental health that finally prompted him to give up a lucrative and to date successful football career three games short of the 100-game milestone. Clark has since taken up the game once more, plying his trade with the Geelong Cats this season.
Perhaps the most sensational early retirement from professional sport in recent times was that of Arizona Cardinals linebacker Pat Tillman, who quit at age 25, after four seasons as a pro to enlist in the U.S. Army Rangers. His decision to turn his back on a $3.5 million contract came eight months after the September 11, 2001 terror attacks. The sense of duty to serve their country proved a stronger force for Tillman and his brother Kevin, a former minor league baseball player, than sporting fame and wealth. Pat Tillman paid the ultimate price two years later, fatally wounded by friendly fire in the mountains of Afghanistan in 2004.
Modern athletes sometimes -- often with justification -- get a bad rap from the media and the public. They are perceived as arrogant, living in a parallel universe, cultivating a sense of entitlement and privilege and acting like they're above the law. Against this background, the Alex Rances and Jason Worilds of this world, not to mention a Pat Tillman, seem anomalies.
We are yet to hear what Alex Rance will finally decide to do. He may well sign on for mega-bucks with Richmond, or the Brisbane Lions, or another club that outbids both for his services. However, it is oddly refreshing to hear that an elite athlete is not solely motivated by money, that he may be prepared to pack it in and leave on his own terms.
Photo Credit: Associated Press/File
Popular in the Community