(Warning! "The Walking Dead" spoilers below.)
Despite everyone's desperate attempts to theorize how Carl (Chandler Riggs) would survive the zombie bite he received in Season 8, Episode 6, nothing could stop the inevitable from happening in Sunday night's midseason premiere: Carl Grimes finally bit the dust.
Some other things happened in the episode, like Carol (Melissa McBride) and Morgan (Lennie James) fighting the Saviors, but who really cares? That's just superfluous action taking away from the real point of the show, which was saying goodbye to Carl, who is pretty definitely dead.
After the younger Grimes shared some emotional moments with various characters, including his baby sister, and schooled his dad, Rick (Andrew Lincoln), with a speech on making the world a better place and not just murdering all the Saviors, we hear a gunshot as Carl takes his own life offscreen. Cut to seeing him under a sheet as Michonne (Danai Gurira) and Rick prepare to bury him.
Sure, he might show up in future dream sequences or hallucinations, but that's basically it for the character.
Riggs said his farewell in a tweet.
Plus, AMC probably wouldn't have sent out these delicious pudding bars if Carl was gonna survive.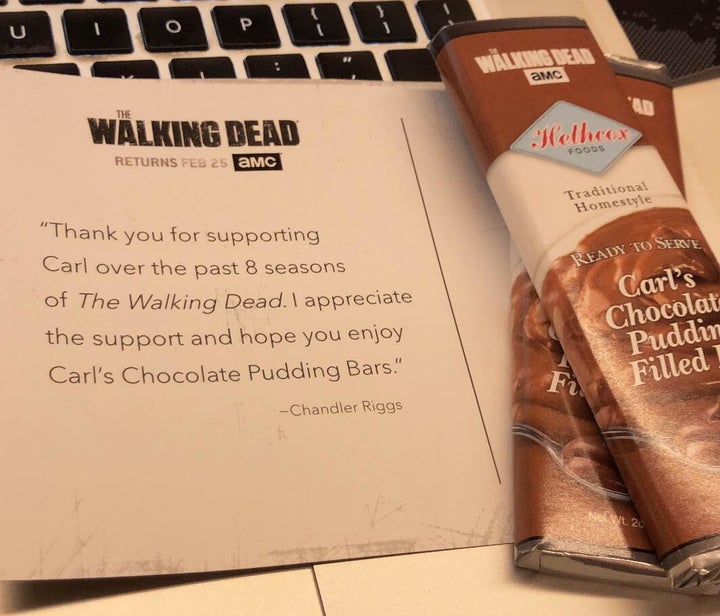 I actually wish they'd kill Carl every week, if it means more pudding bars. But for others, the gesture wasn't so sweet. 
Truly, the backlash to Carl's death has been going on since the Season 8 midseason finale late last year, when fans learned he was suffering from a zombie bite and would likely die in the next episode.
The character is pivotal in the comics ― and still has a lot of storylines that the show hasn't explored ― so viewers were livid, calling for showrunner Scott Gimple to be fired. Even Chandler Riggs' father posted (and later deleted) a scathing Facebook comment about Gimple after Carl's upcoming death was revealed. (Riggs' father did not reply to HuffPost's request for comment.)
In a conference call a few days before Sunday's episode, Riggs gave his response to the intense fan reaction and his thoughts on his character's impending death.
"When [the midseason finale] first aired, the amount of messages that I got on Reddit, the amount of comments that I got on Instagram and then Twitter and everything, it was really just kind of overwhelming to see the amount of support from fans that were super sad to see my character go," he said. "But the majority of them were just really, really excited to see where I go next, and that's kind of the attitude that I had towards it, and I'm really happy that a lot of my fans had the same attitude towards it as well."
More upsetting than his character dying is the manner in which Carl got the zombie bite, which was objectively pretty lame. After surviving seven seasons of zombies and making it out of impossible situations, Carl decides to try to kill a small group of walkers with the help of Siddiq (Avi Nash). After struggling with a one of them, he falls over. And boom. A bite. Oh, and he had a gun, so he could've just shot them the whole time.
Riggs himself joked about the death on Twitter.
Regardless, he claims he's not salty. During the conference call, he explained how the death and the speech he gave to Rick will affect the show in the future.
"I'm not bitter about it. It's such, like, an innocent way to go out, and it's kind of what Carl's really embodying in these last episodes and kind of sums up Carl as a whole and proves that he knows that there is something after the war. It's not just killing and killing and killing and killing. There's got to be some sort of hope for Judith and for Maggie's baby and anyone," he said.
In an interview with HuffPost late last year, we asked Gimple (the man who had the final word on Carl's death sentence) about fans' responses to the reveal, and he admitted, yeah, it's been rough.
"I'm focused more on the show itself. I'm just thinking about Chandler, and the cast and crew and all the people put together, but it's tough," he said. "I knew it would be tough for the people who have been following the story for so long, and it's the kind of turns the story takes that are so painful."
Gimple also stressed that the events of the midseason premiere were critical to the "whole story" and how it will affect the other characters.
"This is just the start of that," he said. "I really hope people see that as well."
Calling all HuffPost superfans!
Sign up for membership to become a founding member and help shape HuffPost's next chapter
BEFORE YOU GO
PHOTO GALLERY
The Walking Dead