If you think your day has been tough, tell that to Scott Gimple.
The "Walking Dead" showrunner is used to dealing with all kinds of reactions to shocking moments on the show, but the latest jaw-dropper ― which happened during the midseason finale, "How It's Gotta Be" ― has proved especially difficult.
In the final moments of Sunday's episode, Carl (Chandler Riggs) revealed a zombie bite on his side. In the world of "The Walking Dead," that's basically a death warrant.
Fans were crushed over the fate of the young man who grew up on the show, but perhaps not as much as Riggs himself. Following the show, The Hollywood Reporter released an interview in which he called the news of his character's death "devastating" for him and his family. He explained that he'd just bought a house in Senoia, Georgia, near where the AMC series is filmed.
William Riggs, Chandler's father, also posted an emotional message on Facebook after the episode, saying how hard it was to watch his son get "fired" and adding that he didn't trust Gimple or AMC. He later deleted the message.
Before HuffPost jumped on the phone with Gimple, AMC emailed to say there would be "no comment" from the showrunner on Riggs' father's Facebook message. However, during our conversation, Gimple did describe how hard it's been for him since Carl's impending death was revealed.
"I'm just thinking about Chandler, and the cast and crew and all the people put together, but it's tough," he said. "I knew it would be tough for the people who have been following the story for so long, and it's the kind of turns the story takes that are so painful."
Gimple stressed how important the next episode, ostensibly Carl's last appearance as a living person, will be. "The next episode is really critical to the whole story of it, to Carl's story, and to how Carl's story affects everyone else," he said. "This is just the start of that. I really hope people see that as well. It's amazing work by Chandler and [Andrew Lincoln], Danai Gurira, and everyone else. And there is, I hope, some meaning to be drawn from it."
Gimple chatted more about how the show decided upon Carl's death, whether Riggs' future college plans really had anything to do with the plot twist, and where "The Walking Dead" is headed now.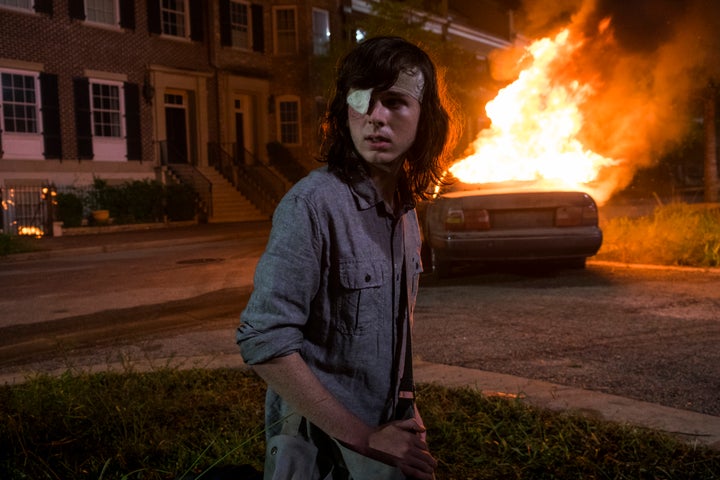 What were the conversations [in the writing room] like when you decided this is how the story would break?
It was all just story. When we're planning the story, there's all these different iterations that are played out into the future. ... The map of the show is all these 14 paths. This was one of those 14 paths.
Can you say what some of those other paths were?
I really can't get into that. The "why" of it is played out on screen ... but there's stuff in this that affects things years from now.
At what point did you know it had to be Carl?
I definitely don't want to pin that one down either, but I will say the possibility of that fork of the map had been there. We talk about all those different iterations.
There were rumors that Chandler's character would be written off after his college announcement in 2016. Did that have anything to do with it?
No, I mean that would've been outside the story, unless we were approached or something like that. But, no, it's always just about the story.
What was the conversation like when you told him?
Two or three years ago, I figured out that I should never get into the private conversations that we have about this stuff. It's so personal. I wouldn't want to talk about what happened behind the scenes like that. It's very much about what happened on screen.
Anything to say to all those Carl fans out there?
Carl is one of the most important characters on the series, and this turn in his story is going to indelibly affect everything moving forward.
So why Carl and not someone like Morgan?
I think it'll be apparent as to how this affects the story in seismic ways, at least what this story entails. There's a million different ways it could go, but people will see the way it goes.
You said on "Talking Dead" that this will play out the way bites play out on the show. But there's a theory that Carl could've been bit by a Whisperer [a human in a zombie disguise]. What are your thoughts on that?
What I said last night on "Talking Dead" is true. This bite will play out as we've seen bites play out on the show. That's a very cool, imaginative, intense theory, but this bite plays out as we've seen it play out.
What are you proudest of after the episode?
It was a very difficult episode to do emotionally and to execute. It was a very ambitious episode. All the writers, the productions staff, the [executive producers]. David Leslie Johnson and Angela Kang, who wrote the script. And Michael E. Satrazemis, who did such an amazing job directing it. I'm just proud how everyone came together. I'm so proud of Chandler and the performance that he gave, but people haven't seen anything yet. Both in our next episode, but just in Chandler's work moving forward. He's a remarkably talented young man, just came out with some new music that people should check out, and he's diving into projects immediately.
But he's not dead on the show. There's an incredible episode coming up, and I do hope it contextualizes all of this. I do hope people check it out because it really is some of the finest acting work we've had on the series, and it's all Chandler.
What's the challenge moving forward without one of the most important characters on the show?
The challenge, certainly we had to think about this, is to tell the stories from the [comic books]. They're going to be in very different ways now. We've always done it. There's this butterfly effect that happens with characters that are on the show that weren't in the book, or rather aren't currently in the books, that were in the book, and vice versa. Then there's characters that weren't a part of the book like Daryl, and there's this butterfly effect that affects everything, and it changes the "who" sometimes and the "how" sometimes, but we really want to get to the moments from the book that had me giving [creator Robert Kirkman] money every month. And I still do sometimes.
I love the stories from the book. When I started on the show, I wanted to tell them exactly like the book, and Robert was very open to do it loosely and change things because he had told those stories and told them so well. I still want to tell those stories with great fidelity but with changes to surprise the fans and potentially enhance the story in some ways, just by virtue of knowing years ahead things that we could do. It's a challenge, but it's a challenge we've met before. We have a great group of people to do it, and we've already thought a lot about it.
Before You Go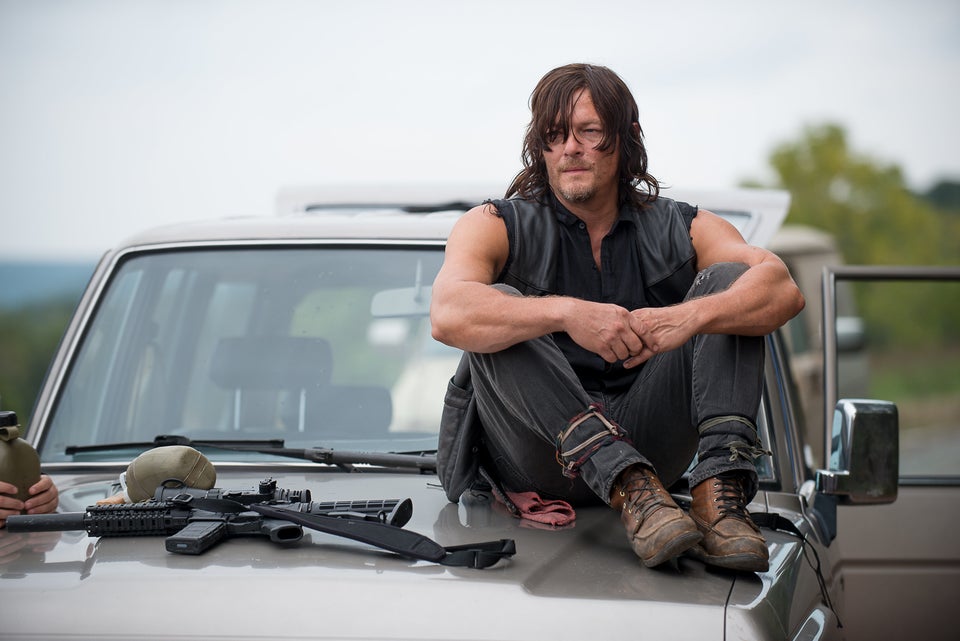 The Walking Dead
Popular in the Community