"The Walking Dead" midseason finale promised us a shocking moment — a moment not even spoiler sites would report on. And on Sunday night, the AMC show sadly delivered.
"Walking Dead" fans, we may have heard our last "Cooooorrraallll!!!"
In the latest episode, "How It's Gotta Be," there was all kinds of "Walking Dead" pandemonium.
Here's the episode in a nutshell: The Saviors unleashed devastation. They escaped their previously threatened headquarters, the Sanctuary; took Ezekiel (Khary Payton) prisoner after attacking the Kingdom; and captured Maggie (Lauren Cohan) and her Hilltop crew. And then Negan (Jeffrey Dean Morgan) himself blew Alexandria to smithereens.
However, the worst of the worst happened during the closing moments of the episode. As a group of Alexandria's survivors sat in the sewers, Carl (Chandler Riggs) revealed to Rick (Andrew Lincoln) that he is dying from a zombie bite.
Carl told Rick that the zombie bite occurred when the younger Grimes was helping Season 8 newcomer Siddiq (Avi Nash), but his explanation was a little vague. (It seems most likely that the chomp took place in Season 8, Episode 6, "The King, the Widow, and Rick," when Carl and Siddiq were killing zombies in the woods.)
Carl hasn't officially died as a result of the bite, but it seems like there's no way out for him now.
"[That bite] is a one-way ticket," showrunner Scott Gimple said during "Talking Dead" on Sunday.
In an interview with The Hollywood Reporter on Sunday, Riggs put the nail in his character's coffin. "Thank you to all the fans for giving me a job for eight years and for giving me this amazing experience," he said, "and blessing me with this career and this chance at having so much opportunity."
Of course, Carl's death has been somewhat suspected since actor Riggs, who's played the character since 2010, announced that he was accepted to college in November 2016. 
In addition to the announcement, Comicbook.com reported that Riggs' father posted and deleted a long Facebook message, which sounded like a farewell to the show. Here's what he reportedly posted:
7 year contract completed! Grateful to AMC, Cast & Crew, TWD fan base, and especially Chandler for always being 100% dedicated. Whether is was getting up at 4 AM, working in the freezing cold past 2 AM, leaving his friends and carefree kiddom behind, scrambling to make up missed schoolwork, he has done it without complaint and always made me proud & amazed to be his dad!"
In October's Season 8 premiere, viewers also got a taste of a time-jump scene involving Rick Grimes, aka Carl's dad, looking teary-eyed ― similar to how he looked following the deaths of Abraham (Michael Cudlitz) and Glenn (Steven Yeun).
Moreover, in the Season 8 premiere, a Savior blatantly told Rick, "Your boy's gonna die." The foreshadowing was there.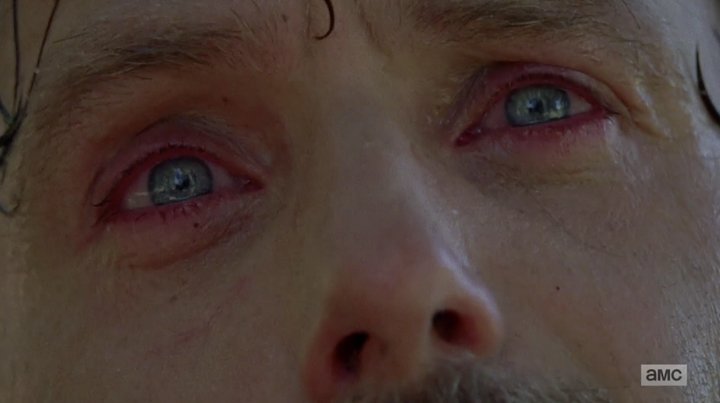 Following the Season 8 premiere, we asked executive producer David Alpert about the prediction.
"I think we've shown time and time again that everybody's on the table," he told HuffPost, "and that we're the type of show [where] we don't have a problem deviating from what the comic does."
Despite all the hints, the moment was shocking. If fans thought anyone in the "Walking Dead" universe was safe, it was probably Carl. "Walking Dead" creator Robert Kirkman called Carl his favorite character during a Reddit AMA, and the now-doomed character has a lot of storyline left from the comics that we might not see play out on screen.
Ultimately, Carl's death is the show's single-greatest deviation from the comics thus far, and could produce an enormous ripple effect. 
"The things that we see in the next episode are so important to [Carl's] life and other characters lives," Gimple teased during "Talking Dead."
We'll see it all play out when "The Walking Dead" returns in 2018. Here's to eating pudding up in the sky, dude. 
REAL LIFE. REAL NEWS. REAL VOICES.
Help us tell more of the stories that matter from voices that too often remain unheard.
BEFORE YOU GO
PHOTO GALLERY
The Walking Dead