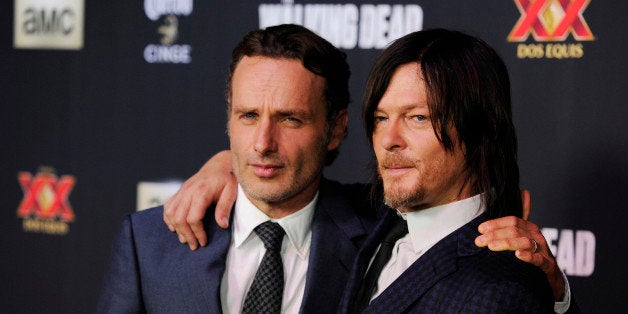 This has arguably been the best season of The Walking Dead -- really, there hasn't been a year of the AMC show with so much movement and action. Just to have our "crew" finally out of Georgia and in the Alexandria safe zone has been a joy to watch. It's 634 miles from Atlanta to Alexandria, or a 10-hour drive, and that's with no zombie herd traffic. Remember, this season started at Terminus and then moved for a few episodes to the hospital in Atlanta (where we lost Beth). It's been a journey.
Counting down to this week's 90-minute finale of The Walking Dead will be filled with anxious anticipation. It will also be filled with one other unfortunate thing: death, and most likely the death of a major character. There will be blood in the finale and not all of the blood will be zombie blood. The following is a playful Vegas-style look at the odds of who will die in the Season Five finale of The Walking Dead:
Rick Grimes: 12 - 1

Can't see it happening.
Not now. Sure, he's getting dark, and on edge, and he's in trouble and may face exile from Alexandria. Rick will probably kill in the finale, but as far as him getting axed: It would be a real surprise. His character arc hasn't reached a proper ending, which as the star of the show, he deserves. Besides, who would take care of Carl?
Glenn Rhee: 4 -1

Glenn's vulnerable. He could die.
He's already lost a lot this season: Beth and losing Noah in a gruesome manner. Noah was the first character that died on Glenn's watch (meaning a run that he led). I don't think Glenn will die mainly because of Maggie. She's lost too much too fast. Glenn's vulnerable, but probably safe. Although that dude Nicholas has the mystery gun, and in his mind if anyone's name has a bullet on it, it's Glenn's.
Carl Grimes: 30 - 1

Carl's not dying. He's just starting to dig on chicks.
Daryl Dixon: 8 -5

I think Daryl's dead. Sure, he's a show favorite. And he's super awesome, but the writing is on the wall. He's vulnerable in his job as a recruiter. Plus, Daryl's character arc is complete. He will never adjust or quite fit in; he's lost Beth and his brother; his relationship with Rick and Carol has changed. Telling you.
Also, Norman Reedus is the scheduled guest on The Talking Dead, which is a dead giveaway that he's zombie bait. In addition, the actor has also agreed to a bunch of new projects in the near future. Brace yourself, we might lose Daryl this week.
It'd be a surprise but anything's possible.
Carol seemed comfortable in Alexandria meaning she knew how to -- like she said -- "make herself invisible." She should be safe into Season 6, although, in the preview for the finale she makes herself more visible by threatening Jessie's wife-beating doctor husband Pete, PLUS, Melissa McBride was just announced as a guest on The Talking Dead. It's hard to imagine that either Carol or Daryl doesn't die in the finale with both of them on the talk show after -- at least one of them will bite the dust.
After losing her father and her sister, and with Glenn still around, I think Maggie has a bright future, and it's no coincidence Deanna is grooming her to be a politico.
Sasha's a freaking hot mess. She's SUPER vulnerable and doesn't have much to live for. After losing Bob and Tyresse, poor girl, one could only empathize with her. Hopefully someone will save her -- hopefully the girls in the show: Sasha needs some girl power love right now or she's dead-meat. But it doesn't look like she wants it.
This girl is a bad-ass and it's hard to see her dying anytime soon.
This guy is a monster and will be hard to kill.
Besides, his story arc isn't done evolving.
Eugene Porter: 11 -1

Eugene finally grew a pair of balls, would seem wasteful to kill him off now.
Father Gabriel: 6 -1

Besides being a snitch and a coward, not sure what good he's brought the group. If push came to shove, not sure many would go out of their way to save him.
Tara's already banged up, hard to see the producers adding insult to injury.
Another Houston-based character that hasn't fully evolved yet.
O.M.G. -- can't wait for the finale this Sunday night. Of course a lot of the Alexandria characters are extremely vulnerable also and some of them we care about: Aaron and Jesssie and Deanna and her husband. Good luck to everyone because we all know no one is safe and blood will be shed. No matter what, congratulations to the entire cast and crew of The Walking Dead for another amazing season.
Who do you think will die?
Anybody want to bet? (Just kidding)...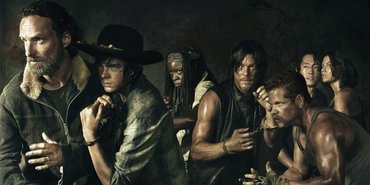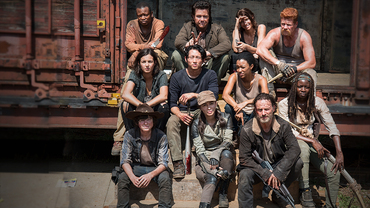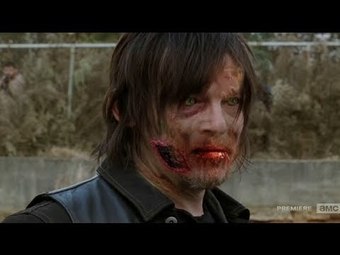 Photoshopped image of Daryl as a walker.
Can it be true?

Calling all HuffPost superfans!
Sign up for membership to become a founding member and help shape HuffPost's next chapter