Sunday night's midseason premiere of The Walking Dead (AMC, 9 p.m.) features many zombies, the inception of countermeasures and a reminder that it is not smart to mess with Darryl.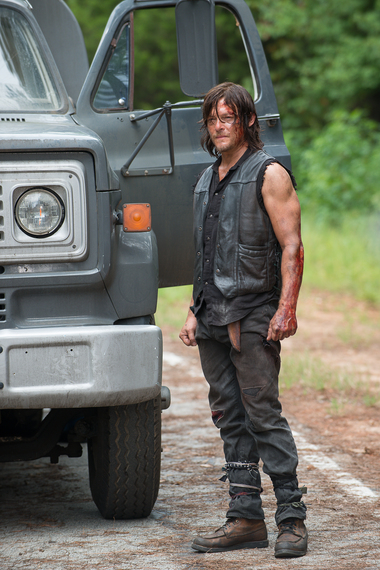 It's a fast-moving hour, and AMC has thoughtfully asked that the "fan experience" be respected, that is, not many of the details be revealed.
The request seems fair, so we'll leave that part up to the massive Internet Walking Dead industry seemingly dedicated to nothing else.
In the broader picture, it's fair to say that as we reach the second half of the sixth season, the show's quality remains at a satisfyingly high level. While few shows reach this point without sometimes feeling as if they're gasping for air, or for stories, TWD has maintained its intensity and character interest remarkably well.
It helps that outside of a few core characters, the show has had a high churn rate. That continues in Sunday's episode, which features several lineup changes.
New characters at their best present new opportunities, and it's no secret that at least one more major fresh face is arriving later this season: psycho-villain Negan, played by Jeffrey Dean Morgan. We get a sort of preview of his style on Sunday, though we don't yet see Negan himself.
As for what we do see on Sunday, the earlier season 6 episodes left a grim situation for Rick (Andrew Lincoln), Carol (Melissa McBride), Darryl (Norman Reedus), Carl (Chandler Riggs), Morgan (Lennie James) and the other survivors.
Alexandria, where they had taken refuge and gotten a brief tantalizing reminder of how life used to be, was finally overrun by thousands of walkers.
This obviously presents a dilemma, and Sunday's episode has our folks taking action to deal with it. It's not for the faint of heart, as if anyone faint of heart would still be watching The Walking Dead at this point.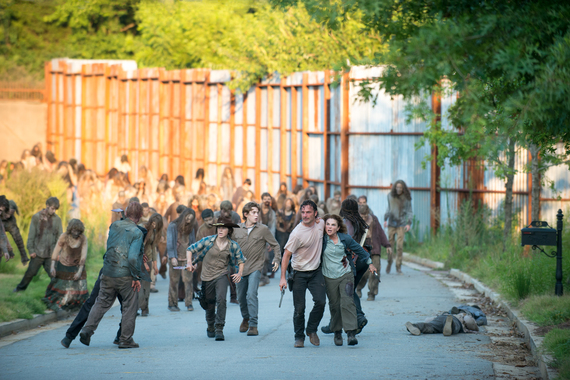 Several personal minidramas are resolved, not always with a good outcome, and that foretaste of Negan's impending arrival doesn't suggest happy days are quite yet here again.
Still, there are random moments of hope and even optimism scattered through the episode, and that alone means the odds the survivors seemed to face in last fall's episodes have been defied.
Sunday's return has a couple of the one-to-one scenes that The Walking Dead has played so well, the scenes that paint the colors and nuances of particular characters.
But on the whole it's more an ensemble episode, in which people who don't like each other realize that when you have 10,000 zombies and a couple of hundred survivors, you should maybe try to take care of the walkers first and sort out the personality clashes later.
In neither pursuit should you mess with Darryl.
Calling all HuffPost superfans!
Sign up for membership to become a founding member and help shape HuffPost's next chapter