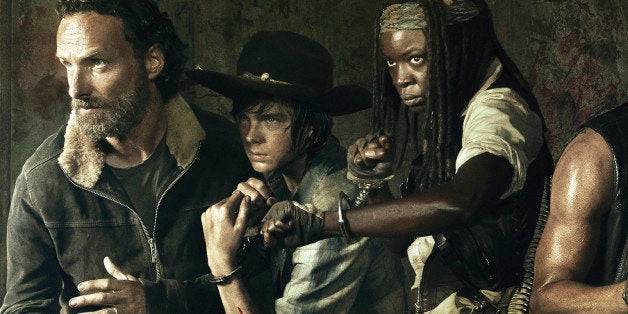 In "Walking Dead" Season 5, it's time to hunt or be hunted.

Now, after months of waiting, "The Walking Dead" is coming back, and it's a good thing, too, because we've missed it more than Carl Grimes misses pudding.
So how did we get here?
Season 4 started out with the survivors and the Woodbury defectors all enjoying the good life at the prison while Rick Grimes basically became Old MacDonald and tried his hand at farming, but it wasn't long before that all went to hell.
Soon, a crazy disease hit the prison and people started dying. Carol got banished for killing a couple of the sick people, most notably Tyreese's new boo, Karen, and it wasn't long before the Governor came back to try to take the prison again with a new group of people.
So much for the farming life ...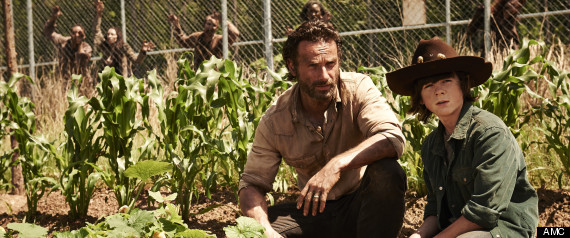 After the prison got destroyed and Hershel and the Governor both bit the dust, the group became separated.
Following many trials and tribulations, the separate groups become Carol, Tyreese and baby Judith; Rick, Carl, Daryl and Michonne; and then Glenn, Maggie, Sasha, Bob and Tara, one of the survivors from the Governor's new group, teamed up with three new characters, Abraham, Rosita and Eugene, a character who claims to know a cure for the outbreak.
Rick and Glenn's groups arrived at a supposed safe haven called Terminus where they were promptly captured and put in the boxcar, and Carol's group is presumably headed to the same place.
Now that we're caught up, here are 5 spoilers for Season 5:
1. The humans will be a bigger threat than the zombies.
You can't have "The Walking Dead" without zombies, but, after four seasons, the characters are pretty used to their circumstances. In an interview with Entertainment Weekly, Andrew Lincoln says the show is definitely earning its TV-MA rating this season, but not necessarily because of the zombies:
Some of the most lifelike moments are the zombies now. And I think that that's a huge change. It feels real after these people have been inhabiting this world for two years, you know? The people left are going to be just as equally pragmatic and brutal, and tough, and resilient. So the clash in this season, and the conflict and the fear and the terror comes directly from the humans.

Also, there is some strong evidence for rumors that the residents of Terminus, aka the "Termites," could represent the cannibalistic Hunters from the comic books, which means Rick and the survivors could be in for a pretty unpleasant stay.
2. Terminus is nothing compared to what's coming.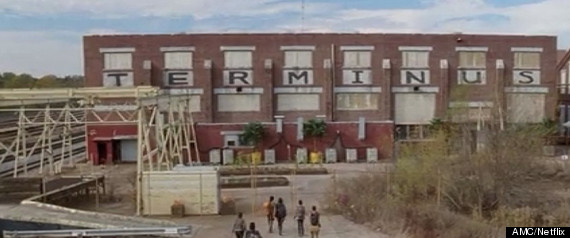 Though the human violence is going to new levels this season, it won't just be from the residents of Terminus. In an interview with TV Guide, "Walking Dead" creator Robert Kirkman said Terminus' Gareth is "definitely not the villain of Season 5."
In other interviews, Kirkman confirmed a major villain from the comics, Negan, would eventually appear in the show, and with the characters reportedly set to start heading to Washington, D.C., and Kirkman saying this season may stay closer to the comics than ever before, that storyline could be on the way sooner rather than later.
3. Season 5 will have another romance.
In an interview with Larry King, showrunner Scott Gimple confirmed there would be another romance in Season 5 besides Maggie and Glenn's.
When asked by Entertainment Weekly about a possible love connection in Season 5, Emily Kinney, aka Beth, did admit she thinks "Beth and Daryl have a nice connection from Season 4." And since the trailer showed us that Beth is definitely alive, perhaps Season 5 will give these two a chance to explore that connection.
4. Some of the craziest-looking walkers are on the way.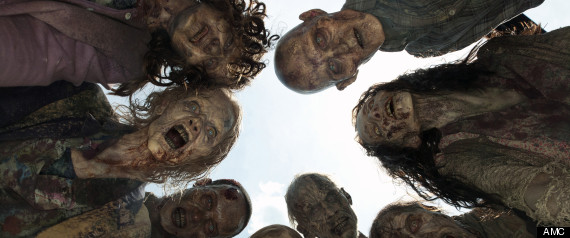 The trailer for Season 5 has already shown glimpses of grossly bloated and gnarly-looking walkers, and, at "The Walking Dead" Comic Con Panel when answering a question about the diversity of walkers, Gimple confirmed a variety of walkers are on the way:
As we go on we're going to see all sorts of different walkers ... all sorts of different types of people who are people that then become walkers ... people who are walkers ... you're going to see a lot of stuff is what I'm saying.
In addition, special-effects supervisor Greg Nicotero has reportedly been making the zombies look increasingly decomposed each season, meaning Season 5 is set to have some of the most grotesque-looking zombies yet.
5. Major characters are going to die (and probably quickly).
It's been widely reported that major characters are dying in Season 5, and you probably won't have to wait very long for it to happen. Supporting this, Kirkman told The Hollywood Reporter that it's "always extremely likely" that major characters will die and that, though Season 4 "let off the reins" in terms of deaths, Season 5 "hits the ground running" and doesn't let up.
Reiterating this point, in an interview with HuffPost Entertainment, Norman Reedus told fans, "Grab your tissues."
Get ready, everyone. "Walking Dead" Season 5 is finally here!

Season 5 of "The Walking Dead" premieres Sunday, Oct. 12, at 9:00 p.m. ET on AMC.
REAL LIFE. REAL NEWS. REAL VOICES.
Help us tell more of the stories that matter from voices that too often remain unheard.
BEFORE YOU GO