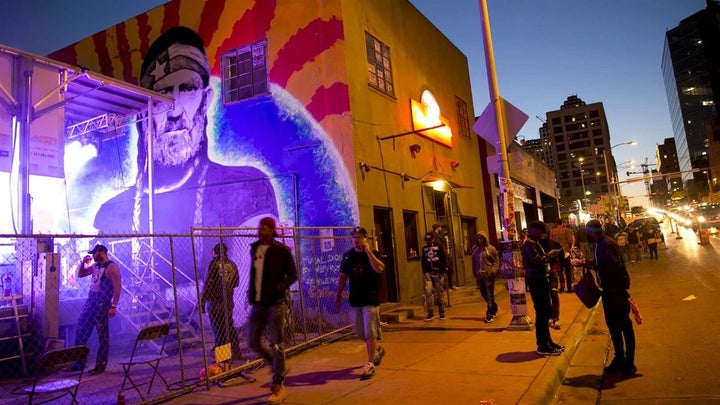 WASHINGTON — It's 11 p.m. on a typical Saturday on U Street and music is blaring from the glittery bars and clubs. Many of the partiers, decked out in their finest, will stick around till the bars close at 3 a.m., then pour out onto the sidewalks — and sometimes into the streets.
"I've seen drunk people wandering into the street around 2 or 3 in the morning like zombies," said Austin Loan, a bouncer checking IDs at Hawthorne, a restaurant with five bar areas and DJs on the weekends. "When you get drunk you think you can rule the world. You may not be paying attention to anything else."
That could have deadly consequences.
Whether they're emptying out of bars, going home from football watch parties, or trying to get across the highway, drunken walkers are dying in traffic crashes nationwide at alarming numbers.
A third of pedestrians killed in crashes in 2016 were over the legal limit, according to the National Highway Traffic Safety Administration. That's nearly 2,000 people — up more than 300 since 2014.
"Those numbers are pretty shocking," said Jonathan Adkins, executive director of the Governors Highway Safety Association, which represents state highway safety offices. "We think this is a big problem."
Being drunk can impact your judgment and reaction time and result in poor decision-making and risky behavior, such as crossing an intersection against the light or cutting across a road mid-block, safety experts say. You may not even be thinking about whether drivers can see you.
And while there are lots of programs designed to reduce drunken driving and improve pedestrian safety, there's little out there aimed at impaired walkers.
"We've done a good job of educating people about drunk driving and the dangers," Adkins said. "But we haven't reminded people that if you're too hammered to get behind the wheel, you may be too hammered to walk home in the dark."
Pedestrian deaths are a growing concern. They jumped 27 percent from 2007 to 2016 while other U.S. traffic deaths dropped.
"Most people don't realize how big a problem it is to be walking when you're impaired," said Jessica Cicchino, a vice president at the Insurance Institute for Highway Safety, a nonprofit research group funded by auto insurance companies. "You're probably not going to be putting anyone else at risk, but you could be hurting yourself."
Drivers often don't see drunken pedestrians in the roadway until it's too late, Cicchino said, especially at night, when most deaths occur. Many are in urban and suburban areas. The victims, typically men between the ages of 21 and 59, are not crossing at an intersection, research shows.
"If your reflexes are impaired, you might be stumbling into the road and not able to act as quickly," Cicchino said.
Some drunken walkers are killed on roads near downtown entertainment centers, but many are killed on higher-speed, busier roads and highways. Some of the victims are homeless or transient.
In Austin, where a dozen drunken walkers died in 2016 and seven died in 2017, many crashes were on a stretch of Interstate 35, an eight-lane, high-speed highway divided by a concrete barrier, said police Detective Pat Oborski. The highway is lined with fast-food restaurants on one side and low-cost motels on the other.
Drunken pedestrians cross the highway, going back and forth between the motels and restaurants located on frontage roads, Oborski says. While there's a bridge over the highway about a quarter of a mile away, some people figure it's easier to run across than to walk to the bridge.
Austin's pedestrian safety coordinator, Joel Meyer, said officials are aware of the drunken walker problem and are working on ways to make pedestrians more visible, such as providing safer crossings and improving street lighting.
In Delaware, where tourism is a major industry in its beachfront towns, officials also worry about impaired walkers. Seventy-seven impaired walkers in the state have died in crashes in the last five years, about half of pedestrian deaths.
"We know it's a problem," said Delaware Office of Highway Safety spokesman Mitch Topal. "People are having a good time at their hotel or their rental. And there are a lot of bars and restaurants. People are going from one place to another."
Officials have launched a media campaign to alert the public about the problem, Topal said. They've also sent out street teams to talk to pedestrians at the beaches and hand out reflective wristbands.
But nationwide, little has been done to address drunken pedestrian deaths, according to a study by the Insurance Institute for Highway Safety. There aren't many educational campaigns alerting people about the risk of alcohol impairment when walking or bicycling, the study found, and more research is needed to figure out how to prevent such deaths.
Among the study's recommendations: lowering speed limits, improving roadway lighting, and marketing ride-hailing services to pedestrians and bicyclists, just as they do for drivers who have had too much to drink.
Safety experts say states also need to broaden their anti-drunken-driving campaigns to encourage pedestrians and bicyclists to opt for alternatives after heavy drinking.
But federal grants that help states fund impaired driving and pedestrian safety programs are very narrowly focused, said Adkins of the Governors Highway Safety Association.
"There are a lot of federal limitations, and these grants need to be reflective of our changing dynamics in transportation," he said. "There is a huge increase in pedestrians, bicyclists, scooters."
Some pedestrian advocates caution that officials need to be careful not to send out a message that blames the victims, who have tried to do the right thing by not getting behind the wheel when they've had too much to drink.
Instead, the priority should be on designing safer roadways, which will influence drivers' behavior and curb speeds where people are walking, said Brendan Kearney, a spokesman for WalkBoston.
Adkins said that while drivers and pedestrians have a shared responsibility to minimize risks, roads should be re-engineered to include pedestrian medians, barriers and bridges to create a safe system for pedestrians and drivers.
"We want to help everyone get home safely," he said. "Humans are always going to make an error. It shouldn't cost them their life."

Support HuffPost
The Stakes Have Never Been Higher
Related
Popular in the Community