Christo's Extraordinary and Ephemeral "Floating Piers"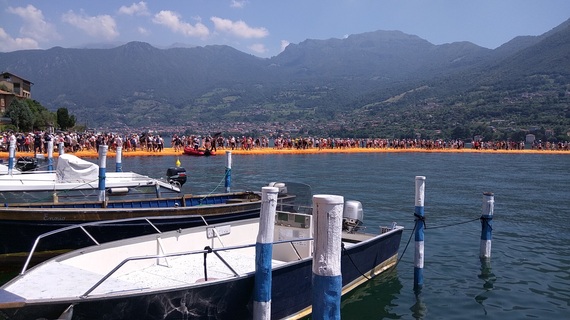 It's an incredible undertaking, a modular floating dock system covered with gleaming golden fabric bobbing gently on the water. It took 220,000 cubes + 220,000 pins + 200 anchors + 37,000 meters of rope and 70,000 square 2015 meters of felt under 100,000 layers of gold fabric to create the nearly two-mile long yellow ribbon walkway leading from Sulzano on the shore of Italy's Lake Iseo to Monte Iseo Island and on to wrap around Isola di San Paolo. Every day thousands of people arrive by bus, car, train, and boat to walk the length of the golden ribbon -- before it's too late. An almost incomprehensible artistic and engineering feat, like all of Christo's projects, it is temporary. After opening on June 18 it will run until July 3 before it's totally dismantled.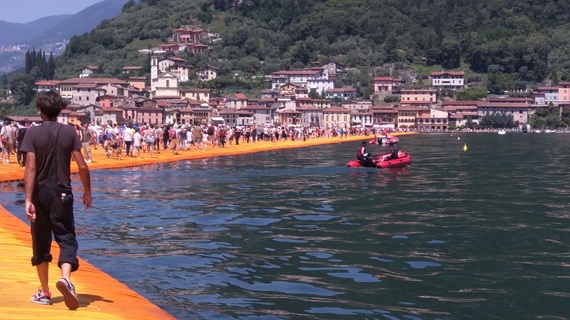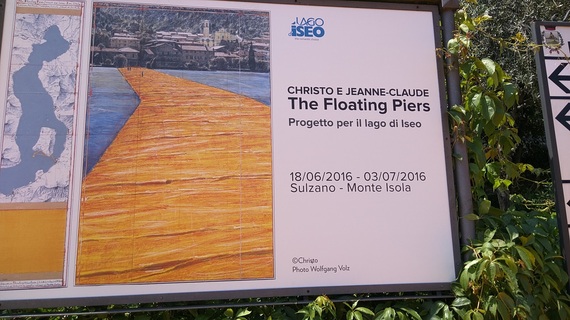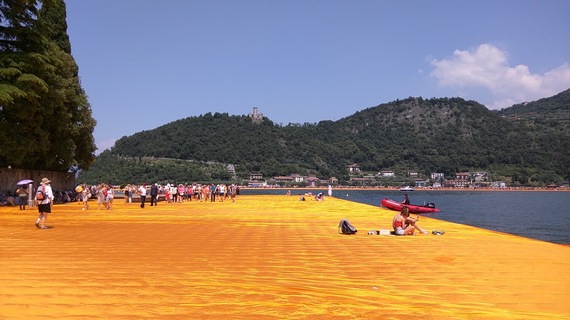 I arrived by car from Milan which is about an hour south west of this lake, a popular Italian tourist spot along with its neighbors Lakes Como and Garda. It was Wednesday, and I'd assumed it would be less crowded mid-week, but by the time I drove up to Iseo, the namesake town about five miles south, police were already directing cars to crowded parking spots and buses crammed with visitors -- of all ages and many nationalities. Standing in queues for another hour I finally set foot on the golden walkway.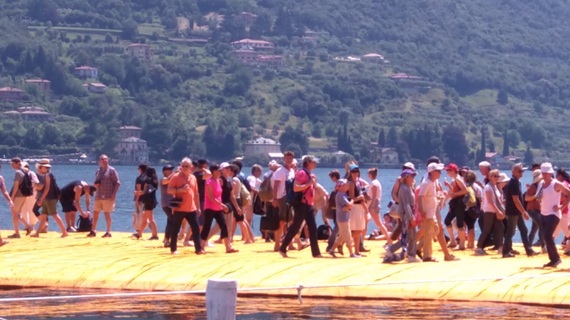 When Christo and his wife and partner Jeanne-Claude wrapped eleven "Surrounded Islands" in Miami in 1983 I was an initial skeptic. "What was the point?" I'd wondered. Then by chance I happened to be walking through Paris in 1985 and came upon their Pont Neuf project-- the historic bridge was encased in fabric. Somehow it was magical. I made a point of stopping by several times, in daylight, dusk, and dawn, and I was hooked. Since then I've followed the duo's projects - the amazing wrapping of Berlin's Reichstag in 1995, the Central Park Gates in 2005 and now this amazing waterborne project.

Aside from the parking and transit fees, no one pays to enjoy the $17 million creation. Christo funds the projects by selling his art and remains of the projects. He claims to do it just because it can be done. And what an amazing engineering project. The structure was secure enough to support the hundreds of thousands of us, on fabric beautifully draped throughout. People could stop along the way to picnic and sunbathe, dangle their feet in the water, even dip into Lake Iseo. Who knows how many photos and selfies were snapped on cell phones.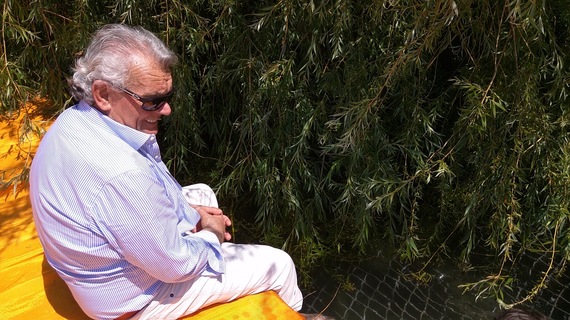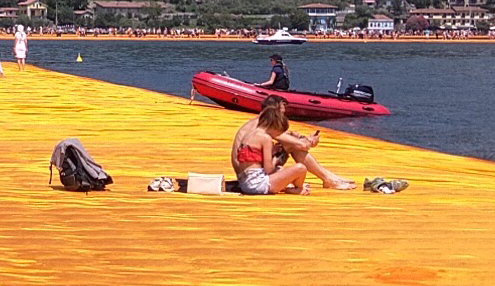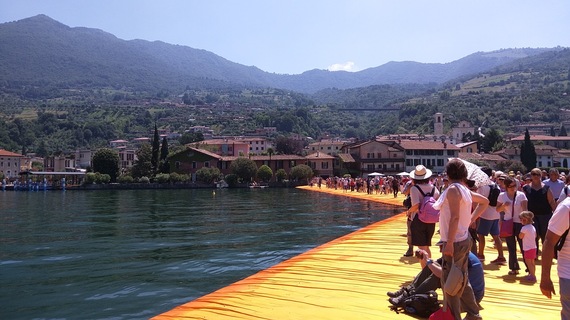 If the Pont Neuf was romantic, the Reichstag was monumental, the Gates were appealing -- this latest project is extraordinary -- in scale and human interest -- If you're happen to be anywhere near Europe this time, take the detour to northern Italy -- you won't get another chance to participate in such an amazing experience.