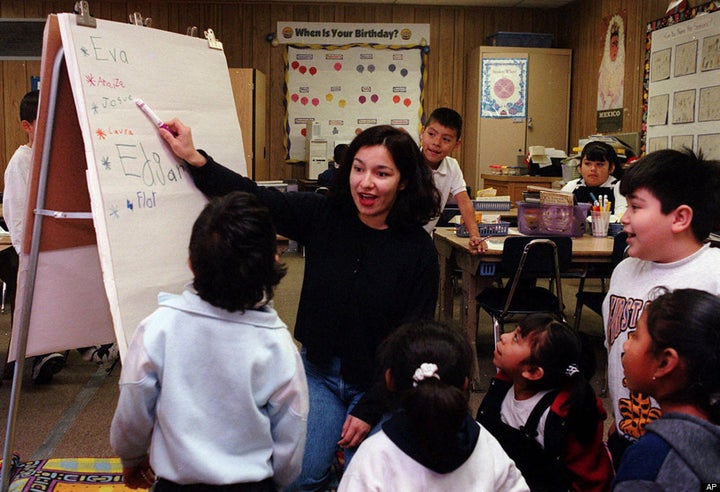 This past week, I visited Washington DC to walk the halls of Congress, the State Department, National Security Council and Office of Management and Budget. Not the usual destinations for someone who often plays dress up for a living, but I was there with 1GOAL: Education for All to pound the pavement and talk about education for the world's poorest children.
I was looking for champions -- those who have been working tirelessly on this issue, like Chairwoman Nita Lowey, Secretary of State Hillary Clinton, Speaker Nancy Pelosi. I wanted to sit with these incredible women, learn from them, and say thank you for their work on helping every child, especially girls, get the opportunity to have an education. I thanked Senate Majority Leader Reid for his support and met with both Democrats like Congressman Smith and Republicans like Senator Isakson, who believe education is a powerful tool to expand opportunities for women and fight extremism.
I spoke with people like Gayle Smith, President Obama's lead on international development at the National Security Council, spoke with expert teams at the Office of Management and Budget and met with the groups and advocates working on this issue. My view of the global education crisis expanded even further as I listened to their take on best approaches to policy. We all agreed that the U.S. has the responsibility to lead on the goal of getting the 75 million children currently out of school into a classroom. And do it sooner rather than later.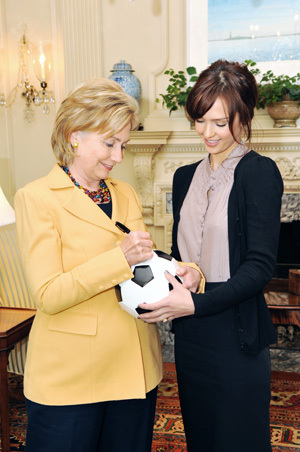 I believe that 2010 is the year for a breakthrough on global education. With the World Cup in Africa and the eyes of the world on the continent, we can connect the energy of this global game with the power of the negotiating table at the world's leading forums like the G20, G8 and UN Millennium Development Goals Summit. The stage is set for America to be a leader and convener, with an opportunity for President Obama to pledge to achieve education for all children and also call on other governments to do their fair share through joint funding and shared approaches.
Why now? The fact is education is the most effective way to fight poverty. Every year a child is out of school is a year they lose in literacy, in health, in opportunity. In the current economic environment, investing is education is smart aid and smart power. Increased global education funding fights global poverty at the root, empowers girls and women, and promotes economic growth in poor countries around the world. Experts tell us that a girl will earn an additional 10% in income for every year of schooling she receives and be 50% less likely to become infected with HIV/AIDS. Larry Summer's own research showed that in Africa, children of mothers who receive five years of primary education are 40 percent more likely to live beyond the age of 5.
For many of my meetings on the Hill, I walked the halls with Mary Njoroge, a Kenyan school teacher who was at the helm of the Kenyan government push in 2003 to get rid of school fees. These small fees, often for a uniform or the equivalent of a just a few dollars, were an insurmountable barrier for children from families living in poverty. Once the fees were abolished, over 1 million children enrolled in school in just one week. Mary has seen it herself, we have approaches that work. Now we need the political will to put them into action.
Every child should have that chance to stand up and walk into their future. They need leaders in Washington and around the world to deliver on their promises so all our children can receive the education they deserve. With U.S. leadership, if we come together in 2010, we can make the lasting legacy of the first World Cup in Africa education for all children.
Related
Popular in the Community