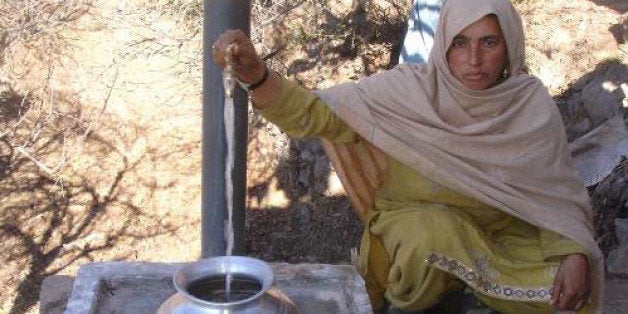 Here in the United States, a 5K is a fairly big event. Those of us who aren't in the best shape train for it, preparing for weeks. The morning of the walk, we have a nourishing breakfast and make sure to hydrate before the ceremonial start. 5K also happens to be about the same distance that many women in less developed countries walk every day to get water for their family. Such a coincidence...so at Islamic Relief USA a few years ago, we decided to combine the two.
Last year was the third year of our Walk for Water, and hundreds of people poured down a street outside of Washington DC, heading for a path through the woods. It was a temperate, spring morning. Some of us walked and some ran -- many families together. We had to cross a stream a few times, and volunteers were stationed there to help older participants, children, and moms with strollers traverse the stepping stones. More volunteers handed us bottles of cold water along the way, as we walked under the canopy of trees.
Zahefa in Kashmir used to make a walk like that every day -- just with a few differences.
The weather wasn't always cool and pleasant -- sometimes it was blazing hot, and sometimes freezing cold and raining. She didn't have a stroller to push her children, and she couldn't have maneuvered it on the rugged footpath anyway. She had to leave her children home alone together and hope they were safe while she was away. There was no volunteer to help Zahefa where there might be obstacles and certainly no bottled beverage to refresh herself along the way. Indeed, this routine took so much of her day that Zahefa -- a widow -- had a hard time earning a living for her children. Even worse, she missed them, and hated being away from them so much.
Islamic Relief USA's Walk for Water didn't just raise awareness -- it also raised money for programs to help people like Zahefa. Islamic Relief helped the residents in Zahefa's village form community organizations, and she joined one. The members decided together that a closer source of clean water was one of their most pressing needs. Carrying water took too much of their time, and the water they brought back wasn't even potable -- too often, it made them sick even.
The organization's members formulated a proposal and then worked with Islamic Relief to implement it, with the support of donors in the United States. Now Zahefa has water piped to her doorstep. After the new water system was constructed, the results were dramatic too. In one of the villages, waterborne illness used to account for 57% of patients treated at a local basic health unit ... after the water system was built, that number dropped to 14%.
Zahefa is using her extra time to grow vegetables to supplement and add variety to her family's meager diet. She is safer now that she doesn't have to make that long journey alone anymore. And she conveyed to us how happy she was to have more time with her children.
Donors bring this blessing of clean, safe water to hundreds of thousands of people around the world every year. These projects don't just deliver clean water -- they also improve health, livelihoods, and even education for girls who can go to school instead of spending their days navigating dangerous terrains to the nearest well.
We are also protecting water's purity by improving sanitation and hygiene in dense, urban communities to refugee camps. Along with protecting the water, these projects aim at spreading basic awareness about hygiene and preventing the spread of communicable diseases -- knowledge that is more urgent than ever with emerging epidemics such as Ebola.
Likewise we help communities recover when there is the problem of too much water. Our staff and volunteers gathered in Detroit, Mich., USA this September to help families recover from damage caused by floods in late summer. They went out and assessed damage and then distributed financial assistance to help our neighbors in America get back onto their feet.
Finally, part of our job is to speak out for those who don't have a voice, advocating for people in need and for the stewardship of the environment. Islamic Relief USA organized a faith contingent to participate recently at the People's Climate March held during the UN General Assembly meetings in New York City.
It will soon be Walk for Water time again. This year, we are planning more walks in cities across the country. Join us in our efforts this spring to walk in solidarity with the millions of people who struggle every day for what we take for granted -- a basic drink of clean water, and everything that goes with it. Whatever we are doing, we are deeply committed to providing people of all faiths with the tools to lift themselves out of poverty and build a more just world.
To see what Islamic Relief USA is doing for #GivingTuesday, visit here.
This post is part of a series produced by The Huffington Post and the NGO alliance InterAction in celebration of #GivingTuesday, which will take place this year (2014) on December 2. The idea behind #GivingTuesday is to kickoff the holiday-giving season, in the same way that Black Friday and Cyber Monday kickoff the holiday-shopping season. We'll be featuring posts from InterAction partners and others all month in November. To see all the posts in the series, visit here; follow the conversation on Twitter via #GivingTuesday and learn more here. For more information about InterAction, visit here.
Related