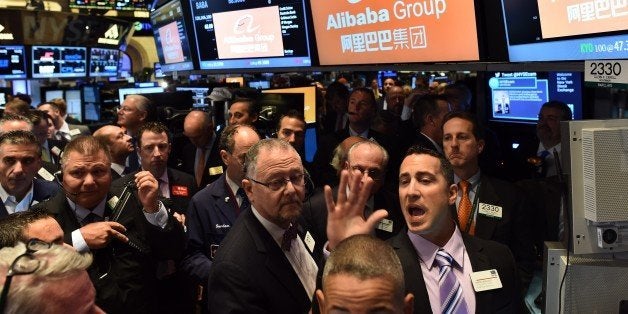 Now there's another reason to make Wall Street more diverse -- doing so can help prevent dangerous financial bubbles.
Non-diverse groups of traders -- like what you'll find at most Wall Street banks, where the traders are mostly white and male -- are more likely than diverse groups to cause bubbles in financial markets, according to a paper published Monday by the Proceedings of the National Academy of Sciences.
"Traders in ethnically homogeneous markets are significantly less accurate, and thus more likely to cause price bubbles," the report states, pointing out that "pricing accuracy is 58 percent higher in diverse markets."
Generally, a financial bubble develops when stocks, bonds, or other financial assets are overvalued -- their prices are much, much higher than what the assets are actually worth. When that bubble eventually bursts, prices drop dramatically, and people lose lots of money. This can trigger widespread financial panic and even recessions.
While it's hard to determine the exact causes of a bubble, the six researchers who co-authored the study set out to prove what social factors affect the likelihood that a bubble will form. In separate experiments in Southeast Asia and North America, they created two types of groups: homogenous groups of traders, made up only of people of each region's dominant ethnicity, and diverse groups, which contained at least one ethnic minority. The groups of traders were then given cash and stocks and traded with each other.
The chart below shows the big differences in how accurately each group priced its stocks. The diverse markets are the top left and bottom left bars, and the homogenous markets are the top right and bottom right bars. Higher bars represent more-accurate prices.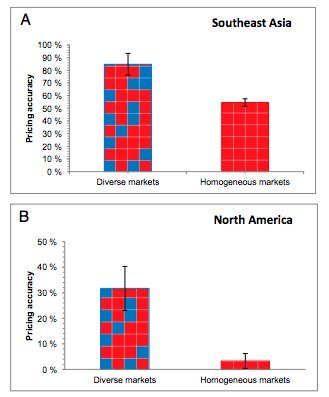 The researchers suggest that, in the homogenous markets, traders were more likely to overprice assets because they were more likely to agree with each other about prices, even when those prices were out of line. In diverse markets, there is inherently more social friction, so traders are less likely to conform, and therefore more likely to question prices and land on more accurate ones.
"The presence of more than one ethnicity fosters greater scrutiny and more deliberate thinking, which can lead to better outcomes," the paper states.
The study focused only on ethnic diversity, but a lack of gender diversity is a problem in finance, too. Past studies have shown that men tend to be more overconfident and less risk-averse than women, which typically translates into worse performance in the stock market.
Wall Street has long had a diversity problem. In 2011, 81 percent of managers in the financial industry were white and 55 percent were men, according to a 2013 study by the Government Accountability Office, which showed that diversity had not improved much since 1993. In firms that focused on trading, roughly 80 percent of all workers were white and more than 60 percent were male, according to the GAO study.
The Wall Street reform law that passed in 2010 made an effort to encourage banks to hire more minorities, but there's little evidence that the industry has diversified much. Nearly 78 percent of new bankers this year were male, according to a recent study by recruiting firm Vettery. Sixty-five percent were white, and only 6 percent were black or Hispanic.

Calling all HuffPost superfans!
Sign up for membership to become a founding member and help shape HuffPost's next chapter