While critics were busy debating the merits of "Fearless Girl" ― that diminutive-but-defiant statue strategically placed in front of Wall Street's resident "Charging Bull" ― the artist behind the old bovine was apparently asking, "What about me?"
According to The Associated Press, Italian-American sculptor Arturo Di Modica is accusing New York City of violating his legal rights by permitting the installation of "Fearless Girl" in front of his bull, without his permission.
Di Modica is expected to explain this accusation in a news conference on Wednesday, his attorney Norman Siegel claimed. The sculptor will be challenging the city officials who issued a permit for the bronze girl to stay until February of 2018, demanding that the city provide documentation behind the decision.
A day before International Women's Day, "Fearless Girl" first appeared on the Wall Street traffic island, meant to symbolize the lack of women on the boards of U.S. corporations. Designed by artist Kristen Visbal, the statue was celebrated by some as a model of female empowerment and criticized by others as a form of pinkwashing.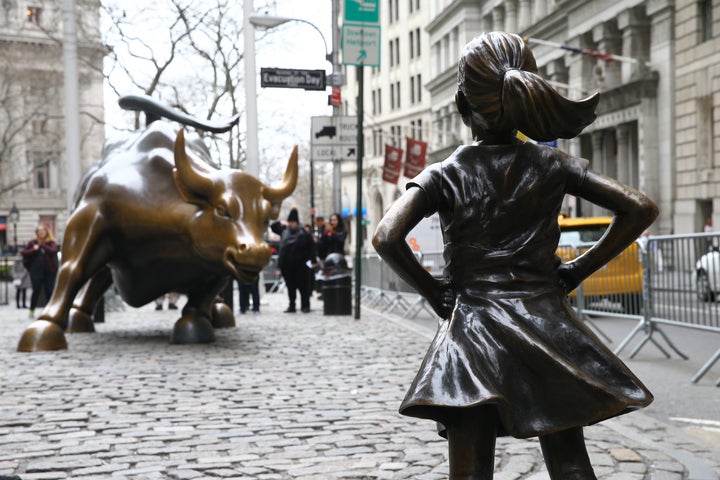 "Don't let emotions about this piece of art fool you," HuffPost's Emily Peck countered. "That adorable, perfectly irresistible little girl is just a super-sophisticated bit of feminist marketing, used to make us feel good and do little that is substantive."
Di Modica seems to agree, calling the statue an "advertising trick" created by corporations themselves ― Boston-based State Street Global Advisors and New York-based advertising firm McCann.
Di Modica installed his 7,000-pound bronze bull in 1987, not long after the stock market crash of that same year, The Guardian writes. He did so in the middle of the night, without a permit. Authorities originally removed the work, but later reinstalled it after public outcry made clear that New Yorkers wanted the bull to stay.
Visbal's work was also installed in the middle of the night, though this time, with a permit. Similarly encouraged by fans, Mayor Bill de Blasio announced last month that "Fearless Girl," initially scheduled to be removed on April 2, would remain where she is until 2018.
Displeased with that decision, Di Modica is fighting back.
"We're all for gender equality," Siegel, the former director of the New York Civil Liberties Union who's handling Di Modica's case alongside attorney Steven Hyman, told The Washington Post on Tuesday night. "But the questions are because there are other issues."
A lawsuit has not yet been filed, added Siegel, who has yet to provide further details. The time of Di Modica's Wednesday press conference is unknown.
This piece has been updated to include comments made by Mayor de Blasio on Facebook.
Popular in the Community