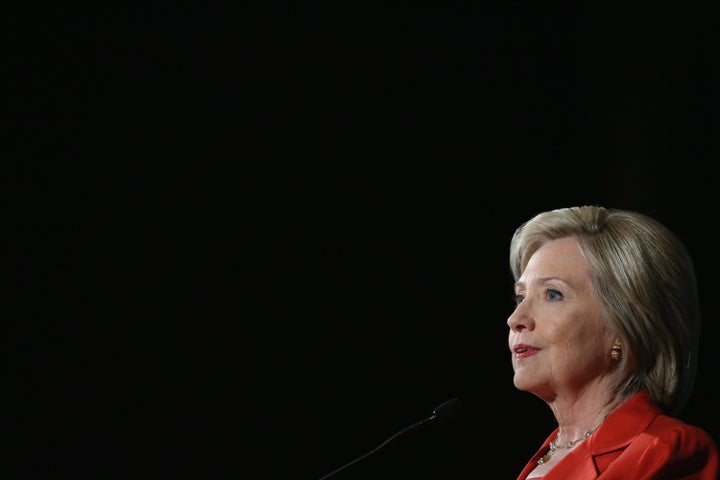 WASHINGTON -- In the early campaign money race for the 2016 presidential election, executives and employees of big bank institutions are lining up behind three candidates: Democrat Hillary Clinton and Republicans Jeb Bush and Marco Rubio.
Clinton, the former secretary of state and New York senator, leads all candidates, with $432,610 from big banks' executives, employees and their spouses. This includes banks like JPMorgan Chase, Bank of America, Goldmans Sachs, Morgan Stanley, Citigroup, UBS, Barclays, Credit Suisse and Deutsche Bank.
Bush, whose fundraising is somewhat obscured by the fact that he raised $100 million for his super PAC until June 15, was close behind, with $353,150 for his official campaign. When his super PAC numbers, to be reported on July 31, are taken into account, Bush likely will have raised millions from these bank executives. In third place, Rubio pulled in $105,669. No other candidate cracked six figures.
Clinton, Bush, Rubio Are Top Recipients of Big Bank Cash
Fundraising from Wall Street banks is watched closely among political actors as a signal of how well-funded a particular candidate will be and how much establishment support they will have. Lower Manhattan is the Mecca of political money, as candidates from both parties make repeat pilgrimages to raise cash for their campaigns. The broader financial sector, which encompasses hedge funds, investment firms and private equity aside big Wall Street banks, is the single largest source of funds for all federal political campaigns, providing more than $2 billion since the 2008 election, according to the Center for Responsive Politics.
But ever since the financial meltdown and ensuing recession in 2008, the political role of large financial institutions has come into question in both parties. In the Republican Party, the tea party pushed out Wall Street allies like former House Majority Leader Eric Cantor (now an executive at a Wall Street investment firm) while the Democratic Party raised up Wall Street critics like Sen. Elizabeth Warren (Mass.) into leadership positions and fueled Vermont independent Sen. Bernie Sanders' primary challenge to Clinton.
"Who candidates surround themselves with and who they raise money from suggests how they'll govern," said Kurt Walters, spokesman for the progressive campaign finance reform group Rootstrikers. "Progressives are paying attention to who is advising and who is contributing to the campaigns."
A majority of the big bank donors -- 136 out of 227 -- giving to Clinton's campaign did not give to either of Obama's campaigns. For many of these donors, their contribution to Clinton's 2016 campaign is their first donation, but there are also numerous donors with a history of political giving to Democrats that noticeably did not include the two Obama campaigns. Clinton did receive contributions from 72 big bank donors who gave to one or both of Obama's campaigns.
At the same time, she received contributions from 15 donors who supported Romney in 2012 or Republican nominee John McCain in 2008. Morgan Stanley boasts the largest number of Romney donors now giving to Clinton, including chairman emeritus John Mack and his wife Christy Mack, and chief operating officer James Rosenthal. Her campaign also received donations from three Barclays bankers -- Robert Foresman, Ed Moldaver and Brett Tejpaul -- who are also giving to the Bush campaign.
Morgan Stanley executives and employees contributed the most to the Clinton campaign, with $90,799. JPMorgan Chase was second, with $72,837; Bank of America Merrill Lynch was third, with $56,778; Wells Fargo was fourth, with $49,750; and Goldman Sachs came up fifth, with $49,250.
"People from across the country and a range of backgrounds support Hillary Clinton because they know that she's fighting for them -- from increasing the minimum wage to paid leave, holding Wall Street accountable and strengthening the middle class," Clinton spokesman Josh Schwerin said in an emailed statement.
The role of Wall Street in government was highlighted further in the presidential campaign on June 17 when Warren told the annual gathering of progressives at Netroots Nation that presidential candidates should shut the revolving door between Wall Street and Washington and refuse to appoint their Wall Street supporters to executive branch positions overseeing the financial sector.
"Wall Street insiders have enough influence in Washington already without locking up one powerful job after another in the executive branch of our government," Warren said. "Sure, private sector experience can be valuable -- no one ever said otherwise -- but there is a point at which the revolving door compromises public interest. And we are way beyond that point. 
A number of Clinton's bank donors have already gone through the Wall Street-Washington revolving door.
Morgan Stanley executive Tom Nides worked for Bill Clinton's presidential administration before joining Credit Suisse and then Morgan Stanley. Nides left his Morgan Stanley position in 2009 to work as a deputy secretary of state under Hillary Clinton, and then moved back to the bank in 2013. He has raised more than $100,000 for Clinton's current campaign.
Peter Scher and Gregory Baer, top members of JPMorgan Chase's Washington team, both worked in the Bill Clinton administration before moving to the financial sector. In 2011, both Scher and Baer were targeted by Occupy Wall Street protesters who swarmed their suburban homes to call attention to the lobbying operations that loosen rules to allow banks to provide faulty mortgages to people and then foreclose on their homes -- often under highly dubious and illegal circumstances.
Other Clinton donors who have been through the revolving door already include Citigroup's Peter Orzsag, the former director of Obama's Office of Management and Budget; Morgan Stanley's Harold Ford Jr., a former Tennessee congressman; JPMorgan Chase's Naomi Camper, a former Senate staffer; and Goldman Sachs's Wenchi Yu, a former State Department aide under Clinton. 
Bush's bank donors also include a number of former government officials who could have influence in a third Bush family administration. 
These donors include Goldman Sachs chairman Robert Zoellick, appointed to head the World Bank by former President George W. Bush and a Deputy Secretary of State in his administration; Faryar Shirzad, head of Goldman Sachs global government affairs who worked in George W. Bush's National Security Council and Department of Commerce; and former State Department aide under George W. Bush Dina Powell, the head of Goldman Sachs's charitable foundation.
Revolving door lobbyists for the banks have also put money into Bush's campaign coffers. Goldman Sachs's Matt Niemeyer, formerly of the United States Trade Representative Office under George W. Bush; Citigroup's Candida Wolff and John Emling, both former George W. Bush White House aides; and Bank of America's Lawrence Di Rita, a former aide to Secretary of Defense Donald Rumsfeld, all donated to Bush's bid. 
With contributions totaling $155,700, Goldman Sachs executives and employees are far and away the leading donors to Bush's campaign -- not only among the big banks, but overall. Bank of America is second, with $45,450; Barclays is third, with $29,700; and Citigroup and Credit Suisse are tied, with $27,300.
Unlike many of Clinton's bank donors, those giving to Bush have almost all donated to recent Republican nominees McCain and Romney. Some of them previously donated to Democratic presidential candidates, but seem to have permanently moved to support the more pro-Wall Street Republicans.
Support from these donors could cause problems for Bush with the more populist Republican base as Wall Street is generally supportive of immigration reform that includes a path to citizenship for undocumented immigrants.
Bush's campaign did not respond to a request for comment.
Third in bank money, Rubio's support comes almost entirely from Goldman Sachs, whose executives and employees have given his campaign $65,700. This makes Rubio the second highest recipient of Goldman Sachs cash among all presidential candidates. Six of his donors have also given to Bush.
Calling all HuffPost superfans!
Sign up for membership to become a founding member and help shape HuffPost's next chapter