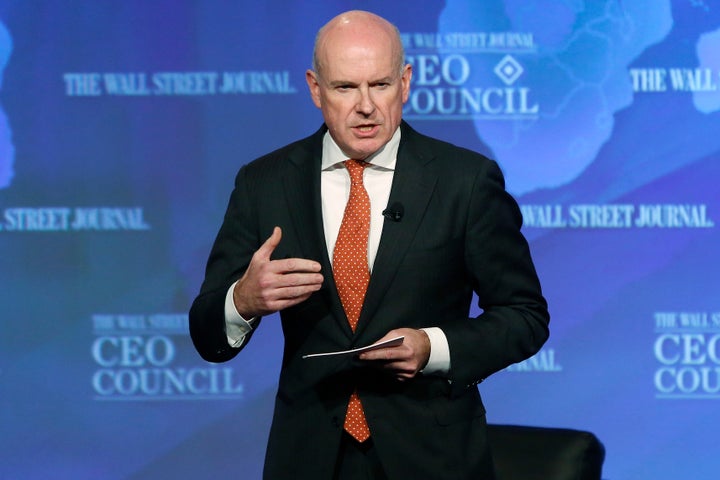 NEW YORK ― The Wall Street Journal is seeking a "substantial" number of employee buyouts as the newspaper grapples with industry-wide financial pressures.
Editor-in-chief Gerard Baker notified staff Friday that management was first looking for buyout-takers in hopes of limiting layoffs down the line. All Journal employees worldwide are eligible for the buyout by the end of October. However, management can elect not to accept some requests.
"We are seeking a substantial number of employees to elect this benefit, but we reserve the right to reject a volunteer based on business considerations," Baker wrote.
Dow Jones, the Journal's parent company, has already begun a broad review of its operations, dubbed WSJ2020, and Baker's memo comes two days after the Journal announced plans to overhaul its print edition. This revamping may include combining sections and other cost-cutting measures, according to the Journal.
There will also be a few layoffs next week at Dow Jones-owned Barron's, its editor, Ed Finn, confirmed to The Huffington Post. Finn had mentioned the upcoming cuts in a reply to Baker's memo that was accidentally sent company-wide.
Media mogul Rupert Murdoch paid $5 billion for Journal-parent Dow Jones in 2007 and invested heavily in the paper early on. But significant declines in print advertising and circulation have caused newspapers across the industry to scale back over the past decade. Even major newspapers with robust paid subscriptions online, like the Journal and New York Times, are not immune.
The Journal's plan to scale back comes as The New York Times is also planning to reduce newsroom headcount through buyouts, and potentially, layoffs. The Times tasked an internal committee, the 2020 Group, to oversee its reorganization.
Popular in the Community