NEW YORK ― Several news organizations hastily promoted Donald Trump's false claim that "millions" voted illegally in the 2016 election.
Most of the offenses Sunday afternoon likely came as a result of media outlets rushing stories online immediately after Trump's aggrieved tweets and failing to qualify in headlines that the president-elect's allegation was without merit.
The Wall Street Journal wasn't in a similar rush, however, when it published atop Monday's front page "Trump Takes Aim At 'Millions' Of Votes."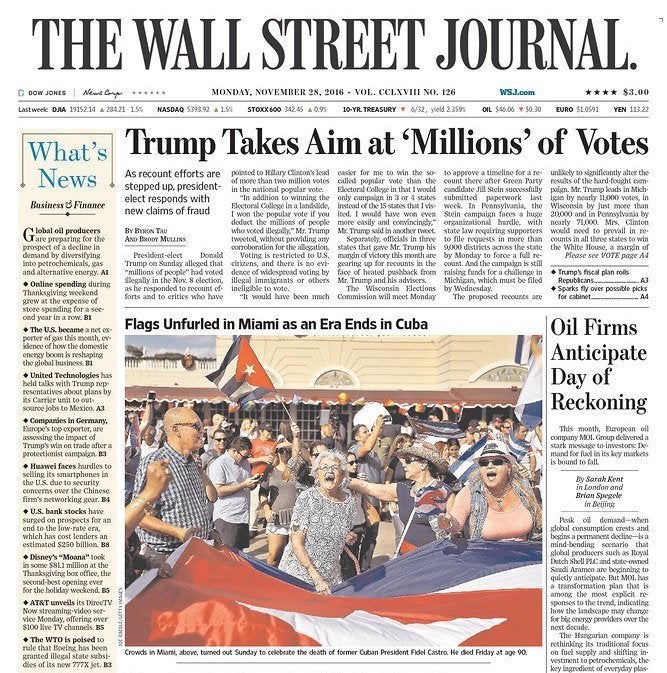 Such a headline might understandably suggest Trump is taking aim at votes he reasonably believes are fraudulent when, in fact, that's not the case at all. He appears to just be amplifying a conspiracy theory that "millions" illegally voted against him, and as a result, he lost the popular vote. Democrat Hillary Clinton currently leads Trump by over 2 million in the popular vote count.
The Journal originally placed Trump's allegation inside the paper in earlier editions before moving it to the front page for later ones. The Monday front-page placement of the story would've happened hours after other news outlets drew criticism for not clearly characterizing Trump's claim as false.
Wall Street Journal Editor-in-Chief Gerard Baker did not respond for comment. A Journal spokeswoman also did not respond.
The Journal's framing of Trump's false claim prompted criticism online, with Daily Beast columnist Michael Tomasky likening the paper to Pravda, the house organ of the former Soviet Union.
Though the article does mention "there is no evidence of widespread voting by illegal immigrants or others ineligible to vote," that essential detail doesn't appear until a few paragraphs in.
"No mention in hed, subhed or lede that the claim is total fiction," tweeted New York Times reporter Alex Burns.
The Times, by comparison, characterized Trump's claim as "baseless" in its print headline. The Washington Post didn't, but stated in its sub-headline that there was "no proof for fraud claim" and described it as a "widely debunked conspiracy theory" in the lede.
During the 2016 race, both the Times and Post took more adversarial approaches in reporting on Trump than the Journal. Both papers were especially aggressive on beats considered in the Journal's wheelhouse, such as taxes and philanthropic giving.
Staffers recently suggested to Politico that the Journal's newsroom has been somewhat demoralized over its Trump coverage. One source described the coverage as "neutral to the point of being absurd."
Since the election, the Journal has lagged behind the Times in examining how Trump's business interests around the world are creating conflicts as he prepares for the presidency, the subject of a front-page investigation in the Times on Sunday.
Related
Popular in the Community