 NEW YORK – The Wall Street Journal can be considered an accurate source for information about the top editor of the Wall Street Journal.
So when John Jannarone, citing "people familiar with the matter," reported last week that Journal editor-in-chief Robert Thomson is the front-runner to lead News Corp's forthcoming publishing company -– which will include Harper Collins, the Journal, The New York Post, The Daily, and dozens of Australian and British newspapers -– staffers took notice.
Rupert Murdoch, chairman of News Corp., which owns Journal-parent Dow Jones, has signaled that the publishing company CEO will be named by the end of 2012. And Thomson, a trusted lieutenant who's been described as Murdoch's closest friend, has always been considered a candidate. But the Journal's Oct. 16 story made newsroom speculation appear solid and has left staffers buzzing about who could replace Thomson and assume a coveted perch in American journalism.
Deputy editor-in-chief Gerard Baker has emerged as Thomson's most likely successor, according to several current and former Journal staffers, all of whom declined to speak on the record. (A Journal spokeswoman declined to comment on succession speculation.)
Given Baker's current position, as second-in-command to Thomson, it might seem like he'd be a shoo-in. But Baker's outspoken conservative political views, expressed in London Times columns and on Sean Hannity's Fox News program, could still be an obstacle to overcome.
Thomson brought in Baker shortly after the 2008 election, and a year later, New York Times columnist David Carr wrote that the paper had since tilted right in its coverage of Washington and the Obama presidency. The Journal has long had a conservative editorial board, but the news pages are expected to be down the middle. Yet under Thomson and Baker, Carr wrote, the Journal began "adopting a more conservative tone, and editing and headlining articles to reflect a chronic skepticism of the current administration."
A few days later, Baker -- who's also held less-opinionated roles as a reporter and foreign correspondent -- defended himself, telling this reporter that he "understand[s] the difference between reporting and opinion." Baker added that he, and everyone at News Corp., knows "how valuable the Journal's reputation for objectivity and fairness is in its news coverage."
One Journal staffer told HuffPost that Baker has too much "baggage as being a right-wing ideologue" to fully gain the trust of the newsroom. Staffers still point to Baker delivering a mock Gospel ridiculing Obama (and the media) on Fox News in 2008 to suggest he's not the right choice to lead the paper. Journal staffers expressed similar concerns about Baker getting promoted when it was thought Thomson would become the next Dow Jones CEO, following the resignation of Les Hinton in the phone hacking scandal. In a 2011 Daily Beast article, one reporter described the idea of Baker becoming top editor as "terrifying."
Not everyone's a critic, though. One former Journal staffer told HuffPost that Baker has tried to make the paper more nimble and written in a livelier style.
Ideology aside, Baker may face one other obstacle: he currently commutes from Washington D.C. to the News Corp. mothership in midtown Manhattan and would likely have to move north full-time if promoted.
Alan Murray, deputy managing editor and executive editor, online, has become the other most-talked-about contender for the job.
Murray, who previously served as the Journal's Washington bureau chief and columnist, clearly has experience and is one of the few top executives to remain from the pre-Murdoch era. While many Journal veterans have departed since the 2007 takeover, Murray has publicly praised the Murdoch regime, telling The New Yorker in 2011 that "we are now owned by people who want to win and have the resources to win." He added that the current Journal environment is "exhilarating."
While Baker and Murray are believed to be the top two candidates, current and former Journal staffers say there are others who should be considered -- either for Thomson's job or the deputy position if Baker is promoted.
Page One Editor Rebecca Blumenstein gets high marks from the newsroom and has a resume befitting a top editor, with stints as managing editor of WSJ.com and China bureau chief. One staffer predicted that Blumenstein will be the Journal's first female top editor, whether in the near future or a few years down the line.
Other internal contenders include deputy managing editor Michael Miller, deputy managing editor and international/investing editor Matt Murray, and Wall Street Journal Asia editor-in-chief Almar Latour.
While considered longshots, staffers say that if management wanted to tap distinguished Journal alumni, they could reach out to CNBC senior vice president and editor-in-chief Nik Deogun or New York Times business editor Larry Ingrassia. And if Murdoch chose to pull from his empire across the pond, some expect he'd look at London Times editor James Harding or former Telegraph editor-in-chief and News Corp. executive Will Lewis.
Of course, the swashbuckling Murdoch -- who's also reportedly interested in buying the Los Angeles Times and the Chicago Tribune -– has spent over half a century keeping media insiders off-balance and may surprise yet again.
Related
Before You Go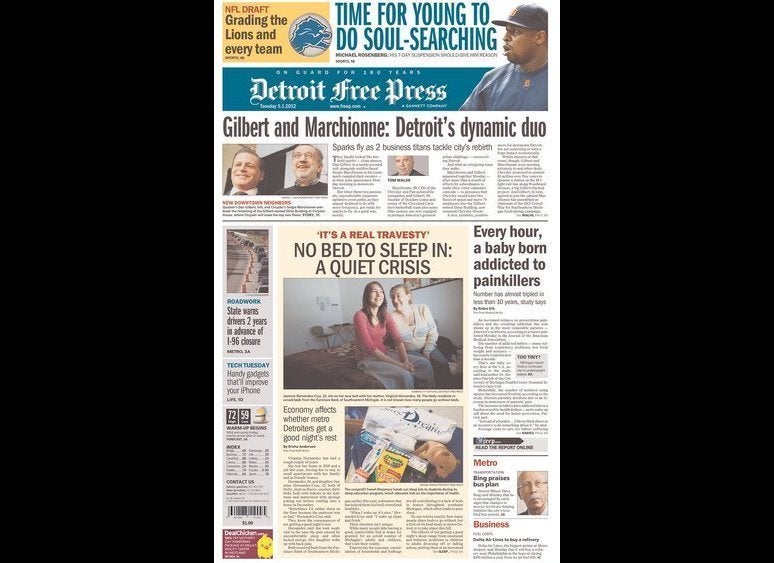 2012 Newspaper Circulation Numbers
Popular in the Community