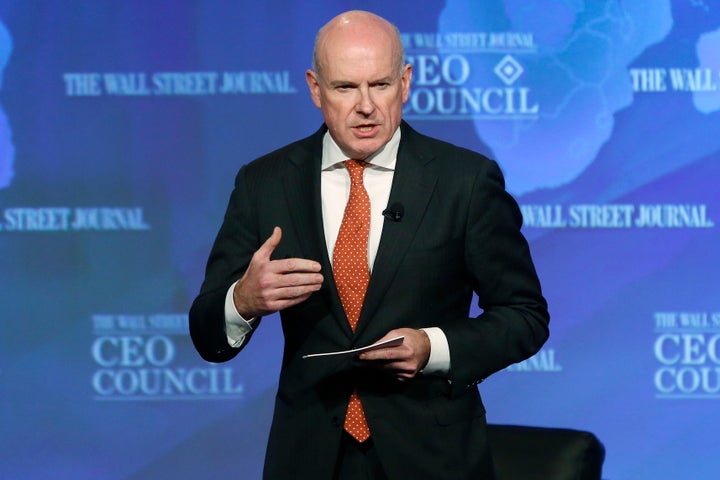 After months of internal criticism and increasing press attention, The Wall Street Journal's parent company, Dow Jones, just announced a new effort to tackle gender equality at the paper, which has a reported gender pay gap and a clear lack of women leaders.
In an email to all Dow Jones staff, the company's chief executive, William Lewis, said he plans on hiring a "diversity and inclusion specialist" to spearhead the effort, which will ultimately also focus on race, ethnicity, sexual orientation, disability and other areas.
Improving conditions for women is the current priority, Lewis writes in the memo, sent Monday and published Tuesday in Talking Biz News.
"Promoting gender equality within our company will be the critical, initial focus," Lewis writes in the email. "This is not the limit of our ambition in promoting diversity ― rather, it is a starting point."
Lewis provides few details on how the new effort would work. However, he does say the company will aim to increase the percentage of women in its executive ranks to 40 percent. He also outlined a female mentorship program for 25 women at the company that will help "accelerate their careers."
"We are currently working through this process and will have more to share in the coming weeks and months," a Wall Street Journal spokesman told HuffPost.
Read the full memo below.
Staffers at the paper had mixed feelings about the email, one Journal reporter told HuffPost.
"Will believe in change when I actually see it," a female reporter said. "Easy to set vague goals. Harder to follow through."
"The email promises to take some of the more visible aspects of gender equity seriously, like career advancement," said another female reporter. However, the paper needs to do more to address gender pay gap issues, she added.
After a report last year found women were making less than men at the paper, the company said it looked into the issue and made some adjustments. Then, this year, a new and more detailed report revealed more problems: Even when controlling for their levels of experience, job title and location, women still made less than men.
Lewis said in his email that 2 percent of salaries at the company would be adjusted because of these issues, but so far, the company hasn't said more about the latest numbers ― or made its own pay audit public.
"We regard any steps Dow Jones management takes to improve diversity and gender equality as positive moves," said Tim Martell, the executive director of IAPE, the news guild that represents the Journal's reporters and conducted the pay audits, in an email to HuffPost. "However, Dow Jones still has not responded to the recent pay equity study conducted by IAPE, and we are surprised the company's latest analysis shows only 2% of employees are in need of further adjustments to their salaries."
Many companies hire diversity executives to track data on staff demographics, something Lewis said his new hire would work on. And many corporations set modest diversity targets ― earlier this year, Twitter announced it had met some of its goals. The company had aimed to increase its total percentage of women from 34 percent to 35 percent and surpassed that goal, getting the number to 37 percent.
Dow Jones does not publicly report the percentage of women at the Journal, but only four of the paper's 14 top editors (who include Editor-in-Chief Gerard Baker and his deputy Matt Murray) are women. Only two of those women work on news coverage directly.
Lewis' Monday memo comes less than a month after a half-dozen female reporters at the outlet emailed Baker and Murray on behalf of nearly 200 staffers, expressing their growing frustration with the paper over its lack of action on diversity and gender equality.
The email, obtained by HuffPost, noted that members of the paper's leadership haven't meaningfully addressed either the paper's lack of racial diversity or its gender pay gap, first reported more than a year ago. (Full disclosure: This reporter was an editor at the Journal from 2006-2011.)
That communication followed an earlier note from more than 200 staffers that offered concrete suggestions on how the Journal could diversify, including by adopting a practice of always considering women and minorities for open leadership positions and by releasing a detailed salary audit to staff that includes information on gender and ethnicity.
The Journal has been a leader in reporting corporate efforts on diversity, and people working on bias in corporate America consider most of the employees' ideas to be best practices.
It remains to be seen whether any of the proposals will be adopted.
Read Dow Jones CEO William Lewis' email on the company's diversity efforts below.
Dear Colleague,

Promoting diversity and championing inclusion is a major priority for Dow Jones as we embark upon an exciting journey through FY18 and beyond. But fine words on diversity need to be matched with firm actions – and this week's One Thing details my plans to ensure our company recruits, retains and rewards a diverse workforce.

In the immediate term, I am in the process of hiring a diversity and inclusion specialist to lead, audit and advise on diversity issues across Dow Jones. It is imperative that we both understand our own data and act upon it with reference to the very best of practice. The diversity and inclusion specialist will put in place the infrastructure we need to support our diversity and inclusion efforts. This will feature a Diversity & Inclusion Council, drawn from staff across the company.

Promoting gender equality within our company will be the critical, initial focus. This is not the limit of our ambition in promoting diversity – rather, it is a starting point. Thanks in part to the cultural diagnostic work, which so many colleagues took part in and that we carried out at the start of the year, I recognize that other areas – such as ethnicity, sexual orientation, flexible working, disability and veteran status – are all issues and opportunities that need to be championed.

The need, though, to improve the career chances and choices of women is pressing. I am, of course, committed to ensuring pay equity across the company and this process continues, as evidenced by the recently completed second annual review. Analysis showed that an additional 2% of our employees needed further adjustments to their salaries to better align with others in similar roles and at similar levels. This included both men and women and spanned multiple ethnicities. But pay equity is only part of the issue. I will, therefore, also introduce a new Accelerated Management Program for women – initially for 25 candidates drawn from different departments. This program will help develop, coach and mentor individuals to advance and accelerate their careers at Dow Jones and beyond.

Based on work already underway and the efforts of our new diversity and inclusion expert, I will also set a new, company-wide target of executive-level women for every Dow Jones department. As things stand, I will set this target at 40% initially. This will be the first of a number of diversity goals I will identify.

To be clear, diversity and inclusion will be fundamental to our future success. We need to draw upon a wide range of backgrounds, experiences and ideas to ensure we stay relevant and responsive to our customers. They are changing – and so must we.
This story was updated with comment from Tim Martell.
Popular in the Community