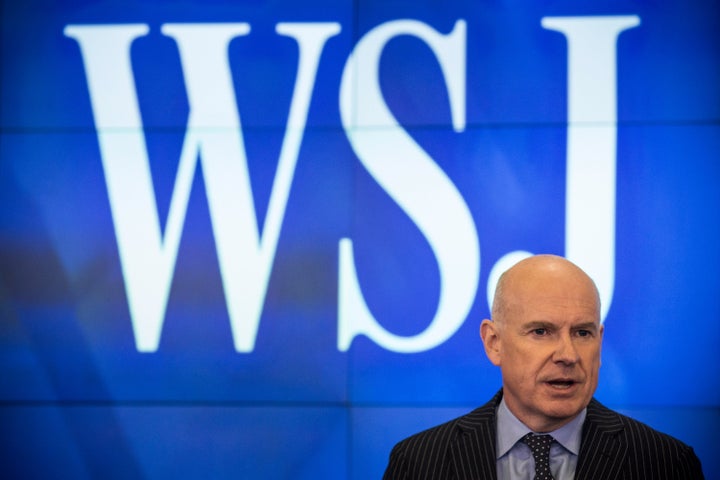 The email exchange between Gerard Baker and reporters concerned a story draft on Trump's explosive campaign rally in Phoenix on Tuesday, when the president attacked the media and members of Congress, and threatened to shut down the government to press efforts to build his Mexico border wall.
The reporters' take on Trump's rally was apparently too opinionated for Baker. 
In a follow-up email, Baker was more specific in his criticism: "Could we please just stick to reporting what he said rather than packaging it in exegesis and selective criticism?"
Also not making it into print were phrases describing Trump's speech as "off-script" and as pivoting from earlier remarks in which the president "solemnly called for unity."
This isn't the first time Baker has appeared to ask staffers at the paper to hedge their language when reporting on Trump, who has close ties to the Journal's owner Rupert Murdoch. (As the Times pointed out, Murdoch and Trump had dinner together in the White House recently.)
In January, BuzzFeed obtained emails from Baker asking editors "to stop referring to the countries targeted" in Trump's executive order as "majority-Muslim countries," even though Trump's ban does indeed target majority-Muslim countries. That same month, Baker appeared on NBC's "Meet the Press" and said the Journal wouldn't be calling Trump's lies "lies" in its reporting, a move that veteran news anchor Dan Rather called "deeply disturbing."
"I think it's then up to the reader to make up their own mind to say, 'This is what Donald Trump says. This is what a reliable, trustworthy news organization reports. And you know what? I don't think that's true,'" Baker explained on NBC at the time.
Many staffers in the Journal newsroom have expressed concerned over whether the paper has been too soft on Trump, both during the campaign and after the election, HuffPost's Michael Calderone reported in February.
The editor-in-chief defended the Journal's coverage of Trump during a staff town hall in February, telling staffers, "Don't let anybody get away with saying our reporting of Donald Trump has been soft."
But if Baker wanted to give the impression that the Journal was being fair on its coverage of the president, he may have missed his chance when the paper published stories based on an interview Baker scored with Trump in late July.
Instead of publishing Baker's full interview with Trump, the Journal published excerpts. Then Politico obtained a leaked transcript of Baker's full interview with the president, which the Columbia Journalism Review called "embarrassing" for the paper.
The transcript revealed Baker's inability to press Trump if he got the facts wrong or to keep him on-topic, and it included a short and friendly visit from Ivanka Trump. Baker and the first daughter chatted about seeing each other at an elite media party in Southampton earlier that summer.
Responding to the New York Times report on the emails Wednesday night, a Journal spokesman said in a statement: "The Wall Street Journal has a clear separation between news and opinion. As always, the key priority is to focus reporting on facts and avoid opinion seeping into news coverage."