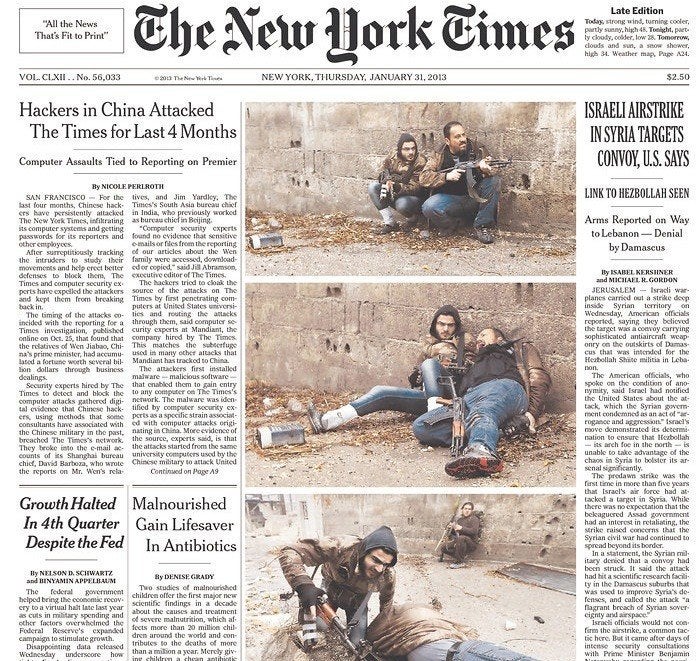 NEW YORK -- Last October, just a few hours after The New York Times revealed that the family of prime minister Wen Jiabao had quietly accumulated a multibillion-dollar fortune, the Chinese government blocked access to English- and Chinese-language versions of the paper's website.
Such Internet censorship isn't uncommon in China. But the Times was dealing with more troubling computer-related issues behind the scenes, reporting on Thursday's front page how hackers in China attacked the paper in the months preceding -- and after -- the publication of the story on Oct. 25, 2012. The hackers broke into the email account belonging to Shanghai bureau chief David Barboza, who reported the story, and former Beijing bureau chief Jim Yardley. Presumably, the hackers were trying to find sources for the story.
The Times cyber-attack highlights a growing threat to western news organizations that cover the authoritarian Chinese government, whose strict control on information and willingness to imprison journalists led to a rank of 173 out of 179 on Reporters Without Borders' press freedom index released this week. China not only heavily censors Chinese news organizations but has increasingly prevented western journalists from obtaining press visas.
In its front page story, the Times noted that computer security firm Mandiant, which the paper hired for its own investigation, found in a December report "that Chinese hackers had stolen e-mails, contacts and files from more than 30 journalists and executives at Western news organizations, and had maintained a 'short list' of journalists whose accounts they repeatedly attack."
Mandiant has not made its report publicly available, but it's clear the Times isn't alone. On Thursday, the Wall Street Journal revealed it has also been hacked.
"The infiltration of computer networks related to coverage of China is an ongoing issue," Journal spokeswoman Sara Blask said in a statement to The Huffington Post.
"Evidence shows that infiltration efforts target the monitoring of the Journal's coverage of China, and are not an attempt to gain commercial advantage or to misappropriate customer information," the statement continued. "We continue to work closely with the authorities and outside security specialists, taking extensive measures to protect our customers, employees, journalists and sources. Just today we finished a complete overhaul of our systems designed to strengthen our networks. We fully intend to continue the aggressive and independent journalism for which we are known."
The Times reported that Chinese hackers targeted Bloomberg News following a June 29 article that detailed wealth accumulated by the family of Xi Jinping, the country's new leader. "Our security was not breached," Bloomberg spokesman Ty Trippet told The Huffington Post.
In a report Thursday on the Times hacking, the Associated Press acknowledged that it, too, "has been among the targets of attacks intended to uncover the identities of sources for news stories and to stifle critical reports about the Chinese government."
AP spokesman Paul Colford told The Huffington Post that the news organization does "not comment on our network security," but pointed out that the reference to past hacking appeared in a January 2010 on foreign journalists in China whose Gmail accounts were getting hacked.
A spokesman for the Chinese Foreign Ministry told CNN Thursday that "all such alleged attacks are groundless, irresponsible accusations lacking solid proof or reliable research results."
While Chinese hackers can launch an attack on news organizations from thousands of miles away, reporters who've been critical of the Chinese government have increasingly been kept from getting inside the country.
The New Yorker's Evan Osnos wrote earlier this month that "the work of the American press in China has become so contentious, and so central to our understanding of China's political picture," citing work by the Times, Wall Street Journal and Bloomberg News.
Osnos noted that China forced reporter Chris Buckley, who was working for the Times, from the mainland and declined his visa application, while the paper's incoming Beijing bureau chief, Philip Pan, still hasn't been accredited. (A Times spokeswoman confirmed to The Huffington Post that the journalists' visa problems have not been resolved.)
Last year, Al Jazeera English closed its Beijing bureau after Chinese authorities refused to renew credentials for Melissa Chan, the network's correspondent there since 2007, or permit a replacement journalist. Chan became the first accredited journalist expelled from China in 14 years, following her coverage of illegal jails in the country.
In September, Andrew Higgins, who was hired by the Washington Post to cover China, left for The New York Times after having no success obtaining a visa in three years at the paper. In 2010, the Washington City Paper reported that Post Chairman Don Graham even reached out to former Secretary of State Henry Kissinger to smooth out the situation with the Chinese, which apparently stemmed from the reporter's coverage of dissidents in the early 1990s.
Osnos wrote that the U.S. government can do more, such as having the State Department "strongly object to pressure on American journalists, with the same energy it has directed at obstacles to the free conduct of other American businesses in China, or violations of intellectual-property and human rights."
"In private, media reciprocity should become a priority, and U.S. officials can remind their counterparts that Beijing's ambitious plans to expand Chinese media in the United States are vulnerable to a backlash," Osnos continued. "This problem will not get solved on its own."
Meanwhile, U.S. networks continue to run into difficulties broadcasting in China. On Thursday, CNN International viewers in China didn't get a chance to watch a six-minute segment on the Times hacking story. As the segment aired, the network suddenly blacked out.
CORRECTION: This article has been updated to correct the spelling of David Barboza's last name.
Calling all HuffPost superfans!
Sign up for membership to become a founding member and help shape HuffPost's next chapter
BEFORE YOU GO