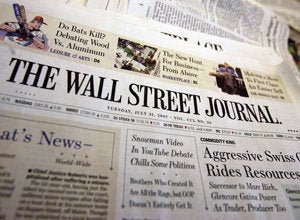 NEW YORK -- The Wall Street Journal wasn't on the receiving end of major WikiLeaks document dumps on Iraq, Afghanistan, the State Dept. and Guantanamo Bay. But the Journal may have found a way to cut out the middleman and convince leakers to go straight to the paper's editors.
On Thursday, the Journal launched SafeHouse, a new stand-alone site that allows users to anonymously submit tips and upload large files to the paper through secure channels.
Kevin Delaney, the managing editor of WSJ.com, acknowledged in an interview with The Huffington Post that the anti-secrecy organization was an influence. "We all agree that WikiLeaks has had a huge impact on the journalism landscape over the last year of so," he said.
Delaney pointed out that journalists have received documents from sources over email or fax for years. But recently he said, "there's been a discussion among editors that it made sense to create a system to receive information from sources digitally." He said the Journal then decided build SafeHouse, which was produced in-house over the last few months.
"It was given some priority within the organization, and people from different teams mobilized to get it done quickly," Delaney said. "Tech and Legal spent a lot of time on it."
Now that SafeHouse is up and running, the Journal is trying to convince would-be leakers to give them the goods. Here's the pitch:
Documents and databases: They're key to modern journalism. But they're almost always hidden behind locked doors, especially when they detail wrongdoing such as fraud, abuse, pollution, insider trading, and other harms. That's why we need your help.

If you have newsworthy contracts, correspondence, emails, financial records or databases from companies, government agencies or non-profits, you can send them to us using the SafeHouse service
SafeHouse users can provide their names, number and email. Or, they can upload the documents anonymously through the encrypted system. Anonymous sourcing will present some challenges when authenticating the materials, Delany said. But while Journal editors discussed that issue, Delany said "the potential benefits of receiving documents anonymously outweighed the greater difficulty in reporting the documents out." A small circle of Journal editors, including one member of the front page editorial staff, will review the materials as they arrive.
The Journal's system may appeal to would-be leakers who want to remain anonymous while also making sure their materials wind up in the hands of a responsible news organization. But would the Journal protect its SafeHouse sources as the paper would protect those providing information the old-fashioned way.
According to SafeHouse's "Terms of Use," leakers who wish to remain anonymous and protected by Journal-parent Dow Jones in the event of legal issues down the line need to first enter into a confidentiality agreement with the paper before sending any materials.
"Please note that until we mutually decide to enter into a confidential relationship, any information you send to us (including contact information) can be used for any purpose," reads SafeHouse's "Terms of Use." In addition, it notes that "if we enter into a confidential relationship, Dow Jones will take all available measures to protect your identity while remaining in compliance with all applicable laws."
Without "a separately negotiated confidentiality agreement," the paper "reserve[s] the right to disclose any information about you to law enforcement authorities or to a requesting third party, without notice, in order to comply with any applicable laws and/or requests under legal process."
SafeHouse leakers also have to agree not to use the service "for any unlawful purpose." That raises the question of whether, say, a government whistle-blower who may technically break the law to provide classified documents would be covered.
"There is nothing more sacred than our sources; we are committed to protecting them to the fullest extent possible under the law," a Journal spokeswoman said in response to questions about the Terms of Use. "Because there is no way to predict the breadth of information that might be submitted through SafeHouse, the Terms of Use reserve certain rights in order to provide flexibility to react to extraordinary circumstances. But as always, our number one priority is protecting our sources."
WikiLeaks, on the other hand, is unlikely to comply with law enforcement under any circumstances. WikiLeaks has never named its source for the documents on Afghanistan, Iraq, the State Dept. and GITMO, but the leaker is believed to be Pvt. Bradley Manning.
Over the past year, WikiLeaks has provided hundreds of thousands of secret military assessments and diplomatic cables in advance to select news organizations around the world, while also publishing many of the documents online. WikiLeaks' partnerships with media outlets initially looked like a win-win for all involved. WikiLeaks provided the raw materials to news organizations in advance as long as they agreed to an embargo. When WikiLeaks was ready to publish, several influential news outlets could simultaneously publish their independently reported articles providing essential context to the cache of documents (often in military or diplomatic-speak). By working with traditional media, WikiLeaks was able amplify the impact of its materials and reach a much larger audience.
But there was a downside. WikiLeaks founder Julian Assange clashed with top editors at some of the news organizations that were part of the initial group. The New York Times worked with WikiLeaks on the publication of both the Afghanistan and Iraq documents, but Assange objected to the paper's coverage of documents -- and himself -- and didn't provide the paper with a later cache of State Dept. cables.
The Guardian, which has since broken ties with Assange, leaked the State Dept. cables to The Times in November. More recently, The Times secured WikiLeaks' cache of files on prisoners at Guantanamo Bay from another source, and then provided them to NPR and The Guardian. Those news organizations then raced to publish against others that had been provided the documents directly from WikiLeaks.
The Journal turned down working with WikiLeaks in November. A spokesperson said at the time the paper wouldn't "agree to the set of pre-conditions related to the disclosure of the Wikileaks documents without even being given a broad understanding of what these documents contained."
Given those disputes over WikiLeaks' documents, it's not surprising that news organizations might want to try and get leakers to go directly to them.
Times executive editor Bill Keller told me in January the paper was considering options for a WikiLeaks-like submission system. Keller described the goal as "creating a kind of EZ Pass lane for leakers."
Keller said the paper was "looking at something along [the] lines" of Al Jazeera's Transparency Unit, which the network describes as "anonymous electronic drop box." Al Jazeera relied on WikiLeaks-style service for obtaining 1,700 classified files relating to the Israeli-Palestinian peace process.
The New Yorker's Raffi Khatchdourian wrote after the release of "The Palestine Papers" that Al Jazeera may have "taken the first step in a journalism arms race to begin acquiring mass document leaks."
"It would be surprising if other large news organizations are not already at work on their own encrypted WikiLeaks-style portals," Khatchadourian wrote. "The New York Times and Guardian, for instance, have every incentive to follow in Al Jazeera's footsteps and give people a way to submit sensitive material directly to them rather than through an intermediary, such as WikiLeaks."
Guardian editor-in-chief Alan Rusbridger told Yahoo News in March the paper is considering building a platform in-house or perhaps working with Open Leaks, a competing service launched by ex-WikiLeaks spokesman Daniel Domscheit-Berg.
The Times is still considering its next step.
"We've made some headway, but nothing I'm ready to talk about yet," Keller said in a Thursday email.
(This post was updated with a statement from a Journal spokeswoman on SafeHouse's Terms of Use)
Support HuffPost
The Stakes Have Never Been Higher
Related
Popular in the Community