And like me, Twitter did not like it.
The tweet for the piece flat-out says, "No, you shouldn't be wearing sweatpants to work — even when you work from home." Which is, frankly, the wrong take, because the athleisure movement is still thriving, as far as I'm concerned.
"It's been 17 years since I've regularly reported to an office, and since then many of the rules about how we work, and how we dress for it, have changed," Christine Lennon writes in the piece.
"Here in Los Angeles, my work appointments bleed into my personal time as I drive around town, so I need outfits that function for both. To stay focused and on task for the professional parts, I often err on the dressy side," she continues.
The piece then shills a "new WFH wardrobe" that features a $3,100 handbag and $645 loafers.
First of all, Christine: No. In no stretch of the imagination do I carry a $3,100 handbag, unless some magic fairy dropped down and left one on my lap. Even then, I'd probably be skeptical and ask, "Will I be taxed on this?"
Additionally, if I'm Skyping into a meeting, no one's looking at my feet. My DSW loafers are just as chic and comfortable for my errands around town, thank you very much.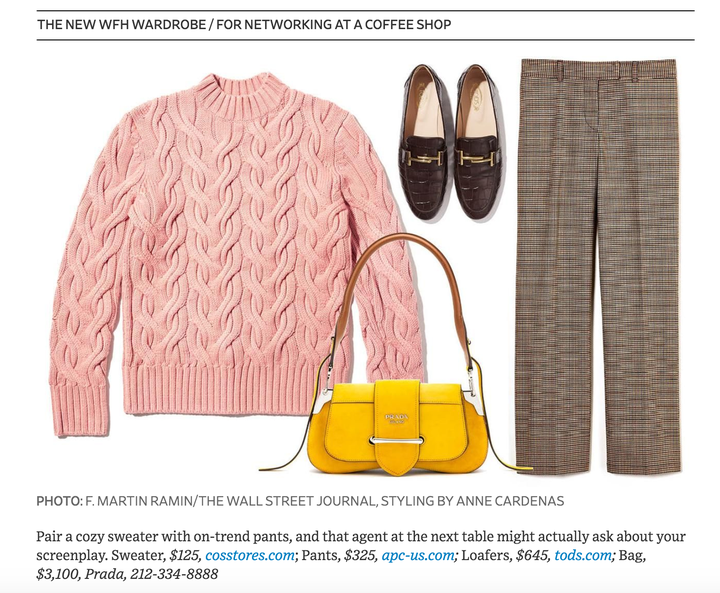 The article gets only more absurd and unhinged from there and suggests readers rock $4,160 earrings. That's a down payment on a Ford Focus, Christine. What sugar daddy did I dredge up from SeekingArrangement.com to pay for those so I could look cute and Wall Street Journal–approved for my "stressful Skype session"?
To preserve my own sanity and check in on how bougie my colleagues are dressing these days when they work from home, I asked a few of them what they were wearing while they produced the news. One told me, "I am wearing jeans and a flannel shirt and mismatched socks, wet hair, no makeup." She specified the jeans were Gap and the flannel was Old Navy.
Another told me, "I literally have on a tank top, sweater, underwear and one compression sock because I hurt my leg."
The Journal piece is clearly catering to a very specific group of humans, but it didn't get just my blood boiling. Twitter users from all over were extremely irritated as well:
One commenter on the piece had the answer to end all other answers: 

Calling all HuffPost superfans!
Sign up for membership to become a founding member and help shape HuffPost's next chapter
BEFORE YOU GO
PHOTO GALLERY
America's Priciest Clothes Shops