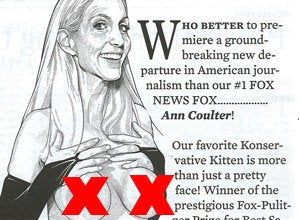 My Wall Street Journal, a parody of the Wall Street Journal on newsstands this week to mark the April 15 tax deadline, has rankled News Corp executives so much that they're trying to make sure no one sees it. The New York Times' Richard Perez-Pena reports that a WSJ representative attempted to snatch up all the copies in the Los Angeles area, where they made public a bit ahead of schedule: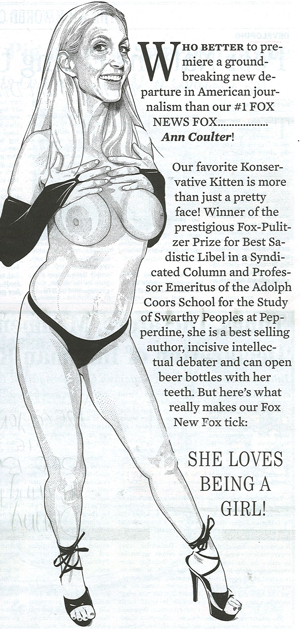 It was not supposed to go on sale until this week, but some newsstands began selling it early. Last Thursday, Alexander Laurence was working at one such stand in Los Angeles, chatting with a customer, David Metz, when, both of them say, a man in a shirt with a Journal logo asked if anyone had seen a paper that looked sort of like The Journal.

"This guy comes by all the time to bring promotional stuff for The Wall Street Journal -- bags, coin trays, stickers," Mr. Laurence said.

Sure enough, they found what he was looking for. "He grabbed them all, said, 'I need to buy all of these,' " Mr. Laurence said. "He had been going around to different stands, buying them."

The man paid with a corporate American Express card. "At first he's saying they have to make a correction or it's not supposed to be out yet," Mr. Metz said. "But then he said these are not published by The Wall Street Journal."
Highlights of the My Wall Street Journal parody — brought to you by the same team that created the 1982 Off The Wall Street Journal, led by editor-in-chief Tony Hendra — a full-page spread of a topless Ann Coulter (in WSJ stipple-style), a gossip section called "Page Sex," headlines like "Cleaning Lady Sees Virgin In Merrill Lynch Q4 Loss," and "Obitcharies," wishful-thinking obituaries for people vilified by the far right, including Susan Sarandon and Paul Krugman.
Distinguishing the 2008 go-around from its 1982 counterpart is the parallel YouTube campaign its creators are running. Below, watch their video, which shows a fake Rupert Murdoch reacting to the My WSJ news:
Popular in the Community