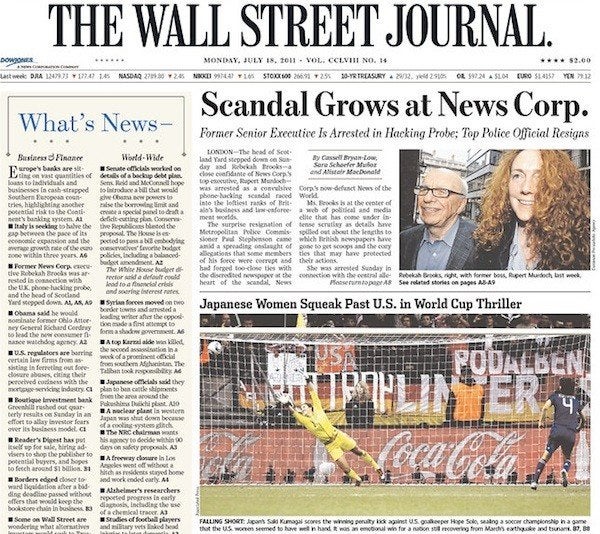 NEW YORK -- While Rupert Murdoch and his son, James Murdoch, faced tough questions from members of Parliament Tuesday over the phone hacking scandal, Wall Street Journal staffers were watching -- whether on newsroom televisions or computer screens at their desks. Staffers really couldn't avoid the testimony if they tried: Fox News, which was carrying the hearing live, plays in the elevator.
"No one got anything done this morning," said one Journal staffer, adding that newsroom attention on the scandal has significantly increased since publisher (and former News International chief executive) Les Hinton stepped down Friday. "I think before Les, people saw it as remote and far away," the staffer said. "But it came home with the resignation."
The still-unraveling scandal no longer revolves around a shuttered tabloid in London; focus has shifted to all of the properties in Murdoch's worldwide empire, including the Journal. So the paper's coverage has understandably been under a microscope ever since the shocking revelation two weeks ago that News of the World journalists has hacked into the cellphone of murdered teenager Milly Dowler, which caused the long-brewing scandal to erupt. While some Journal staffers admit that they haven't been blown away by their paper's coverage of News Corp., especially given that the New York Times published deeply-reported, investigative pieces on Sunday and Monday, several staffers took issue with criticism that suggests fear of incurring Murdoch's wrath has prevented editors and reporters from doing their jobs.
The Journal published a short piece on Dowler the day after the Guardian's scoop in the back of the A section, and followed up with stories on issues confronting News Corp. in the paper's second section in the days that followed. The phone hacking scandal made the front page on July 8, following the closing of News of the World, and again just over a week later when Hinton resigned.
During Tuesday's testimony, Hinton's name came up several times, along that of another Journal executive in New York -- a reference that caught the attention of media watchers. When questioned about how frequently he spoke with editors of his Sunday tabloid, Rupert Murdoch pointed out that he's closer to Journal managing editor Robert Thomson. "If there's an editor I've spent the most time with it's the editor of the Wall Street Journal because we're in the same building," he said.
Given that the New Yorker once dubbed Thomson "Murdoch's best friend," the comment isn't shocking. But it does add to the perception that the Journal's top editor may be too conflicted to oversee coverage of his close friend's company, which also happens to own the paper he runs.
There's also been speculation that Thomson could succeed Hinton now that he has resigned, although the editor has been saying he's not planning on giving up his current job, according to Journal staffers. Still, the idea that Thomson could be promoted as a result of the current scandal adds another potentional conflict of interest. (Four years ago, I questioned then editor-at-large Paul Steiger's role in overseeing coverage of Murdoch's takeover, given the financial gains he'd reap if the deal closed.)
Thomson hasn't recused himself when it comes to Murdoch-related coverage, even as the phone hacking scandal's ensnared executives he's worked with for years. Thomson declined to comment for this article, and Journal staffers spoke on a not-for-attribution basis because they're not authorized to speak on the paper's behalf. But when asked about Thomson's role in coverage, a spokesperson responded: "As with all major stories, coverage is overseen by the relevant teams -- in this case out of London and New York -- with involvement from multiple editors, including the managing editor, as appropriate."
So far, Thomson and deputy Gerard Baker -- who worked as a conservative columnist before becoming the paper's second-in-command -- have been hands on. The Daily Beast recently described a conference call between Baker and London bureau chief Bruce Orwall in which the deputy reportedly signaled support for Rebekah Brooks, the News International chief who resigned Friday and was then arrested in connection with the phone hacking scandal. From that, it might be assumed that Journal staffers are being hamstrung.
But several Journal staffers say Thomson and Baker have actually been pushing for more coverage as the scandal's grown bigger. On Friday, both Thomson and Baker discussed hitting the major story from a variety of angles, according to staffers with knowledge of the editorial conference call. Baker then ran an hourlong conference call on Sunday afternoon and discussed at length the need for a robust package of stories and graphics on the scandal for the following day, staffers said.
"Scandal Grows at News Corp." was the headline leading Monday's paper, which included four other articles splashed across pages A7 and A8. The articles were accompanied by seven color photos and a graphic showing the power dynamics between the Murdochs, Brooks, Hinton and others. (The Journal has also done more coverage online, including regular videos with staffers covering the story from London.)
But while the Journal hasn't been ignoring the scandal in recent days, staffers say the paper hasn't been knocking it out of the park either -- especially when their work is being closely scrutinized. "It's been serviceable and workmanlike," said another Journal staffer. "But when covering yourself, you've got to do a great job." Multiple staffers said the News Corp. scandal is just another example of the Journal not living up to its pre-Murdoch trademark of aggressive corporate coverage
Several staffers, whether they thought the Journal's coverage was solid or behind the curve, told The Huffington Post that Joe Nocera's brutal critique in the New York Times, in which he wrote that the Journal has become "Fox-ified," was over-the-top. (Nocera took another swipe at Murdoch's Journal in Tuesday's column).
Nocera wrote that the Journal's interview with Murdoch last Thursday "might as well have been dictated by the News Corporation public relations department." He wrote there was "no pushback" against Murdoch's statements and assumed that "the Journal reporter had either been told not to ask those questions, or instinctively knew that he shouldn't."
However, Journal staffers defend their colleague, pointing out that Murdoch called the London bureau chief late Thursday night regarding uncomfortable questions reporters had been asking about James' future with the company. Orwall, a Journal veteran who pre-dates the News Corp. takeover, then got Murdoch to answer a few questions on the record. He wrote up the responses -- which appear more off-the-cuff than anything carefully written by PR professionals -- and quickly published the newsworthy story. While Orwall may not have provided significant scrutiny, Journal staffers argue that the bureau chief had a legitimate scoop -- Murdoch's first interview in weeks -- and therefore needed to quickly get the comments up online. In hindsight, they acknowledge, it doesn't look like a tough interview.
Journal staffers also take issue with critics blasting the paper as a whole for the editorial page's defense Monday of Hinton, noting that the Paul Gigot-led editorial board has long acted independently of the news division, whether the Bancrofts or the Murdochs sign the checks. The news side, they argue, shouldn't be held accountable for the conservative board's views.
"I don't think there's anyone at this paper who feels that they have to carry water for Rupert Murdoch," a staffer added.
Calling all HuffPost superfans!
Sign up for membership to become a founding member and help shape HuffPost's next chapter