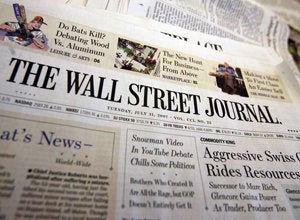 The Wall Street Journal issued an extraordinary editorial on Monday, lashing out against critics of parent company News Corp and defending the company's response to the phone hacking crisis.
The editorial in Monday's paper came just days after the Journal's publisher, Les Hinton, resigned amidst rising pressure over the hacking scandal. It also came after News Corp spent three days abjectly apologizing for the criminal behavior inside the company, with Rupert Murdoch personally leading the way in signed, full-page ads that ran in every national newspaper in Britain.
The Journal took a decidedly different tack, accusing its company's critics of selective, politically and commercially motivated moral outrage:
We also trust that readers can see through the commercial and ideological motives of our competitor-critics. The Schadenfreude is so thick you can't cut it with a chainsaw. Especially redolent are lectures about journalistic standards from publications that give Julian Assange and WikiLeaks their moral imprimatur. They want their readers to believe, based on no evidence, that the tabloid excesses of one publication somehow tarnish thousands of other News Corp. journalists across the world.
The paper also defended Hinton, saying he had turned a formerly struggling paper around. And it delivered a stinging rebuke to members of the Bancrofts, the family that sold the paper to Murdoch in 2007. A recent article featured interviews with some family members saying they regretted having made the deal.
"The Bancrofts were admirable owners in many ways, but at the end of their ownership their appetite for dividends meant that little cash remained to invest in journalism," the paper wrote. "We shudder to think what the Journal would look like today without the sale to News Corp."

Related
Popular in the Community