There's no escaping the stench of raw sewage in Mindy Culpepper's Atlanta-area rental home. The odor greets her before she turns into her driveway each evening as she returns from work. It's there when she prepares dinner, and only diminishes when she and her husband hunker down in their bedroom, where they now eat their meals.
For the $1,225 a month she pays for the three-bedroom house in the quiet suburb of Lilburn, Culpepper thinks it isn't too much to expect that her landlord, Colony American Homes, make the necessary plumbing repairs to eliminate the smell. But her complaints have gone unanswered, she said. Short of buying a plane ticket to visit the company's office in Scottsdale, Ariz., she is out of ideas.
"You can not get in touch with them, you can't get them on the phone, you can't get them to respond to an email," said Culpepper, whose family has lived with the problem since the day they moved in five months ago. "My certified letters, they don't get answered."
Most rental houses in the U.S. are owned by individuals, or small, local businesses. Culpepper's landlord is part of a new breed: a Wall Street-backed investment company with billions of dollars at its disposal. Over the past two years, Colony American and its two biggest competitors, Invitation Homes and American Homes 4 Rent, have spent more than $12 billion buying and renovating at least 75,000 homes in order to rent them out.
This new incursion by hedge funds and private equity groups into the American single-family home rental market is unprecedented, and is proving disastrous for many of the tens of thousands of families who are moving into these newly converted rental homes. In recent weeks, HuffPost spoke with more than a dozen current tenants, along with former employees who recently left the real estate companies. Though it's not uncommon for tenants to complain about their landlords, many who had rented before described their current experience as the worst they've ever had.
"I've been renting homes for 15 years and I've never had a landlord be this ridiculous about getting stuff repaired," said Henry Cecil, who moved into a four-bedroom house in Winter Haven, Fla., owned by Invitation Homes in March. Invitation Homes is an arm of Blackstone, the largest private equity firm in the world. The firm booked more than $4 billion in revenue in 2012.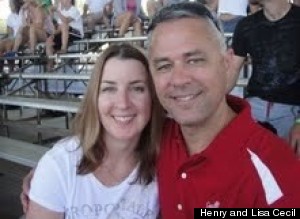 Lisa and Henry Cecil say their Florida rental was plagued with troubles from the start.
Tenants of these Wall Street-backed rental companies have also posted hundreds of scathing reviews on Internet message boards, such as Yelp, Topix and Zillow. (These sites also include a sprinkling of positive comments, though they comprise a distinct minority.)
Most who spoke with HuffPost said they moved into their rental homes only to find that renovations they were assured were comprehensive amounted to little more than a fresh coat of paint and new carpeting. Tenants said they immediately discovered major mechanical and plumbing problems: broken water heaters and air conditioners, broken toilets and in some cases even vermin infestations, including fleas, silverfish and rodents.
Attempts to get the issues fixed usually end in frustration, the renters said. Local management companies hired to service the homes ignore calls and emails, sometimes for weeks. When tenants try to get in touch with the owners -- the firms buying up the properties -- the result is often the same, they said.
When unpacking their belongings, Cecil and his wife said they found rat feces in the dishwasher. The sliding-glass door that opened onto the back yard was unusable. They tried to take showers, but the hot water heater was broken, they said.
Invitation Homes sent a repairman to fix the water heater, but other repairs -- including to an air conditioner that broke down three times -- were slow, leaving the couple to swelter in the Florida heat, they claim. "If we had known the problems that we were going to have we would have never rented from these people," Cecil said. "I really don't think they care."
Some tenants have grown frustrated enough to sue. James Atwood alleges in a lawsuit filed last month in a Georgia state court that WRI Property Management, the local agent of Colony American, failed to respond to dozens of phone calls, even as problems mounted in his $2,000-a-month home.
Among his allegations: the air conditioner did not work when he moved in, forcing the family to stay in hotels and with friends; tubs and sinks sprouted huge leaks. Lights would flicker on and off, and the home was infested with fleas, roaches and even a family of racoons, which lived in the attic, the lawsuit claims.
Many tenants complain that the problems with their homes are so severe they've all but consumed their lives.
Several weeks after Rosemary moved into the Raleigh, N.C., house she's renting from American Homes 4 Rent, her hot water tank exploded. Rosemary, who declined to use her last name for fear of losing her security deposit, said she couldn't shower for days. It took constant calls and emails to the rental company before they sent someone to replace the tank.
"It was quite a fiasco, very stressful," Rosemary said of the incident. She's paying $1,550 per month for her four-bedroom house.
Former employees of the companies, who spoke on condition of anonymity because they worry about jeopardizing their careers, said their former colleagues can't keep up with the volume of complaints. The rush to buy up as many homes as possible has stretched resources to the point of breaking, these people said.
"Complaints were coming at us like out of a fire hose," said a former Invitation Homes employee, who worked in the property management division and routinely fielded maintenance requests.
Initially, the former employee said, the company took care to make sure renovations were up to snuff. But before long, the task of overseeing dozens of independent contractors tending to thousands of homes spread out over huge geographical areas became simply too much, even though the company was hiring staff as quickly as it could.
Call centers were overwhelmed. "Getting someone on the phone was next to impossible," the employee said. "I have no doubt the customer experience was compromised."
Other ex-investment company employees spoke of increasing pressure to fix up the homes cheaply and quickly.
A former inspector for American Homes 4 Rent who worked in the Dallas office said he routinely examined homes just prior to rental that were not habitable. Though it wasn't his job to answer complaints, he said he fielded "hundreds of calls" from irate tenants.
"I didn't know what to tell them," he said. "I couldn't do anything about it. It was like pulling teeth to get [the company] to send out a repairman."
In an email, B.J. Poznecki, a construction superintendent for American Homes 4 Rent -- which has spent more than $3 billion in the past year to acquire about 20,000 houses -- said that buying and renting single-family homes on a large scale is a new business model, and as such "systems, process and procedures" are evolving.
Poznecki said the Malibu, Calif.-based company just opened a new call center that handles all incoming maintenance calls, which he said will improve the customer experience. American Homes 4 Rent is "working around the clock to help us achieve our goal of excellence in the shortest timeframe possible," he said.
In a statement, an Invitation Homes spokeswoman said feedback from its tenants is "consistently positive." The company does its best to address complaints quickly, and is "always striving to enhance the customer service experience for our tenants." In the past year, the company has spent approximately $7.5 billion to buy more than 40,000 properties.
Colony American has invested $2 billion in more than 15,000 houses. Asked about tenant complaints, a spokeswoman wrote in an email, "We take these concerns seriously and every single issue either has been or is being addressed." Thousands of other tenants are satisfied with their rentals, the spokeswoman said.
The investment companies are focusing most of their attention on cities like Atlanta, Las Vegas and Tampa, hard hit by the foreclosure crisis but with good prospects for long-term growth. They are buying up so many houses in these places -- 200,000 in the past two years, according to Bloomberg News -- that they are edging out ordinary buyers.
Whether these investment companies will continue to swoop up homes, and whether they can thrive long-term, remains unclear. The real estate investment industry as a whole has struggled this year, with investors worried that rising interest rates and other factors will slow the rapid increase in home prices and sales.
American Homes 4 Rent's $811 million public offering in July raised less than projected, and the company fired 15 percent of its workforce, according to a Bloomberg News report. Colony Capital had planned a public offering for this summer, but put it off indefinitely.
Even so, the firms that are buying up homes have raised enormous sums of cash, and seem determined to spend it as quickly as possible. Agents continue to swarm auctions and open houses, and investors are moving into new markets, such as Memphis.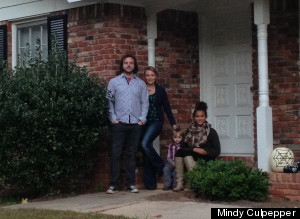 Mindy Culpepper and her family outside their Lilburn, Ga., home.
For Culpepper, this mad scramble to acquire properties has had very personal repercussions. She was forced to go to court to fight an eviction after Colony American returned two of her rent checks with no explanation, she said.
Though she won the right to stay in her home, the judge told her she can't force the company to fix her toilets. So for the next seven months, until her lease expires, she is stuck with the stench.
"It's just a slumlord," Culpepper said of Colony American. "A huge, billion-dollar slumlord."
Related
Before You Go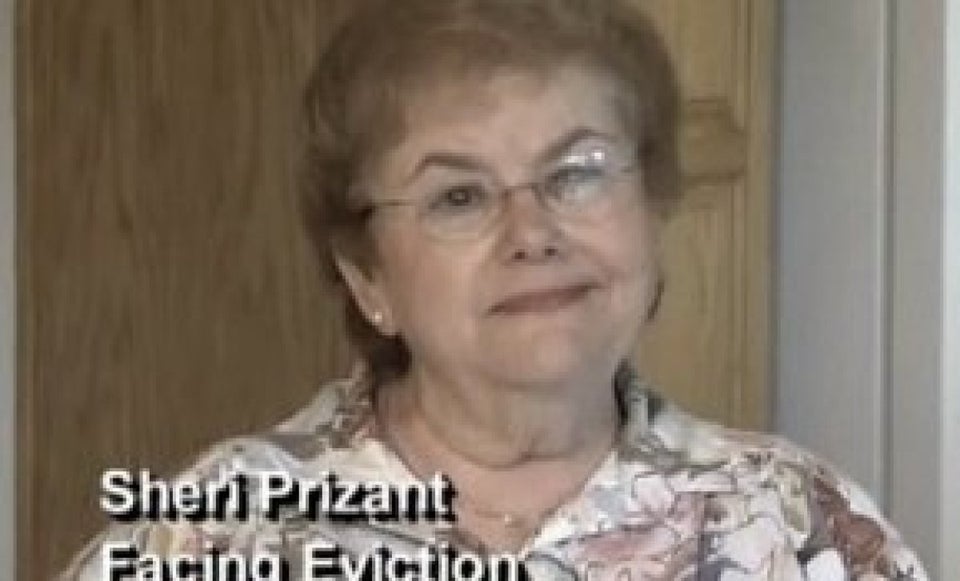 America's Worst Foreclosure Fails
Popular in the Community