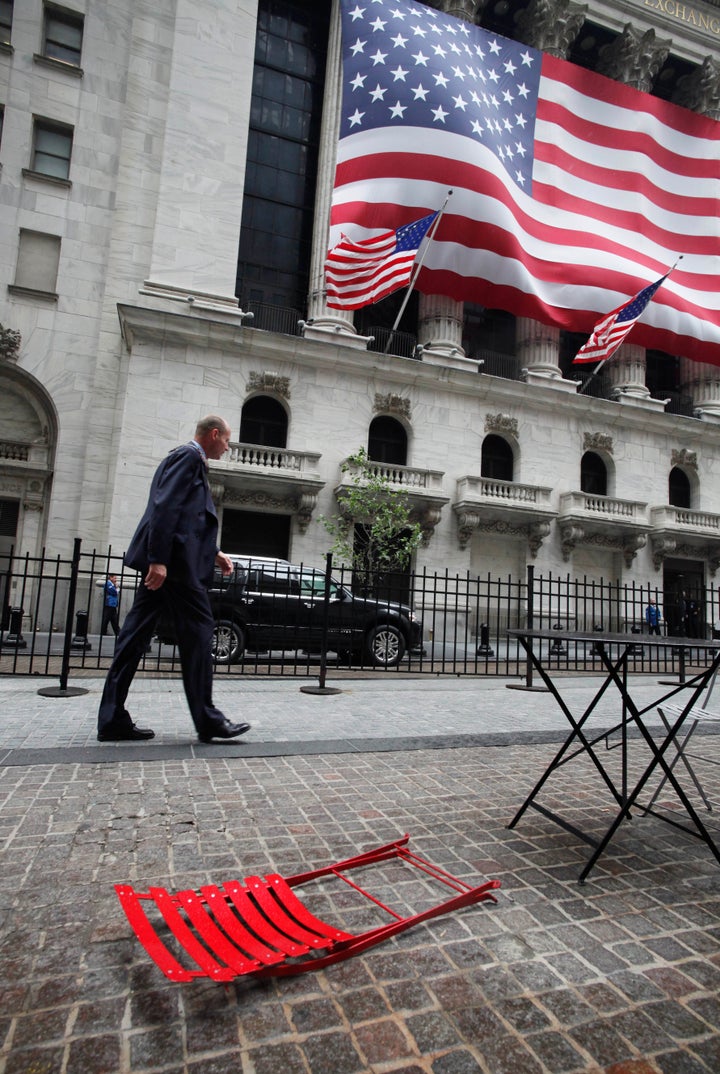 NEW YORK -- Layoffs have returned to Wall Street as investment banks bemoaning economic malaise and disappointing revenues are moving to pare their payrolls, by far their largest expense.
Goldman Sachs and Morgan Stanley have announced plans to eliminate hundreds of employees, UBS and Credit Suisse are reportedly preparing to cut thousands of jobs and Barclays Capital has already imposed two rounds of layoffs this year.
But as banks again resort to pink slips, they appear inclined to spare the most generously compensated executives -- the people who enjoyed the biggest gains from the bubble in mortgage-related investments that savaged the economy -- while instead dismissing less-expensive employees.
"Wall Street is a cutthroat business. That's how the capital market system works," said Sung Won Sohn, a former Wells Fargo chief economist who is now a finance professor at California State University Channel Islands. "The more seasoned, experienced, higher-paid people have a lot more connections and contacts. That is very, very valuable. Whereas junior, younger people are more replaceable."
In June, Barclays Capital cut employees, including first-year analysts who had been hired last year out of college to work in the New York investment banking division, a person familiar with the situation told The Huffington Post. Morgan Stanley released plans earlier this year to lay off up to 300 workers in its retail brokerage, including trainees. At Goldman Sachs, employees losing their jobs will include "junior people," the firm's chief financial officer said during a conference call this week.
But being seasoned doesn't provide a job guarantee, either. In the end, the decision comes down to the company's bottom line, and whether an employee is capable of fattening it.
"Length of time at the firm doesn't matter, it doesn't help you," said Kim Woodle, 54, who was laid off from his job as a computer programmer at Morgan Stanley in 2009, in the midst of the Great Recession.
He had been working there for almost a decade, but his total pay, including bonus and benefits, was below average, reaching about $180,000 in 2008, he said. The average Morgan Stanley employee that year made over $265,000, according to a filing with the Securities and Exchange Commission.
"I'd gotten good performance reviews for nine years," Woodle said. "And people who'd been there less kept their jobs."
Woodle is still out of work, he said. Like many workers who lose their jobs in middle age, he said he feels like he's competing with recent college graduates, who will work for less pay. He had planned to retire at 65, he said. But now, as he subsists on disability payments and his wife's income, retirement plans have been called into doubt.
A spokeswoman for Morgan Stanley declined to comment on Woodle's case.
By many accounts, thousands more Wall Street employees are about to suffer the bewildering experience of losing their jobs. Banks are complaining of a slump in trading volume, a point reinforced this week when titan Goldman Sachs announced tepid second-quarter earnings.
At Goldman, revenue from trading bonds, commodities and currencies dropped by more than half in the second quarter. The numbers had prominent analysts openly wondering whether the most profitable investment bank in Wall Street history had lost its magic. David Viniar, the firm's chief financial officer, said during a conference call Tuesday that he wouldn't "sugar coat" the results, explaining that the company might have "made a bad decision in taking too little risk."
Goldman now plans to cut 1,000 jobs. Viniar said during the call that those cuts would include "some more senior, some more junior people."
The firm isn't alone. The Swiss investment bank UBS is preparing to cut 5,000 jobs, according to a report by a Swiss newspaper last week. Its rival Credit Suisse plans to cut at least 1,500 jobs, the Wall Street Journal reported. Morgan Stanley is considering laying off "several thousand" people, Fox Business reported last week. (The Morgan Stanley spokeswoman said the firm is "not considering any large-scale firm-wide layoffs at this time.")
The recent layoffs at Barclays, the British investment bank that bought a smoldering piece of the wrecked Lehman Brothers in 2008, followed a round of dismissals in January, according to various reports at the time.
The first-year analysts at Barclays who were laid off in June could otherwise have graduated to second-year status in July, meriting a pay bump, the person familiar with the situation said. A typical base salary for a Barclays first-year analyst is $70,000, this person said.
A spokeswoman for Barclays declined to comment.
Employees at several investment banks said Wall Street layoffs can appear to follow a rule that's familiar to any police officer, firefighter or teacher who's borne the brunt of municipal cutbacks: last hired, first fired. With top executives still hauling down salaries and bonuses that reach well into seven figures, some bank employees expressed bewilderment that the greenest -- and cheapest -- hires were being let go.
"A decent IT project is tens of millions of dollars. If you fire every analyst out there, it doesn't add up to one IT project," said an executive at one of the nation's biggest banks. "It doesn't save that much money."
For the people actually losing the jobs, the result can be a profound crisis.
"We'll get panicked calls," this executive continued. "Somebody's friend or classmate will call up and say, 'I lost my job, I don't even know where to start, can you help me out?' That happens all the time."
One 20-year Wall Street veteran, who works at an investment bank planning cost-cutting measures, said new employees are vulnerable to cuts precisely because they're new, and haven't yet developed a network of friends in the firm.
"There's always a ripple effect of people being bummed out when somebody gets laid off," he said. "Even if a person is good, if they've only been at a place for a year or so, they just haven't developed this web of internal connections that helps protect you in a situation like this."
He added that the layoff process isn't scientific.
"It's a subjective call. It really is," he said. "You just know there are going to be some people that are let go that shouldn't be."
The round of job cuts has some observers drawing comparisons to the period immediately following the financial crisis, when Wall Street firms laid off sizable percentages of their workforces. The number of people employed in financial activities in New York City dropped by more than 7 percent between September 2008 and 2009, the year after the crisis struck, state data show.
In the wake of a $700 billion taxpayer bailout, as Wall Street compensation came under scrutiny, firms reduced bonuses for employees -- but also boosted base salaries. Those fixed costs have made banks less flexible when hard times strike, experts say. Now, with trading activity anemic, those banks are scrounging around for savings.
"If you're eliminating the lowest x percent, you have more to spend on the top x percent. That is just a natural thing," said Wendi Lazar, a partner at the law firm Outten & Golden, where she co-runs the transactional practice group.
"We saw it with Lehman and Bear -- there was an enormous amount of house-cleaning," said Lazar, who represents financial executives. "It's an opportunity to get rid of people who are not at the top of the food chain."
Related
Popular in the Community