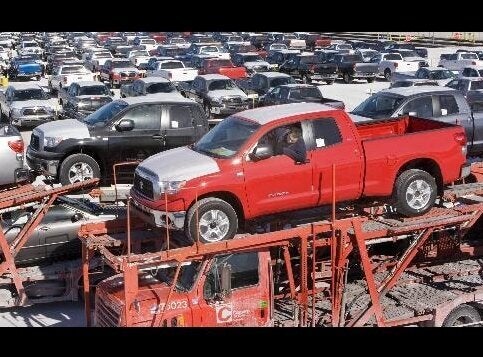 DETROIT -- First it was the subprime mortgage crisis, followed by the gasoline price spike. Now it's the collapse of Wall Street and the unavailability of auto loans for consumers. What does it mean for Detroit automakers? "A Doomsday scenario that no one in Detroit -- or the rest of the country for that matter -- is prepared for," automotive journalist Peter M. De Lorenzo told OffTheBus.
In September, auto industry sales dropped 26.6 percent compared to a year ago. Industry analyst Jess Toprak told the New York Times that sales are likely to be even worse in October.
Has the credit crunch siphoned off what fuel was left in the auto industry's tank? Speaking from the Paris Auto Show, De Lorenzo told OffTheBus, "If people can't get loans to buy cars or trucks, then it's Game Over for Detroit. Not Good can't even begin to describe it. We'll go from bad, to worse, to grim, to inconsolable."
The credit crunch is starting to bite, although the impact is uneven. In Maryland, auto dealership sales manager Dewayne Noble told says banks were tight last month. "And they're even tighter this week, especially for trucks. Banks no longer are lending 110 percent on trucks. Now it's just 90 percent of invoice. Most customers find that almost impossible to do."
However in Virginia, auto dealership sales manager Tom Mackey said, "So far banks haven't made it more difficult for our customers to get a loan, but it's too soon to tell if the Wall Street bailout will tighten up credit."
The money crunch has led most car makers and financial companies to pull back significantly on leasing, too, "which is cutting into sales for luxury brands," General Motors news director Tom Wilkinson told OffTheBus. "The drying up of home equity loans is having an impact as well."
"I hope it gets better fast, or you're going to see dealerships across the country shutting down a month or two from now," said Noble.
So far this year, nearly 600 auto dealerships have closed due to the credit squeeze.
The largest Chevy dealer group in the U.S. said in recent bankruptcy filings that the reluctance of lenders to extend credit to customers contributed to a "financial liquidity crisis" that led to the chain's demise. Nevertheless, some industry experts believe fewer dealers may ultimately benefit Detroit's Big Three, who have been working for years to reduce the number of dealers peddling domestic brands.
At the Paris Auto Show taking place now through Oct. 19 at the Mondiale de l'Expo, Ford is exhibiting a strong line-up that includes an all-new version of its popular European mini car, the Ka. GM is displaying its first-ever global compact car -- the 2011 Chevy Cruze -- and introducing Europe to the Volt, the electric-motor vehicle that GM hopes will reverse its fortunes. Chrysler is showcasing a 25th anniversary edition of the Grand Voyager minivan with tweaks to the turbo-diesel engine to reduce emissions.
Excitement over new vehicles is tempered by fear of not surviving until 2010.
Of course the industry had problems long before the Wall Street crisis. "Expensive healthcare premiums and our unwillingness to deal with the realities of a globally competitive environment got us to this point," De Lorenzo said. "And now as a country, we've abandoned our commitment to manufacture things for ourselves. The domestic auto industry is a "canary in the coal mine" for American manufacturing in general."
Wilkinson prefers to think of auto manufacturing as a "badger" refusing to be dragged out of its den. "Most other heavy manufacturing has already fled the U.S. for cheaper lands. Steel, appliances, electronics, ship building -- most have moved off-shore. In contrast, GM still assembles most of its vehicles in the regions where it sells them."
De Lorenzo, who spent the day roaming the Mondiale de l'Expo, said "People here still think Detroit's problems are distant. But make no mistake, if the Detroit automakers don't make it, it WILL have a big impact in Europe." Already key markets in western Europe are slowing down. Even Russia -- which was poised to overtake Germany as the single largest car market in Europe this year -- is feeling the pinch.
"The other strong vibe in Paris is the green marketing initiative," said De Lorenzo. "Every manufacturer has put a bold "green" promise out front, except for the luxury Italian automakers who still believe beautiful women standing next to their cars is the best way to sell vehicles."
Last week the U.S. House of Representatives approved a $25 billion direct loan program for automakers who need more capital for new technologies, so they can produce plug-in hybrid cars and other more fuel-efficient vehicles.
At least auto industry woes can't be blamed on executive pay. The car biz is no place to get rich according to Forbes, who ranks GM Chairman and CEO Rick Wagoner #433 in CEO compensation. "The reality is that few people stay in the car business unless they really love it," said Wilkinson. "The hours are long, the pressure is intense, and most car companies are headquartered in garden spots like Detroit, Tokyo, and Stuttgart."
Will bank credit become available fast enough to help automakers dodge Doomsday?
It's anybody's guess, but this much is certain: cleaning up the mess if the Detroit Three Automakers fail will be far more expensive than helping them now. "Every job lost on Wall Street impacts two-to-three jobs on the outside. By comparison, every job lost at an auto plant impacts nearly 10 jobs on the outside," said David Cole, chairman of the Ann Arbor-based Center for Automotive Research. Cole told OffTheBus that problems in the auto industry "cascade through the overall economy in a huge way. We don't want to know what happens if the domestic auto industry gets away from us."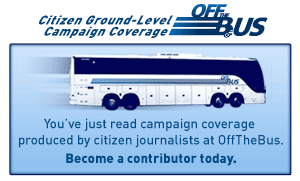 Popular in the Community