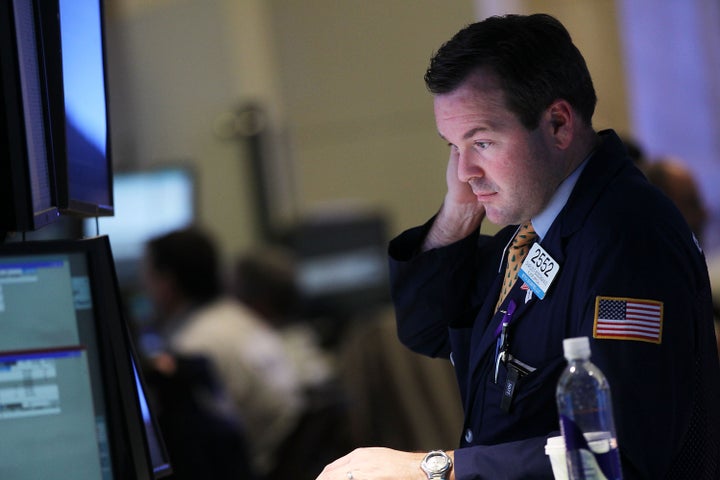 While many Americans will be squeezing as much as they can out of falling incomes to provide gifts this holiday season, some on Wall Street may be getting a nice little holiday present this year -- a boost in pay.
Seven big banks' compensation data for the first three quarters of 2011 indicates that Wall Street pay is on track to exceed 2010 levels, according to an analysis from the Public Accountability Initiative. The report found that big bank compensation, which includes salaries, benefits and bonuses, will likely total $156 billion -- a 3.7 percent boost from 2010 -- and a record breaking number.
Six out of the seven banks studied set aside more for compensation in the first three quarters of 2011 than in 2010. Bank of America set aside 7 percent more for compensation, despite having a dismal year that included a debit card fee debacle and its shares dropping below $5 for the first time in years.
The findings come as the Occupy movement, politicians and others continue to use high pay on Wall Street to highlight growing levels of income inequality. Many firms have cancelled or moved in house formerly lavish holiday parties in part because of rising criticism from Main Street, The New York Times reports.
Though they're scaling back holiday parties to avoid what could be a PR disaster, many bankers don't seem to care that ordinary Americans may resent their huge pay checks. Bankers are joining up with billionaires in an effort to defend themselves against criticisms of the one percent, Bloomberg reports.
In addition, the financial services industry has lost more than 200,000 jobs this year, according to Bloomberg.
CORRECTION: An earlier version of this post misstated that the U.S. median income fell to $26,364. The U.S. annual median wage fell to $26,364.
Calling all HuffPost superfans!
Sign up for membership to become a founding member and help shape HuffPost's next chapter
BEFORE YOU GO