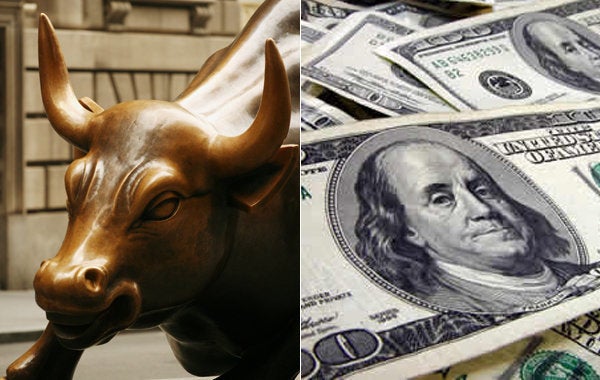 Wall Street is on track to pay its employees $144 billion this year, breaking a record for the second year in a row, the Wall Street Journal reports. Despite financial reform intended to curb compensation, and a steep decline in trading volume, pay in the financial services industry has shown few signs of fading.
Pay is expected to rise at 26 out of the 35 firms according to the WSJ. According to it's analysis, the $144 billion overall figure is a 4 percent increase over last year's $139 billion. Revenue on Wall Street grew only 3 percent this year, the WSJ says, but, unlike at some businesses outside the financial sector, employee compensation remains a high priority.
The Dodd-Frank financial reform legislation, passed in July, gives regulators the power to write rules governing executive pay. But it remains to be seen how effective -- or restrictive -- those rules will be. Last month, regulators from the SEC, the FDIC and the Federal Reserve testified before the House Financial Services Committee, to explain how they intended to curb executive compensation. But as the rule-making is still in progress, the conversation included few specific strategies or numbers.
When asked to name a threshold for an "inordinately large" payout, Federal Reserve general counsel Scott Alvarez declined. "It's very nuanced," he said. "There is no number." His peers had similar answers.
As the WSJ reported last week, banks are gradually returning to their traditional practices. After banks' excessive risk-taking helped fuel the financial crisis, the Dodd-Frank reform placed soon-to-be-implemented limits on trading, and some banks are winding down the divisions that trade on their own account. The global Basel III agreement has also upped the amount of capital that banks must retain.
But as Michael Lewis noted in Bloomberg, a move away from proprietary trading might actually be motivated by the bottom line. Banks may have realized that other business practices could actually be more profitable.
Meredith Whitney, the prominent analyst, said last month in a report that Wall Street would lay off thousands and cut its bonuses this year. She later told CNBC's Maria Bartiromo, "I think that the bonuses are going to be really, really bad at year end."
For non-financial companies, that logic has held true: Depressed revenues this year have led to job cuts and restructuring in order to boost profits.
Banks are sitting on piles of cash, partially because the cost of borrowing is so low, as Politico notes. Low interest rates and a weak economy have meant that even some bailed-out banks are quicker to pull in loans than make new ones. As HuffPost's Shahien Nasiripour reported in August, bank profits have jumped in recent months due to near-zero rates.
Popular in the Community