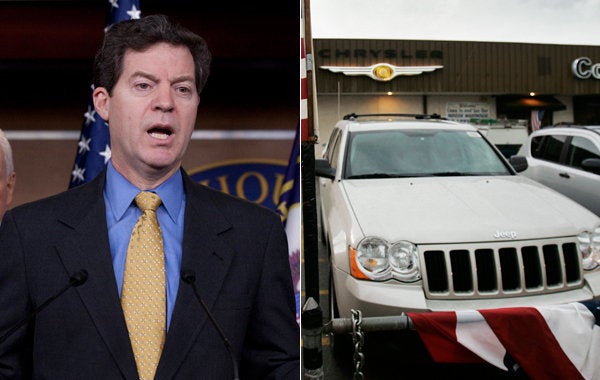 Wall Street has found itself battling auto dealers in a last-ditch effort to block an amendment opposed by big banks from coming to the Senate floor. The bank lobbyists are working to persuade Sen. Sam Brownback (R-Kan.) and GOP leadership to withdraw Brownback's amendment that would exempt auto dealers from the purview of the proposed Consumer Financial Protection Agency, said three Democratic aides close to the negotiations.
The amendment opposed by Wall Street, cosponsored by Sens. Carl Levin (D-Mich.) and Jeff Merkley (D-Ore.), is attached to Brownback's. If Brownback pulls his amendment, then the Merkley-Levin proposal, which bans banks from trading for their own profit with taxpayer backed money, can't get a vote.
"GOP is very worried Merkley-Levin will pass," said one aide.
Bailey Wood, a lobbyist for the National Automobile Dealers Association, said the Independent Community Bankers of America has been against Brownback's amendment from the start. The Bureau of Consumer Financial Protection, he said, "will likely drive many dealers out of the three-party auto financing thus giving community banks a much larger share of the market."
UPDATE: HuffPost caught up up with Merkley off the Senate floor. Ultimately, he said, there were two reasons his amendment didn't get a vote. "One is that it would probably pass and Wall Street doesn't want it to pass, but the second reason is, I believe that colleagues who were planning to vote no didn't want to have to vote no. If they voted no it would make Wall Street happy but would make their constituents mad, because this is the type of fundamental reform that is expected for us to get done," he said.
Merkley said that he was told by colleagues that bank lobbyists were pressuring Brownback to withdraw his amendment. Merkley pressed Brownback to split the amendments apart. He said Brownback was open to the suggestion but needed the permission of his leadership.
Merkley said that he got a commitment from Democratic leadership to push for the principles of his amendment in conference committee negotiations between the two chambers.
Arthur Delaney contributed reporting
Calling all HuffPost superfans!
Sign up for membership to become a founding member and help shape HuffPost's next chapter