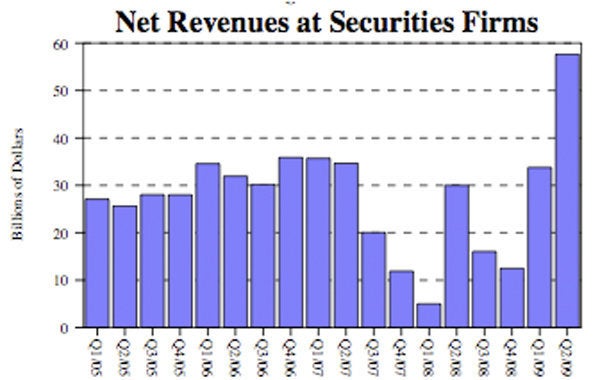 It took Wall Street just one year to make its way back to record profits.
According to a report released Tuesday by the comptroller of New York State, Thomas P. DiNapoli, Wall Street is turning around "much faster than expected" and is on pace to pull in record earnings this year.
New York City's four largest investment firms -- Goldman Sachs, JPMorgan Chase, Merrill Lynch and Morgan Stanley -- earned $22.5 billion in the first nine months of 2009. Wall Street's earnings, should they remain steady for the rest of the year, could lead some firms to eclipse 2007's record profits.
"The national economy is slowly improving, but Wall Street has recovered much faster than anyone had envisioned. Profitability is on track to exceed 2006 levels, which was a banner year for the industry. Strong profits have been driven by low
interest rates, which reduce the cost of doing business.

Compensation is also increasing faster than expected, leading to expectations of higher bonuses. The federal government, which spent trillions of dollars to support the financial sector, has taken steps that may restrict cash bonuses and defer compensation to future years in an effort to reduce excessive risk-taking and reward long-term performance. While these initiatives may reduce personal income tax collections in the short term, New York State and New York City could benefit from increased stability in the financial sector. industry added 3,600 jobs in September 2009.)"
The six largest bank holding companies in the U.S. dedicated $112 billion to compensation during the first nine months of the year, the report noted. Even Merrill Lynch, which lost $41 billion in the first nine months 2008, is expected to pay out sizable bonuses this year.
Deeper in the report are some indications of the disparity between Wall Street's ability to generate cash for its employees and its ability to create jobs and stimulate the larger economy. Though each new job on Wall Street creates two additional jobs in other industries in New York City, pay for bankers and traders may still be out of whack. "The securities industry accounted for 24 percent of the wages paid in New York City in 2008, even though the industry accounted for only 5 percent of the jobs," the report stated.
The average securities industry salary in 2008 was $382,130, down from a peak of $401,500 in 2007. (Keep in mind that the median income in America was approximately $50,000 in 2007.)
The average securities industry salary in New York was more than six times greater than in other industries. And since 2003 salaries in other industries in New York have grown just 20.4 percent, while Wall Street pay has jumped 73 percent.
"Consumers are still finding difficultly accessing the credit markets," DiNapoli's report states, while commercial credit has declined by 52 percent since its peak in July 2007.
REAL LIFE. REAL NEWS. REAL VOICES.
Help us tell more of the stories that matter from voices that too often remain unheard.