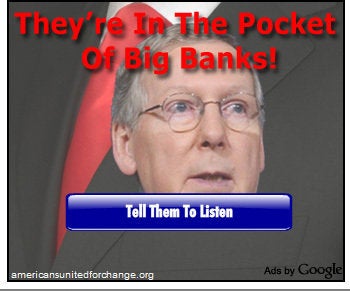 A leading progressive group that works closely with the White House is attempting to peel Tea party supporters away from the Republican Party by using regulatory reform as a wedge issue.
Americans United for Change is going up with a new online web ad campaign specifically designed to target Tea Party activists. The group is placing spots on predominantly conservative websites, and using behavioral targeting to ensure that people associated with the ant-government, anti-Wall Street movement see the message. Among the target sites -- on which AUC is hoping to get its ads placed -- are Townhall.com, Biggovernment.com and Facebook pages swarmed by fans of Rep. Ron Paul (R-Texas) and the Tea Party groups.
The AUC ads accuse Republicans of working hand-in-hand with Wall Street executives to effectively weaken legislation to reform financial regulations. "They're In The Pocket Of Big Banks," reads one online spot, with a picture of Senate Minority Leader Mitch McConnell (R-Ky) pasted below the text.
Another ad makes the appeal even more direct. "Tea parties or Wall Street banks?" it reads. "Who are the Republicans really listening to? Tell the Republicans to work for us, not wall street."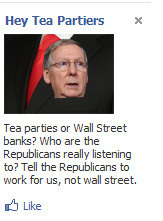 The goal, organizers say, is to appeal to the populist movement that has blossomed, in part, over anger with Wall Street's cozy relationship with Washington -- a movement that has largely been co-opted by Republicans so far. A side benefit would be to spur Tea Party activists to turn their guns on GOP leadership for being "soft" on the banks.
"A major ideological and political collision is looming between Tea Party supporters -- whom recent polling shows want the government to rein in Wall Street -- and Senate Republicans that are intent on shielding the big Wall Street banks from any accountability after laying waste to our economy," said Jeremy Funk, communications director at AUC. "By highlighting this gaping chasm... we expect the potential political consequences of standing with the big banks will make a number of Republicans think twice about opposing financial reform."
Republicans, too, are doing their best to win Tea Party favor by claiming that the financial regulatory reform bills being considered by Congress include permanent bank bailouts -- a flawed charge that seems pulled from the talking points of GOP messaging guru Frank Luntz.
How effective AUC's appeals will be remains a critical and still-to-be-decided question. It is far from certain whether Tea Party philosophy is synonymous with an interest in strong regulatory reform. While a recent Wall Street Journal poll showed that half of the Tea Party wants the federal government to rein in executive bonuses, other polls have shown that the movement has deep skepticism about the reach and role of the federal government.
"Tea Parties claim to believe they wish the government hadn't rescued the banking system last fall, but I haven't seen a single sign at a rally or a single quote from a rallier to suggest support for enhanced regulation," wrote Matt Yglesias on Think Progress.
Below is a third online ad being run by AUC:
REAL LIFE. REAL NEWS. REAL VOICES.
Help us tell more of the stories that matter from voices that too often remain unheard.