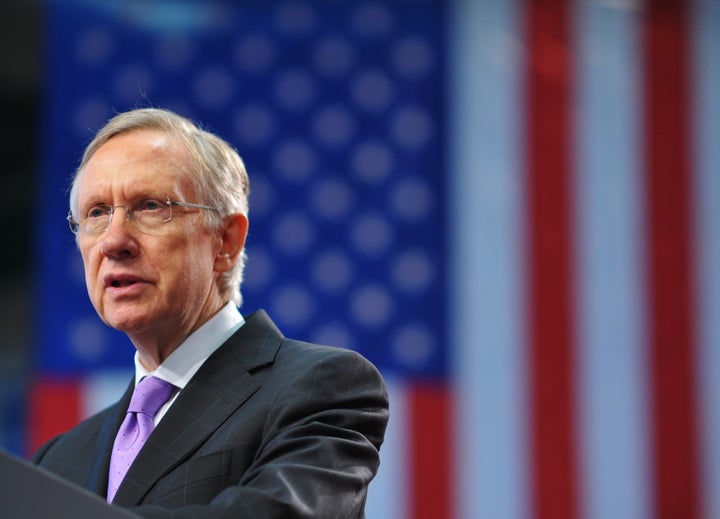 Harry Reid, flanked by his top lieutenants, delivered an aggressive message to the Senate GOP on Thursday afternoon, telling reporters that he was moving forward on a vote on Wall Street reform on Monday evening.
"This is what I have to say to our friends on the other side: For those still willing to do what is right, for those still wiling to help us slam on the brakes on the Wall Street joy ride, we're ready to work with you. For those Republicans determined to stand in the way and do the big bankers bidding, know this: No matter how hard you try to distort this debate, Wall Street reform is coming," Reid said. "We're not going to buckle."
Sen. Chuck Schumer (D-N.Y.) piled on. "It's time for Republicans to step up to the plate and do the right thing," he said.
In a highly unusual move, Reid directed reporters' attention to a TV screen in the briefing room, which soon played multiple clips of Senate Minority Leader Mitch McConnell of Kentucky declaring that the bill is a "permanent taxpayer bailout" of big banks. McConnell has been pilloried by editorial boards for the line, which repeated talking points from Republican pollster Frank Luntz. McConnell's repetition of the charge was a turning point in the debate and gave Democrats the momentum they're riding into Monday's vote.
Reid also played clips of Senate Minority Whip Jon Kyl of Arizona making the same charge, followed by Tennessee Republican Bob Corker suggesting that his colleagues "come to the floor and act like adults."
The Democratic calculation is that they have nothing to lose by pressing forward for a vote. Either Republicans come along, in which case they get a bill passed, or the GOP stands in the way, allowing Democrats to tie them to Wall Street. "I'm trying to figure out why they chose this fight," said Reid.
Sen. Dick Durbin (D-Ill.) read from the portion of the bill that discusses liquidating failed banks rather then bailing them out, calling McConnell's charge flatly untrue.
Reid was asked if he'd go so far as to say McConnell was lying. He paused for a very long time before concluding: "What he said here is not true."
Meanwhile, President Obama spent the day in New York City, making the case for reform at Cooper Union, while Republican leaders gathered at Senate GOP headquarters, near the Capitol, for a high-dollar fundraiser with top lobbyists. Among the fundraiser's hosts was Wendy Grubbs, a Citigroup executive; Kirsten Chadwick, who lobbies on financial reform for clients like Business Roundtable; and David Hobbs, whose clients include private equity firm Cerberus Capital Management.
Also spotted: Sen. John Cornyn (Texas), Sen. Richard Burr (N.C.), and superlobbyist Charlie Black.
No sign of invitees Mitch McConnell or John McCain, but it's possible they somehow escaped the notice of the assembled paparazzi, which included a video guy from the DNC.
Talks will continue through the weekend as the two sides work to reach a deal before Monday evening. Some Republicans say, however, that Democrats sense that the GOP may not be united and are waiting to see how the vote comes out on Monday.
Sen. Jim DeMint, emerging from a briefing with Sen. Richard Shelby (R-Ala.) Wednesday evening, said that the test vote would be key. "There's not a lot of optimism we're going to get it fixed until they do a test vote," he said. "They're going to wanna make sure we've got 41 before they deal too much with us." Will they? "Yes we will."
Shelby was less certain. "I'm not entirely confident, but I'm hopeful," he said.
Arthur Delaney contributed reporting

Support HuffPost
The Stakes Have Never Been Higher
Related
Popular in the Community