Yesterday Wall Street, for perhaps the first time, answered directly to the people.
As more than ten thousand union members and community members took the streets in the heart of New York's Financial District to demand fundamental financial reform and "make Wall Street pay," bankers and traders in the vicinity were caught on camera reacting visibly, audibly, and often rather bluntly to the presence of the protesters.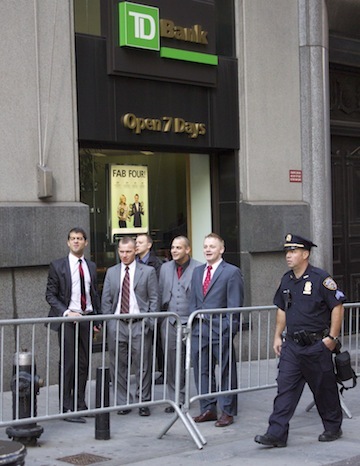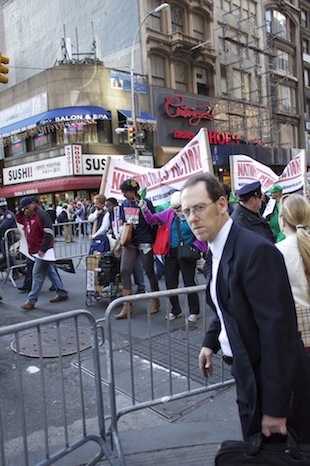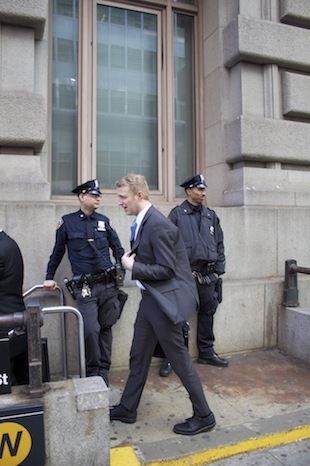 One corporate bond trader, Brendan Plunkett, 46, of Essex Falls, NJ, was quoted by Bloomberg BusinessWeek as saying, "If they care so much about the country, they should go to work and be productive and stop with the protests."
It was a sentiment echoed in many a conversation among the crowds of bankers and traders on and around Broadway and Wall. Occasional chants of "Get a job!" arose from one- and two-person counterprotests up and down Broadway (see above). But for the most part, Wall Streeters tried their best to keep a safe distance from the wrath directed their way.
Just in case, though, the Charging Bull, the Stock Exchange, the Bank of New York, and other sites frequented by speculators and spectators alike remained under heavy police guard throughout the day, including a detail from the Department of Homeland Security.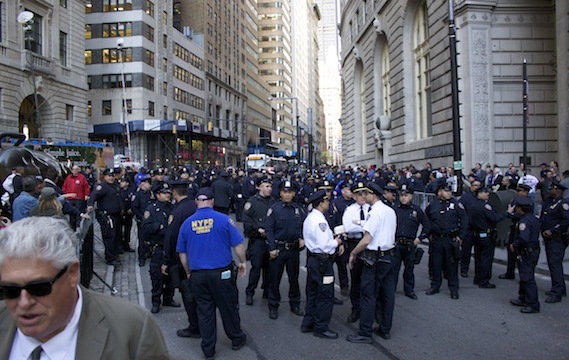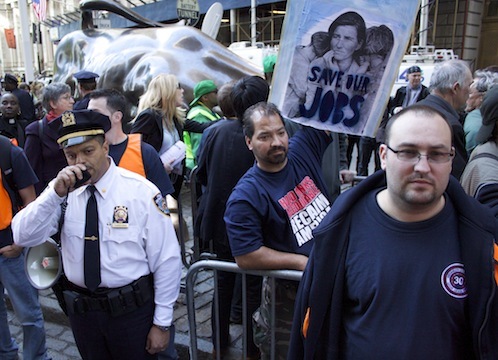 The protests (more photos here, videos here) came amid a backdrop of popular discontent brewing against the banks, Congressional debate over limited regulatory reform, and the opening of a criminal investigation by the Justice Department into the mortgage-backed securities dealings of Goldman Sachs.
The coalition behind the protest--which included the AFL-CIO, SEIU, National People's Action, and many others--called the day's events "one of the largest gatherings ever organized against big banks, calling for accountability, job creation and an end to predatory lending practices."
Thursday's march on Wall Street coincided with dramatic occupations of the lobbies of JP Morgan Chase and Wells Fargo headquarters on Park Avenue by hundreds more protesters affected by the banks' practices. Similar direct actions have broken out across the country in recent months.
Bankers' reactions there reportedly differed little from those of their Wall Street colleagues.
Calling all HuffPost superfans!
Sign up for membership to become a founding member and help shape HuffPost's next chapter