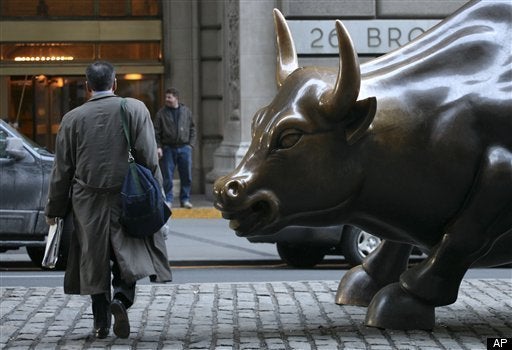 Angela Moon, New York - Investors will continue to ride the speediest rally in U.S. stocks since the Great Depression despite growing concerns that the market is overbought and due for a correction.
Wall Street posted its third consecutive week of gains with the S&P 500 now up 6.8 percent for the year and more than 20 percent in just six months.
"I've never seen a market like this," said Paul Mendelsohn, chief investment strategist at Windham Financial Services in Charlotte, Vermont, a market watcher for 35 years.
"I'm showing, by every technical and quantitative standard I have, this market is at extreme levels. But no matter where we start out in the morning, buyers come in."
The trend of stocks starting off lower in the morning session but ending higher by the afternoon has been ongoing for weeks as investors view the small dips as reasons to buy.
But there is a perceptible level of anxiety in the market. Trading volume has been exceptionally low recently and the CBOE Volatility Index .VIX, Wall Street's so-called fear gauge, is up on the week despite the gains in stocks.
The index is usually inversely correlated to the S&P 500, and a rise in the VIX typically means a drop in the stock market.
The VIX, which ended at 16.43, up 4.7 percent on the week, is still historically low but substantially higher than in recent months. That suggests investors see more share gyrations ahead.
The driving force behind the rally is the money that poured into riskier assets like stocks in the last quarter of 2010 after the U.S. Federal Reserve pledged to keep interest rates low.
"With so much momentum in the market, we are likely to see some sideways consolidation next week but nothing more than that," said Ryan Detrick, technical analyst at Schaeffer's Investment Research in Cincinnati, Ohio.
LOW VOLUME=SIGNS OF FATIGUE
About 7.13 billion shares traded on the New York Stock Exchange, NYSE Amex and Nasdaq on Friday, below last year's estimated daily average of 8.47 billion.
Stocks have been struggling to match last year's trading levels, hovering in the 7 billion range this week. On Thursday, the volume was the second-lowest of the year at 6.7 billion shares, and Monday's session was the lowest of the year with a mere 6.6 billion shares.
"This is a sign that the market is tired, and unless we see an uptick in this volume," the level of investor anxiety will not retreat, Detrick said.
U.S. markets are closed on Monday for the Presidents Day holiday.
Related
Popular in the Community