Surrounded by about 100 police officers in riot gear and a helicopter circling above, more than 50 Walmart workers and supporters were arrested in downtown Los Angeles Thursday night as they sat in the street protesting what they called the retailer's "poverty wages."
Organizers said it was the largest single act of civil disobedience in Walmart's 50-year history. The 54 arrestees, with about 500 protesting Walmart workers, clergy and supporters, demonstrated outside LA's Chinatown Walmart. Those who refused police orders to clear the street after their permit expired were arrested without incident. Those who fail to post $5,000 bail would be jailed overnight, Detective Gus Villanueva, a Los Angeles Police Department spokesman, told The Huffington Post.
Their primary demand to Walmart: pay every full-time worker at least $25,000 a year.
One of the protesting Walmart workers, Anthony Goytia, a 31-year-old father of two, said he believes he will make about $12,000 this year. It's a daily struggle, he said, "to make sure my family doesn't go hungry."
"The power went out at my house yesterday because I couldn't afford the bill," Goytia told HuffPost. "I had to run around and get two payday loans to pay for my rent from the first" of the month. "Yesterday we went to a food bank."
To make ends meet, Goytia said he sometimes participates in clinical trials and sells his blood plasma. He has been asking his managers for full-time employment for a year and a half. Instead, he said, they hire temporary workers, who can be fired at any time.
Goytia was one of several dozen Walmart workers in Southern California who went on strike Wednesday and Thursday, calling for an end to low wages, unpredictable part-time hours and retaliation for speaking out. They were joined by other employees on their days off and dozens more who rode buses from Northern California.
The strike, protest and arrests are the latest in a series of worker actions across the country coordinated by OUR Walmart, an advocacy organization with ties to the United Food and Commercial Workers Union. The actions in Los Angeles this week are the first in what organizers said would be a series of protests leading into the holiday shopping season.
Walmart CEO Bill Simon disclosed in a presentation recently that 475,000 Walmart workers are paid more than $25,000 a year. That leaves 525,000 to 825,000 Walmart workers earning less than $25,000. House Democrats seeking to boost the federal minimum wage from $7.25 to $10.10 per hour have criticized Walmart for its low wages.
Walmart invited HuffPost to speak to a couple associates working in the Chinatown store during the protest Thursday. In the presence of a consultant working for Walmart, two employees -- Do Nguyen, 29, and Aldo Hernandez, 55 -- said that they are treated well by their employer. Nguyen, who has worked for Walmart for almost a year, said that asking for a minimum of $25,000 is "a national issue, not a Walmart issue."
Hernandez, who has worked for Walmart for almost five years, said he gets good health benefits through Walmart and doesn't struggle to support himself and his son. Both Nguyen and Hernandez declined to say how much they make.
Kory Lundberg, a spokesman for Walmart, said that the company has hundreds of thousands of associates who earn $25,000 or more and that others have the opportunity to do so.
"There are unparalleled opportunities at Walmart," Lundberg said. "We're going to be promoting 160,000 associates this year. That's larger than the total workforce of most companies out there."
"Folks can come in as entry level or whatever level they're at and can work up as far as they're willing to go," Lundberg said. "That's one of the things we're proudest of."
After working full time at Walmart in Paramount, Calif., for 10 years, Martha Sellers, 55, makes $25,400 a year. In the last few years, she said, her managers have been cutting her weekly hours, sometimes to as few as 12 hours a week.
With that income, she said, she has to pay her rent in pieces. "If I pay all my rent at one time, then I have $12 to live on and put gas in my car until I get paid again," Sellers, who attended Thursday's protest, said.
"I have a very nice neighbor who lends me money. But then the next month, I'm short again," Sellers said. "I never get caught up."
In October 2012, for the first time in Walmart's history, some workers went on a one-day strike, even though Walmart jobs have never been protected by a labor union. More than 70 LA Walmart workers from nine stores walked off the job for a day, followed by over 80 Walmart workers walking off the job in a dozen other U.S. cities.
Regarding associates being required to work earlier on Thanksgiving, Lundberg said, "Folks understand that when they come to work for Walmart, that we're a 24-hour store, and Thanksgiving is one of those days that we serve our customers."
Sellers went on strike on Black Friday last year and said she plans to do so again this year. "Walmart claims to be a family-oriented company," she said. "But where's the family time? They took away Easter too."
"Where is the American economy going if we're all working poverty wages?," Sellers said. "There will be no working class. We'll all be in a poverty class."
Related
Before You Go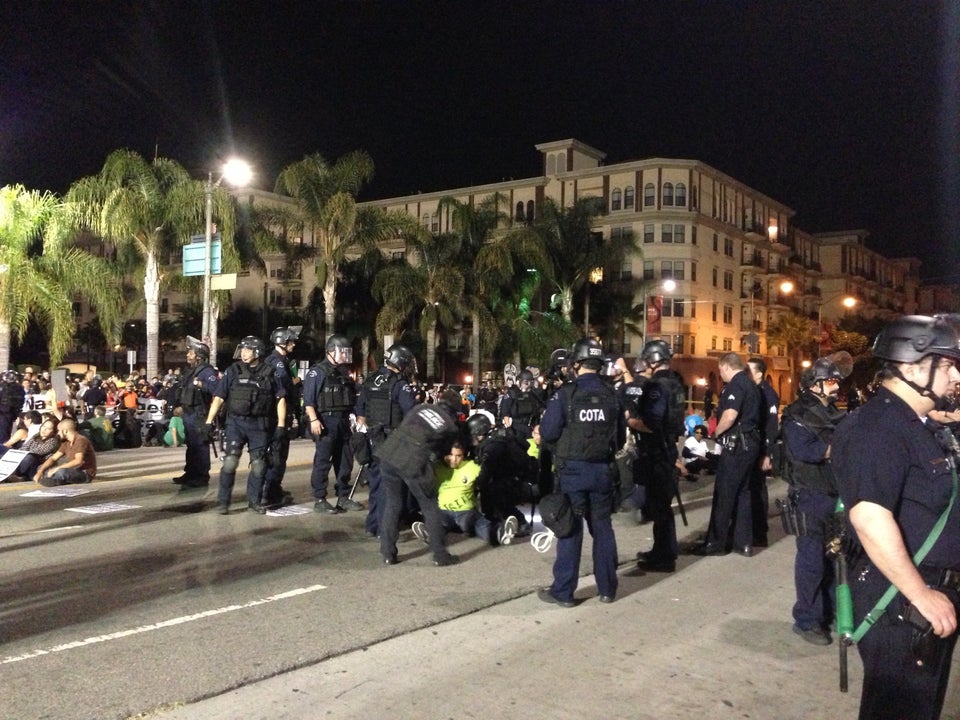 LA Protest Against Walmart
Popular in the Community