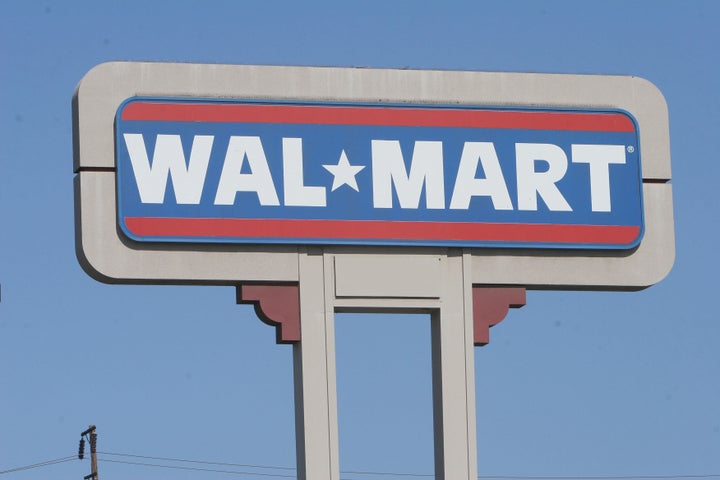 As the largest private employer in the world, Walmart prides itself on the company's "Open Door" policy, which assures employees that they should feel free to share concerns and suggestions with management.
Some associates, however, say they have consistently been shut out by Walmart Chief Executive Mike Duke. Now they are turning efforts to air grievances toward Wall Street analysts, to make their argument that low-cost labor strategies are ultimately hurting Walmart.
On Tuesday, six current and former Walmart employees, along with John Marshall, a senior capital markets analyst for the United Food and Commercial Workers International Union, presented their explanation of Walmart's recent slump to 26 investors and analysts.
Walmart, the world's largest retailer, has suffered a two-year drop in U.S. sales, though the trend has already begun to lessen.
The presenters introduced a report, authored by Marshall and filled with testimony from employees, arguing that the company's cost-cutting approach to labor was dragging down U.S. sales and long-term revenue growth.
On Wednesday, outside investors and analysts visited Bentonville, Ark., where Walmart's corporate headquarters are located, to learn how the corporation plans to reverse its American sales slump. Walmart also announced Wednesday that it is seeing improvements at some U.S. stores for the first time in nine quarters.
The group of employees -- members of an association of workers called OUR Walmart, backed by UFCW -- attempted to meet with Duke last June to voice complaints about working conditions at the company. Duke declined to attend the meeting.
Although members of Our Walmart say they are not seeking union representation or a collective bargaining agreement, Walmart -- a company that has resisted decades of organizing attempts -- maintains that OUR Walmart is a Trojan horse for the UFCW.
But the workers insist that their grievances with the company are legitimate. They intend to try to meet with Duke again on Wednesday.
Around this time each year, Walmart executives huddle in Bentonville with the outside analysts and investors who research and describe the company's performance to the stock-holding public. The conversations at several days of meetings shape public perceptions of the company's successes and failures. This year, for the first time, Walmart employees injected themselves into the process by presenting their cause to the industry experts directly.
The report and testimonies focused on what the group characterizes as Walmart's "vicious circle:" as Walmart executives respond to slumping U.S. sales numbers, they cut labor costs, "setting in motion a 'vicious circle' of understaffing, operational miscues, and lost sales that is diminishing the company's long-term value."
The company disputes this theory, and claims that understaffing is not a problem at stores, or the reason behind slumping U.S. sales.
"We have a laser focus on serving customers and our plan is working," Walmart spokesperson Steve Restivo wrote in an email. "This is nothing more than an attention-seeking stunt by a union organization attempting to further their own political and financial agenda."
OUR Walmart has doubled in size to over 2,000 workers, spread across the U.S., since launching last June. While unions have been attempting to organize Walmart for decades, labor historians view OUR Walmart as the most promising effort yet for affecting actual change at the retail goliath.
But so far the group has been primarily focused on gathering membership and community outreach. The presentation to market analysts represents a new strategy.
"The UFCW is hoping to demonstrate to economists and analysts that the traditional business model at Walmart has reached a dead end," said Nelson Licthenstein, labor historian at University of California, Santa Barbara, and author of "The Retail Revolution: How Wal-Mart Created a Brave New World of Business."
"If the analysts believe the model is not working and these big institutions begin to dump stock, maybe executives will have a meeting and say: maybe we'll reorient this thing," Lichtenstein added. "That would be beneficial to America."
But analysts at the presentation said they are not ready to dump stock any time soon.
"I didn't hear anything that made me believe the stock would go either way," said Jan Rogers Kniffen, the Chief Executive Officer of J. Rogers Kniffen, a New York-based equity research and financial management firm. "We've all heard the issues. It's not that they aren't legitimate, it's just that they aren't new."
Kniffen attributes Walmart's depressed U.S. sales to other aspects of the business, such as a failed store redesign several years ago and the depressed U.S. economy.
"Yes, it's better if your associates feel empowered. All things are better like that," Kniffen continued. "We all think we should be paid more. But would that significantly improve Walmart's performance? I'm not convinced that would be true."
Others said that while they did not intend to change their investment strategies, the presentation gave them something to mull over.
"There seem to be mutually confirming phenomena: Walmart is reducing core personnel costs and there is also a reduction in same store sales," said William Atwood, executive director of the Illinois State Board of Investment, which overseas the state's pension funds. "That doesn't necessarily mean that its a causal relationship; that's kind of the question."
Atwood said he intends to question Walmart executives about this over the course of the next several days of the meeting.
The presentation may already be changing the tenor of the proceedings, if ever so slightly, according to attendants.
One investor noted that an analyst at a Tuesday night dinner with Walmart executives raised the subject of the presentation with Walmart associates. The analyst asked if the company was concerned about renewed efforts to organize the workforce. Executive Vice President Leslie Dach answered that he was not concerned, and said that the workers presenting were a "couple of malcontents," the investor recalled Dach saying.
However, those at the presentation said they had a different impression.
"The people in the panel were pretty passionate," Kniffen said. "I thought these people would be very, very dissident, but it was very clear to me that the people on the panel really like Walmart. They're fairly enthusiastic and they're not happy about some of the things they've seen."
The Walmart employees, for their part, felt a measure of satisfaction from the presentation.
"Each person who doesn't really know how it works, the looks on some of the people's faces were kind of amazing," said Kenny James, one of the presenters and a former Walmart support manager from Renton, Washington.
James said he was at Walmart for over nine years, until he began to speak out on behalf of fellow workers, only to see his hours steadily docked until he could no longer support himself on his Walmart salary. He is now working as an OUR Walmart organizer, and like many members, is steeped in the difficult stories of Walmart employees, who typically earn wages associated with the poverty line.
"As soon as you think you've heard all of the stories, there is always another one," James said. "Sadder and sadder."
CORRECTION: A previous version of this article incorrectly referred to Walmart's Executive Vice President as Lesley Duke. His name is Leslie Dach.
Popular in the Community