"Walmart has been advocating for improved worker safety with the Bangladeshi government, with industry groups and with suppliers," Walmart spokesman Kevin Gardner told The Huffington Post on Thursday. "We know that continued engagement is critical to ensure that reliable, proactive measures are in place and we are continuing to work with the industry association, suppliers, brands and other interested parties to come to an appropriate resolution on this matter and develop broad-based solutions for the industry."
The garment industry in Bangladesh accounts for a whopping 77 percent of the country's exports and $20 billion per year. Walmart assured Retail Week that it considers the country an "important sourcing market."
But some workers rights advocates are demanding more significant advances from Walmart, one of the few retailers that they say has the power to facilitate real change in Bangladesh and the rest of the apparel-sourcing world.

"Walmart is the king of discount retail," said Scott Nova, executive director of the Worker Rights Consortium, an independent labor group. "They also enjoy royal status when it comes to empty promises about the rights and safety of workers in their supplier chain."
Nova said Walmart should agree to pay for fire safety inspections and renovations and repairs to their suppliers' factory buildings.
Walmart's sourcing practices came under heavy scrutiny after a report in The New York Times last December revealed that at a 2011 meeting in Bangladesh, the company played the "lead role" in blocking a push for increased electrical and fire safety.
That report followed a November fire at a different Bangladeshi supplier, Tazreen Fashion factory, that took the lives of more than 110 workers. Walmart goods were found in the aftermath of the fire, but the company claimed it hadn't authorized their production there.
In January, Walmart sent a 10-page letter to its suppliers announcing a "zero tolerance" policy, and proclaimed that starting March 1, the company would "terminate its relationship with any supplier engaging in unauthorized subcontracting." Previously, Walmart had a three-strike system in place.
And last month, Walmart announced a $1.6 million donation to establish the Environment, Health and Safety (EHS) Academy in Bangladesh, which intends to provide apparel manufacturers access to "comprehensive training" on workplace safety, according to the company.
But Judy Gearhart, executive director of the International Labor Rights Forum, said Walmart can do more to help the victims at Tazreen and to respond to the factory collapse in Savar.
"We need brands to move beyond confidential and voluntary," she told HuffPost. "Walmart reported that their product was in Tazreen, but they are not contributing so far to the compensation fund because they didn't approve the factory."
Before You Go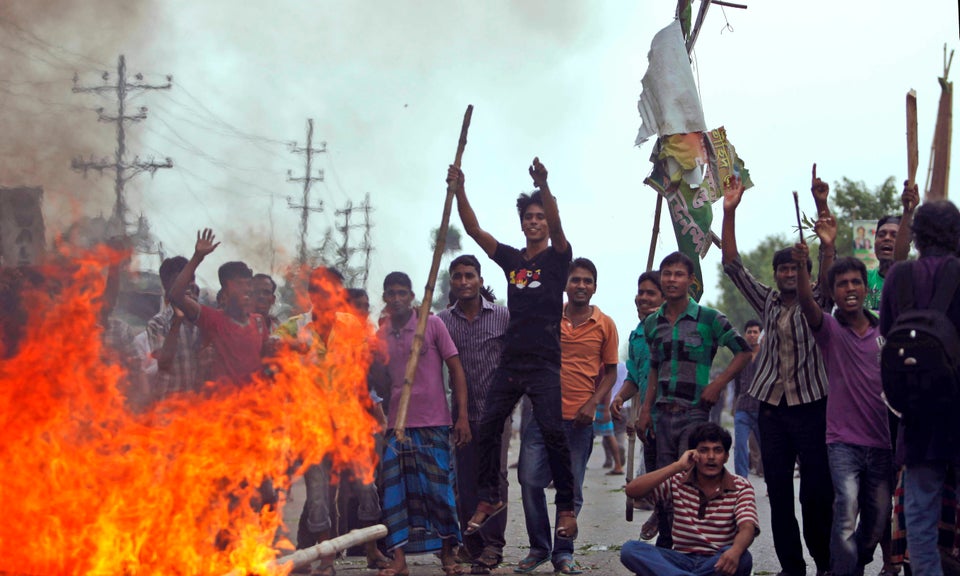 Bangladesh Factory Collapse (UPDATED)
Popular in the Community