You would never guess it, but people are none too pleased with Walmart's decision to kick off Black Friday at 6 p.m. on Thanksgiving this year.
Within hours of the company's announcement that it would be following the lead of a others and begin sales earlier than ever, people took to Facebook to express their displeasure with the encroachment on the family holiday.


Black Friday "creep" is nothing new. For years, retailers have been starting sales earlier and earlier in an effort to prolong the holiday shopping season. But due to a calendar quirk, the stretch of time between Thanksgiving and Christmas is six days shorter this year, which is making retailers anxious about luring shoppers in early.
Apparently, encouraging Americans to shop when families are still enjoying their turkey dinners isn't sitting too well with some shoppers.


There are the more than 1 million Walmart employees who will be working on Thanksgiving this year. On a press call earlier this week, Duncan Mac Naughton, the company's U.S. chief merchandising and marketing officer, told reporters that these staffers will be paid extra and get "a nice Thanksgiving dinner at work."
But that might not be enough to appease some angry shoppers.


That said, not all shoppers plan to ditch Walmart's Black Friday kick off.


And for what it's worth, Walmart had a hugely successful Black Friday last year, recording nearly 10 million register transactions between 8 p.m. on Thanksgiving Day and 12 a.m. on Friday, according to Reuters.
"The happy people far outnumber the people who might not want to shop on Black Friday," Deisha Barnett, a senior director of corporate communications, told The Huffington Post Tuesday.
Earlier this week, Mac Naughton told reporters that Black Friday is the "Super Bowl of retail."
"Almost everybody to date has moved up, at least one hour, if not more," he said on a press call. "We thought 6 o'clock was the exact right time to win the weekend."
This post has been updated to include comment from Walmart.
Related
Before You Go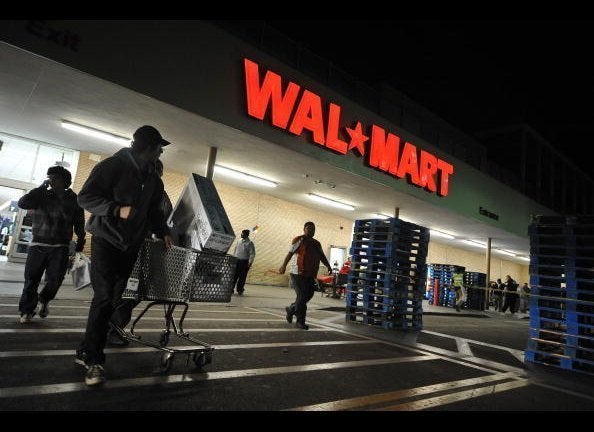 Thanksgiving 2013 Store Hours
Popular in the Community