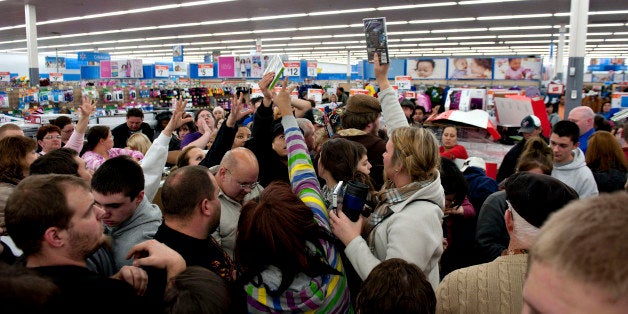 Walmart is joining other retailers in turning Black Friday from a one-day shopping bonanza to a multiday event, the company announced Wednesday.
The big-box chain will kick off its deal spree just after midnight on Thanksgiving at Walmart.com and will offer doorbuster events at 6 p.m. and 8 p.m. at all locations on Thanksgiving itself. Then beginning at 6 a.m. on Black Friday -- the day traditionally reserved for post-Thanksgiving shopping -- the retailer will offer more discounts on everything from iPhones to Fisher-Price toys.
"Black Friday is no longer an event for customers who wake up at the crack of dawn to get good deals," Duncan Mac Naughton, chief merchandising officer at Walmart U.S., told reporters on a conference call Tuesday, adding that the event has really turned into "Black Friday week" at several retailers.
Though Walmart has offered Thanksgiving shopping hours since 1988, it did not come under much criticism for doing so until more recently, when a number of other retailers began keeping their doors open on the holiday as well. Critics say the day should be set aside for spending time with family. Detractors have also protested outside dozens of Walmart stores on past Thanksgivings and Black Fridays to draw attention to Walmart workers who say they're paid very little and are subject to poor working conditions.
Walmart associates who work their regular hours during the week of Thanksgiving will receive holiday pay -- a rate that Walmart will go back as far as late summer to calculate. A Walmart worker who reports to work the Tuesday before Thanksgiving, for example, will receive their normal hourly wage, plus an additional sum equal to whatever their average daily wage was during the 12 weeks leading up to Thanksgiving. The more hours a worker logs during those 12 weeks, the higher their holiday pay will be.
The company estimates that it will dole out more than $70 million in holiday pay to hourly workers this season. In addition, employees who work on Thanksgiving can come in for one big shopping trip on either December 4 or 5 and get 25 percent off their total.
For his part, Mac Naughton said workers "get excited" to staff the event and see shoppers getting good deals. "The associates really, really like being there," he said on the conference call.
A Walmart spokeswoman said that the retailer begins to organize its Thanksgiving staffing about three weeks before the holiday. The company relies on volunteers first and then schedules other workers to fill the remaining slots.
It's not just workers who may be planning their turkey dinners around getting to the store. Last year, 22 million people shopped at Walmart on Thanksgiving Day.
This year, the retailer plans to attract shoppers with deals on things like iPad minis and 65-inch TVs for those customers who are in designated areas of the store between 6 and 7 p.m. on Thanksgiving. Starting at 8 p.m., Walmart will be offering deals on other electronics, like Beats by Dre headphones and Fitbit exercise trackers.
"It's really about listening to our customer," Mac Naughton said on the call with reporters. "Six o'clock and 8 o'clock were the times that [customers] told us gives them time to be with their family and celebrate Thanksgiving [before going out shopping]."
Walmart's competitors will also be kicking off Black Friday events at similar times. Target and Macy's are both opening at 6 p.m. on Thanksgiving Day. The holiday shopping season is typically one of the most crucial periods of the year for retailers, which may explain in part why retailers have been racing to start it earlier.
Like other big-box stores, Walmart has struggled in recent months as more people move to do their shopping in smaller, more urban stores as well as online. Sales at stores open at least a year, a key retail metric, have been flat or declined at Walmart's U.S. locations for the past six quarters.
The company will report its third-quarter earnings on Thursday.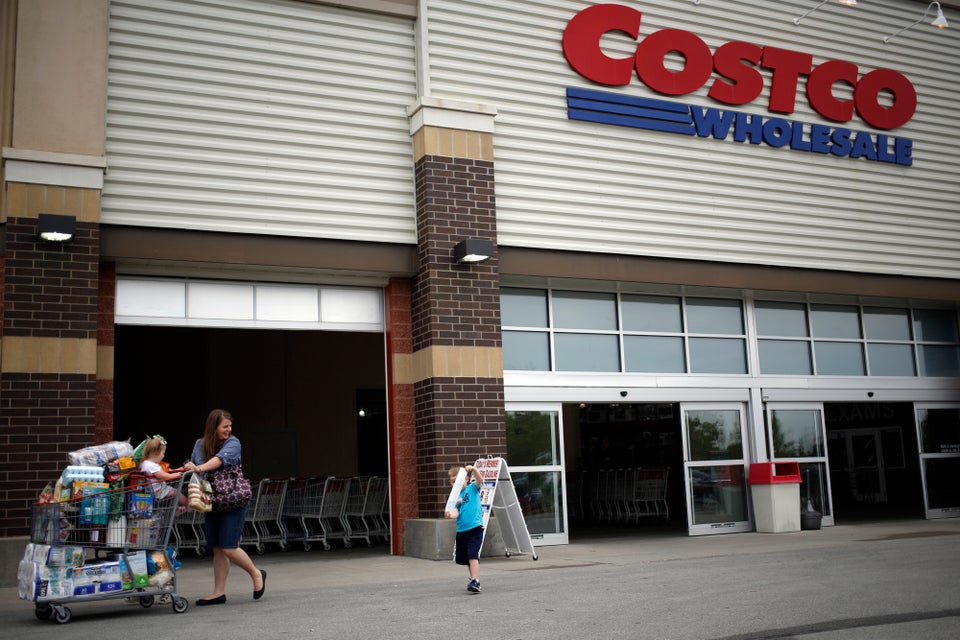 13 Stores That Won't Open On Thanksgiving