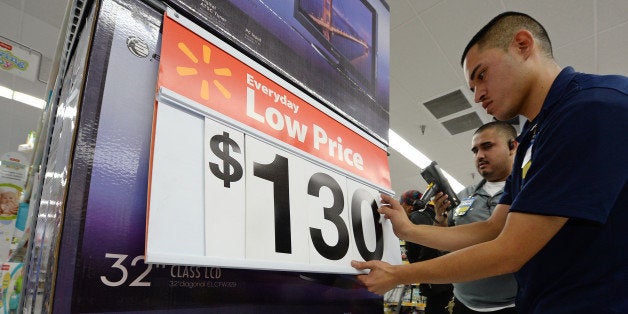 This article was reported by DealNews, a site that scours the web for the best retail deals.
You'll have to head to the store to catch the best deals in Walmart's Black Friday sale, but these offers just might be worth the trip. Who knew 65" HDTVs could get this cheap?
With the arrival of the Walmart Black Friday ad, we can all finalize our shopping game plans. So what brawl-inducing deals can we expect from the big W this year? As usual, Walmart will have some of the cheapest TVs around, as well as an Xbox One bundle for people who don't like Assassin's Creed. We also found some surprisingly sweet home deals. Our full analysis is below, but first let's talk tactics.
Doorbusters You Don't Have to Fight Over
Once again, Walmart is rolling out its doorbusters in "Events," or specified chunks of time. Event 1 starts at 6 pm local time on Thanksgiving, with Event 2 at 8 pm, and Event 3 at 6 am on Black Friday. Ostensibly, you could skip Event 1 and head to the store later to pick up the Event 2 doorbusters, and so on. Of course, what this actually means is that you might have to stay at Walmart longer to get everything on your in-store list — a great sales strategy for the retailer, but a real headache for crowd-weary consumers.
One bonus of heading to the store is the return of 1-Hour Guaranteed Doorbusters. Shoppers who brave the crowds from 6 pm to 7 pm local time are guaranteed to nab a coveted item, or Walmart will get it to them by Christmas (and at the doorbuster price). Unfortunately, the guarantee doesn't come back for the second and third Events; you're on your own for those deals! Still, with lots of in-store only deals gracing the ad, it's nice to know you don't necessarily have to fight the crowd to physically get your hands on a doorbuster. Now let's get analyzing!
The Walmart Black Friday Ad
In-Store Deals That Are Worth the Hassle
Even if you don't consider Vizio to be a brand-name manufacturer, this 65" Smart TV doorbuster is spectacular. Starting at 6 pm local time, in-store shoppers can grab this set for $648, which is a whopping102 less than the best price we've ever seen for any 65" HDTV, even refurbs. Better yet, this deal easily blows Best Buy's $800 LG TV out of the water.
Assuming you aren't interested in the
$80 Beats Solo HD headphones at Best Buy
, these cans will please the bass-heavy music fan on your list. Although we haven't seen these Bluetooth headphones very often, this 6 pm doorbuster deal beats the previous price low by $51.
Fitbit Flex Wireless Wristband for $69
Should an activity tracker be on your wishlist, head to Walmart at 8 pm to grab the cheapest Fitbit Flex around. This model has only hit $69 once before, in December of last year. In fact, this deal beats all other Black Friday ads for the Fitbit Flex; the
next best offer is $6 more
.
Although the summer months typically see better grill sales than Black Friday, this gas grill is a steal. At $99, it'll be tied with a May deal as the cheapest 4-burner gas grill we've seen in the past two years. Better still, this 6 pm doorbuster beats the
next cheapest Black Friday gas grill by $61
.
Somewhere, a Dyson fan just fainted. We predicted that new
Dysons would start at around $250
, and this 6 pm doorbuster demolishes that price by $51. Furthermore, this price is $40 below our previous all-time low for a new unit.
Cookware sets are an excellent buy on Black Friday, and this one is no exception. We haven't even seen a Rachel Ray porcelain enamel set this large since last Black Friday; in October, we saw a 12-piece set that cost $11 more than this 6 pm doorbuster.
The deals above represent the best of the best from Walmart's massive ad. Many items in the circular feature similar prices to those we've seen from other stores, and Walmart says it'll do further price matching to local printed ads. This means that Walmart could offer dealseekers one-stop shopping. Unfortunately, you'll have to actually head into a store to take advantage of these awesome offers. With so many killer Best Buy and Target deals easily available online, you might be better served by staying home.
Related
Before You Go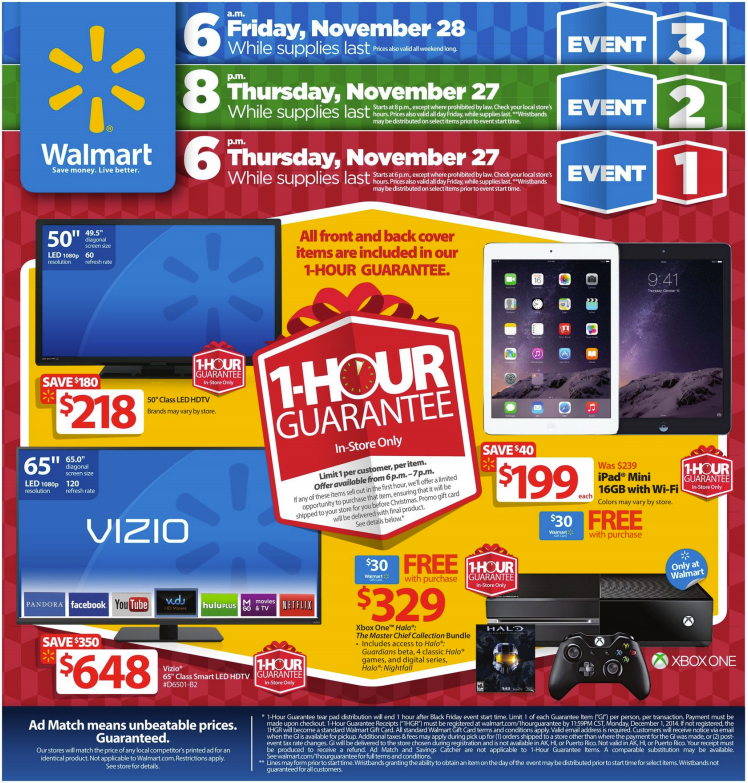 Walmart Black Friday Deals 2014
Popular in the Community