WASHINGTON -- Five years after a worker was killed in a crush of shoppers on Black Friday, Walmart still hasn't paid the $7,000 it was fined for allegedly failing to protect employees on the biggest shopping day of the year.
Sitting on appeal with a review commission, the case of Jdimytai Damour's death highlights how corporations can choose to fend off modest penalties over workplace dangers for years on end, according to occupational health experts.
For a company with sales of $466 billion last fiscal year, the $7,000 fine from the Occupational Safety and Health Administration represents little more than a single store's rounding error. Walmart would have vastly outspent that sum simply in legal fees devoted to fighting the penalty. But the world's largest retailer is less concerned with the monetary fine than with the broader implications of the case. A negative ruling could compel Walmart and other retail companies like it to take additional safety precautions for workers or face new liabilities.
"It's not about the penalty," said Celeste Monforton, a former OSHA analyst who's now a lecturer at George Washington University. "It's this interest in seeing how far Walmart can push back against the decision."
Walmart spokesman Randy Hargrove said the company has made a lot of changes since 2008. "Since that time, we've developed comprehensive plans in stores around the country, and we've worked with nationally recognized crowd management experts to do it," Hargrove said. That includes planning carefully for how customers enter and exit stores, Hargrove said, as well as guaranteeing customers certain products to minimize the frenzy.
Damour died after customers streamed into the Valley Stream, N.Y., Walmart on Nov. 28, 2008. The 34-year-old was trying to hold back a crowd before sunrise on Black Friday when the store's glass doors gave way and he was overrun. Damour had recently been hired through a temp agency and only had spent about a week on the job when he was asphyxiated, his lawyer later said.
OSHA, the branch of the Labor Department responsible for enforcing workplace safety, investigated Damour's death and cited Walmart for failing to adequately control the crowds. An agency official called the events "unusual" but "not ... unforeseen," given the history of shopper hysteria surrounding Black Friday at Walmart and other big-box retailers. OSHA said Walmart failed to properly train its workers in how to handle a crowd of 2,000 that had formed for its own much-hyped shopping "blitz."
Legal filings in the case paint a scene of mayhem. The crowd outside became "unruly" at 3 a.m. and continued to grow for two more hours. Right around the 5 a.m. opening time, the door came off its hinges and the crowd poured in. Walmart employees climbed atop vending machines to escape the crush. (For a full narrative of the incident, read John Seabrook's 2011 New Yorker feature on the behavior of crowds.)
There was a single security guard at the door at the time, according to case files.
"Employees attempted to surround the fallen employee and protect him from the incoming crowd of customers," one filing reads, laying out Walmart's version of events. "[S]ome customers turned back into the vestibule and vandalized the store's security devices, causing them to become unbolted from the floors. Other customers hoarded televisions and attempted to resell them on the sales floor."
HuffPost readers: Will you be working on Thanksgiving this year? Tell us about it.
There's no specific OSHA rule that says you have to protect employees from throngs of bargain hunters. But under what's known as the "general duty" clause, OSHA can argue that a company reasonably could have been expected to take certain precautions for the health and safety of its workers in specific situations. OSHA was essentially saying that Walmart should have known such a death could happen on Black Friday.
A meager sum when measured against a man's life, $7,000 is the maximum fine that OSHA can levy under current law for what's deemed a "serious" safety violation. The fines are much higher for "willful" failures, but such violations are very difficult for the agency to prove, especially when squaring off with high-priced lawyers hired by the alleged offenders. Walmart's litigation in the Damour case has been handled in part by the elite Gibson Dunn & Crutcher, the same firm that's representing Chevron in its Ecuador battles.
Walmart appealed the OSHA fine, arguing that the dangers of their Black Friday crowds couldn't have been predicted. OSHA officials later told The New York Times that the agency had devoted 4,700 hours of legal work to litigating the $7,000 penalty. An administrative law judge eventually upheld the fine, ruling that the Black Friday crowds should have been a recognized hazard for the retailer. (Seabrook, over at the New Yorker, called this ruling a victory for the often-vilified crowd, since it made Walmart culpable in the death.)
But Walmart hadn't exhausted its legal options. In 2011, the company appealed the fine to the Occupational Safety and Health Review Commission, an agency wholly independent from OSHA that can choose to consider appeals. The case remains there to this day. Until a penalty is affirmed, a company doesn't have to pay the fine or technically even fix the problem.
"It can take 10 years," said Randy Rabinowitz, a lawyer, work safety expert and former counsel on the Senate's labor committee. "The average length it takes to complete a case is obscenely long. And the longer [Walmart] appeals this case, the longer they get a pass."
Melik Ahmir-abdul, a spokesman for the review commission chair, said the commission is sometimes hobbled by the Senate not confirming nominees; for several months this year, the body lacked a quorum and couldn't decide cases. Ahmir-abdul said the Walmart case isn't on this year's remaining docket, meaning the earliest it could be decided is 2014.
If the fine is upheld, Walmart would essentially be deemed negligent in Damour's death, as far as OSHA is concerned. That could pressure the company -- and other retailers, in theory -- to invest in greater safeguards against shopping crowds in order to shield itself from liability in similar cases, meaning more staff, more planning and perhaps even more infrastructure. In other words, if it's ultimately deemed that Walmart should have foreseen Damour's death in 2008, then it will be much easier for the government to say Walmart should have foreseen another tragedy like it.
In 2009, as part of a deal to avoid criminal charges, Walmart launched a new crowd control plan for its stores and also created a compensation fund for victims of the 2008 crush. Since then, workers have received additional training in how to handle the mass of shoppers, as many testified during hearings on the OSHA fine.
Like many other retailers, the company has also made big changes to its Black Friday start times. With holiday deals now kicking off at 6 p.m. on Thanksgiving day, plenty of Walmart workers will be punching in before the rest of us have cut into the pumpkin pie.
Related
Before You Go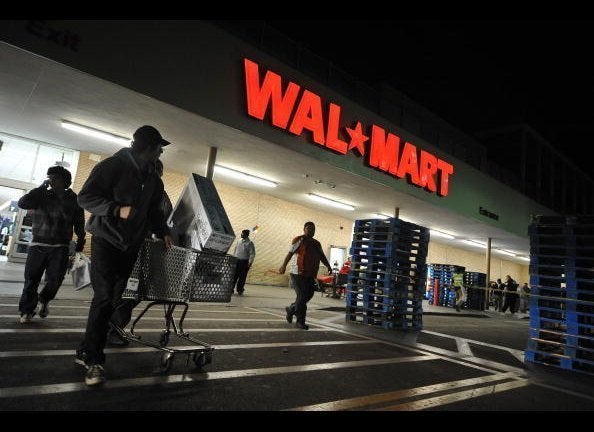 Thanksgiving 2013 Store Hours
Popular in the Community