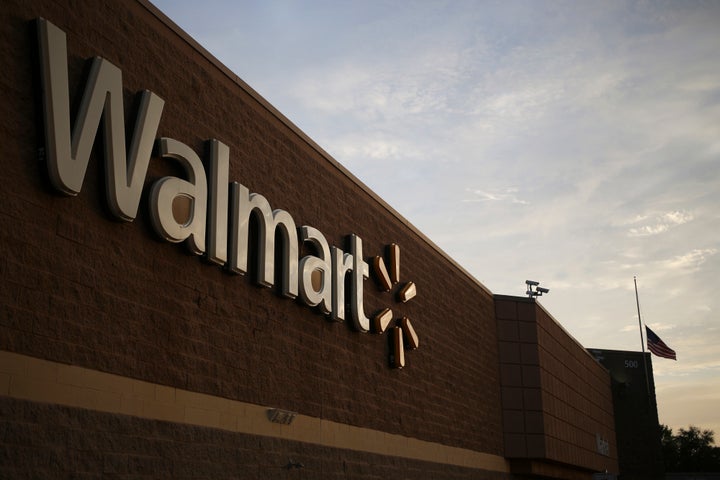 WASHINGTON -- On the morning of Black Friday, a D.C. cop stood along the brick facade of a downtown Walmart and pulled leisurely on a cigarette. There was an anti-Walmart protest happening on the sidewalk in front of him, but he didn't have much work to do in the way of crowd control.
"Last year it was a lot bigger," the cop said of the demonstration. "And a lot more aggressive."
Indeed, last year, well over 100 protesters blocked traffic at the same street corner and had to be dispersed by police; workers and activists entered the store and sat in the aisles in silent protest. But this Friday, just a few dozen stood at Walmart's doors, chanting slogans about living wages and handing out flyers to customers leaving with bags of groceries. A store manager politely asked demonstrators to keep the doors clear.
The more subdued D.C. protest this year reflects changes at Walmart's longtime labor foe, the United Food and Commercial Workers union. Four years ago, the union launched OUR Walmart, a worker group agitating for higher pay and better working conditions at the world's largest retailer. The group went on to stage high-profile worker strikes that embarrassed Walmart and drew national headlines, creating a framework for the fast-food strikes that have fueled the minimum wage debate.
But the Walmart campaign started by UFCW has essentially split, with workers caught in the middle. The UFCW has scaled back its aggressive and expensive organizing at Walmart, instead turning its resources more toward advertising and public relations campaigns that call out problems with the retailer. In the runup to Black Friday, the union aired television ads and hosted food drives for Walmart employees in need. Meanwhile, a contingent of OUR Walmart has left, taking the name with it, as it seeks new funding. Operating independently, the group hosted protests in D.C., New York, Chicago and other cities on Friday. Workers affiliated with the group also took part in a 15-day fast leading up to the protests.
That means the D.C. protest happened without the formal backing of organized labor, and it showed. Fewer union members and activists showed up. And unlike in years past, there were no Walmart workers who had notified their employer they were on strike for the day. The sight of workers declaring a one-day walkout -- even if it was just one or a handful of them -- had lent the early Walmart protests much of their emotional power.
Only one Walmart employee spoke to the crowd -- Cindy Murray, a founding member of OUR Walmart, who was calling for $15 per hour and full-time hours for those who want them. Murray told The Huffington Post that she was grateful for the support from UFCW in the past, and said she was confident OUR Walmart would forge ahead independently and make gains for Walmart workers.
"We can't stop now. It's not time to stop," said Murray, a 16-year Walmart veteran and resident of Hyattsville, Maryland, who works at a different store in suburban Washington. "We're hoping they [UFCW] stand with us in the future, and we'll stand with them. Whatever they need, we'll be there."
Although UFCW played no role in Friday's protest, HuffPost encountered several former UFCW employees there, a sign of how dear the Walmart campaign is to those who worked on it. And there were other workers and organizers from like-minded campaigns, such as ROC United, a worker center seeking to raise the tipped minimum wage for restaurant servers.
"We're out in solidarity," said Gaby Madriz, who directs the D.C. campaign of ROC United. "It's the same fight, just different sectors. It's not possible to live off the current minimum wage in D.C."
Although Walmart dismissed the protests as union-orchestrated stunts, the OUR Walmart strikes of recent years clearly rattled the Bentonville, Arkansas-based retail giant. As recently chronicled in BusinessWeek, Walmart launched a counter-PR campaign aimed at minimizing the reputational damage of the protests. It even hired Lockheed Martin to keep tabs on activists. But without the UFCW pouring money into strikes and protests going forward, Walmart would appear to have much less to worry about on Black Friday.
That doesn't mean Walmart's communications team wasn't on the ground in D.C. on Friday. HuffPost was handed a statement from company spokesman Brian Nick, who said the company was "proud of the wages and benefits package we offer," including a matching 401(K) and quarterly cash bonuses. The company said D.C. employees earn $12.92 on average.
A company spokeswoman offered HuffPost the opportunity to speak with one of the employees on duty in the store, though she insisted she be able to sit in on the interview. The employee, Tracy Lewis, said there was a lot to like about Walmart, particularly the flexible hours. The schedule allows her to take classes online and work full-time, often with overtime, she said. She declined to say how much she's paid, but she said she feels she's compensated fairly.
"They opened a lot of doors and created a lot of jobs in D.C.," said Lewis, a 51-year-old Northeast D.C. resident.
As Lewis took her break, the protest outside was winding down. Less than an hour after it began, most of the D.C. cops had driven away on their motorcycles or in their cruisers, leaving behind just a police van. Officers did not appear to have made any arrests.
Calling all HuffPost superfans!
Sign up for membership to become a founding member and help shape HuffPost's next chapter