Walmart workers are planning to strike at 1,000 stores nationwide on Black Friday, the biggest shopping day of the year.
And the campaign has gathered considerable support online -- with over $50,000 raised for striking workers and support from groups ranging from MoveOn.org to the National Organization of Women to various Latino, African American and interfaith groups.
"I think the plight of the Walmart workers has turned into a social movement of itself," Patrick O'Neill, executive vice president of the United Food and Commercial Workers (UFCW) union, said on HuffPost Live Tuesday. In the last 10 to 15 years, he said, "with workers going backwards and the top one percent getting fatter and fatter, workers -- whether work at Walmart or not -- they can relate to Walmart workers."
OUR Walmart, a group that like a union for Walmart workers and that is funded by the UFCW, is coordinating the strikes Friday. All Walmart workers in the U.S. remain without an official union.
HuffPost LA's Kathleen Miles said that strikers' demands for improved wages, health care and protected speech have implications beyond just Walmart. "Separate from Black Friday profits, this is a larger statement of the whole retail industry," Miles said. "The retail industry in the next decade is expected to have more jobs than any other industry. And Walmart is the leader... the largest retailer in the world. All chain retailers have low wages, but Walmart sets that standard."
Walmart declined to have a representative on the segment but sent the following statement to HuffPost Live:
The reality is that there are only a handful of associates, at a handful of stores scattered across the country that are participating in these UFCW made for TV events. Most of the numbers of people the UFCW claims at their events aren't even Walmart workers.

In fact, many of our associates have urged us to do something about the UFCW's latest round of publicity stunts because they don't think it's right that a few associates that are being coerced by the UFCW are being portrayed by the media as representative of what it's like to work at Walmart.
However, it is clear that the retailer is paying attention to the impending strikes, which follow unprecedented strikes at Walmart stores in 12 cities in October. Walmart filed a complaint Friday with the National Labor Relations Board to try to stop the Black Friday strikes. Walmart managers are warning workers that they could be disciplined if they strike on Black Friday, as Josh Eidelson reported for the Nation.
Despite retaliation that workers say they have faced since striking in October, Walmart workers say they will move forward with the Black Friday strike. Colby Harris, a Walmart associate in Lancaster, Texas, said speaking up is worth the risk for him.
"In order to gain, you have to lose sometimes," Harris said. "We've been dealing with these issues for so long, we could care less about losing our jobs. We just want some things to change."
"We don't operate under the spirit of fear," he said. "That's what they want us to do... but as they've seen last month and this month, we're not going to back down."
Related
Before You Go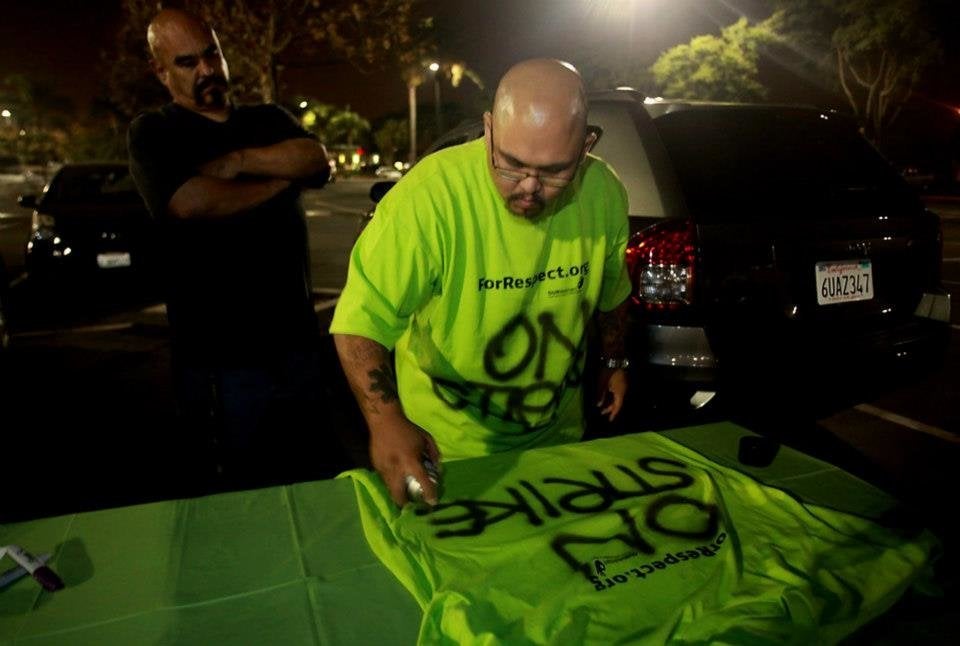 First-Ever Walmart Strike, Oct. 2012, LA
Popular in the Community