Walmart is railing against a Bloomberg article from this week that said the retail giant is struggling with declining sales, with a spokesman taking to CNBC to call the report "misleading" and "completely false."
Renee Dudley of Bloomberg News reported on Wednesday that Walmart was cutting orders to suppliers for the current quarter and in the coming months because the retailer's inventory currently outstrips demand for merchandise. The story followed on several reports from Bloomberg that have tracked Walmart's struggling sales.
A spokesperson from Bloomberg News said the organization "stands by its reporting."
Walmart has indeed been grappling with declining sales -- U.S. sales fell slightly last quarter, the second drop in a row. Walmart Chief Financial Officer Charles Holley told reporters on a call in August that sales were suffering because shoppers were "hesitant to spend what they have."
Investors took the latest Bloomberg report as a sign that Walmart was still having trouble, and shortly after the story was published, Walmart's stock tanked.
Then the company took to Twitter on Thursday:
And the criticism didn't stop there. In an interview with HuffPost, Walmart spokesman David Tovar called Bloomberg's reporting "so thin." He claimed the anecdotes Dudley used weren't representative of the chain's inventory patterns overall, and said inventory management is "exactly where it needs to be," according to Walmart's internal data.
"What was so frustrating about that article -- based on what was in the article -- is that they talked to one supplier in one product category and talked about how we were pulling back," Tovar said. "That's quite possible in that one specific product category. [The headline] paints a very clear picture as if that's happening at 4,000 stores across the country."
Dudley reports regularly on Walmart for Bloomberg, and the company has taken issue with her stories before. In March, she reported shoppers were leaving Walmart for other stores because they couldn't find what they wanted. The shelves were bare, the story claimed, because Walmart pushed a rapid expansion without hiring enough staffers to run the stores well.
"Our in stock levels are up significantly in the last few years, so the premise of this story, which is based on the comments of a handful of people, is inaccurate and not representative of what is happening in our stores across the country."
About a week later, Bloomberg published a story by Dudley based on more than 1,000 emails from customers frustrated that there weren't enough workers at Walmart stores to keep the shelves stocked. Walmart announced last week that it would boost holiday staffing.
Tovar accused Dudley of "having an agenda" with her earlier stories.
"We've tried to speak with her editors and it seems to fall on deaf ears," he said. "We're just left scratching our heads."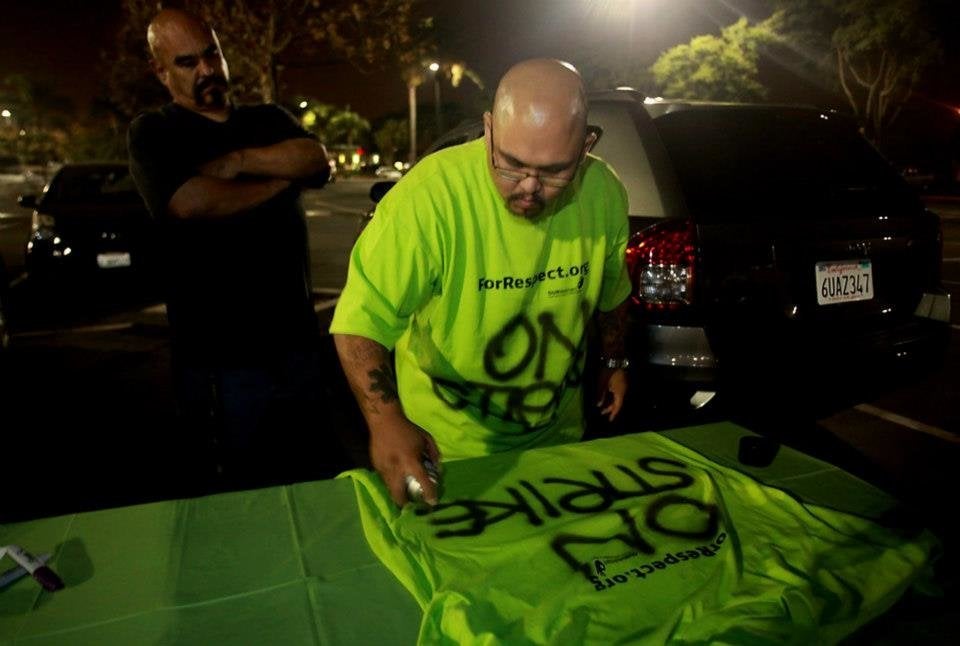 First-Ever Walmart Strike, Oct. 2012, LA